Phillips 66 (NYSE:PSX) is a large-cap energy manufacturing and logistics company with businesses in Midstream, Chemicals, Refinery and Marketing. The company was spun off from ConocoPhillips (NYSE:COP) in 2012 in order to allow the market to more accurately value its downstream business. Phillips 66 is one of the largest players in the sector, with a market capitalization of more than $44 billion.
Phillips 66 transports and processes crude oil, natural gas, NGL and refined products, manufactures petrochemicals needed for a variety of end-consumer products, conducts refinery operations and markets petroleum products.
Phillips 66 is an interesting downstream investment for investors who believe that the United States can continue to capitalize on its huge shale oil- and gas reserves; whose discovery led to an unprecedented boom in domestic energy production in recent history.
Trailing twelve-month share performance
Phillips 66 has gained 16% over the last twelve months, and the market clearly seems to expect a better business environment for refineries in 2014, given the surge in share price in the fourth quarter of 2013. Phillips 66 is now trading at $74.28, not too far away from its recently marked 52-week High of $79.00.
(Source: Yahoo Finance)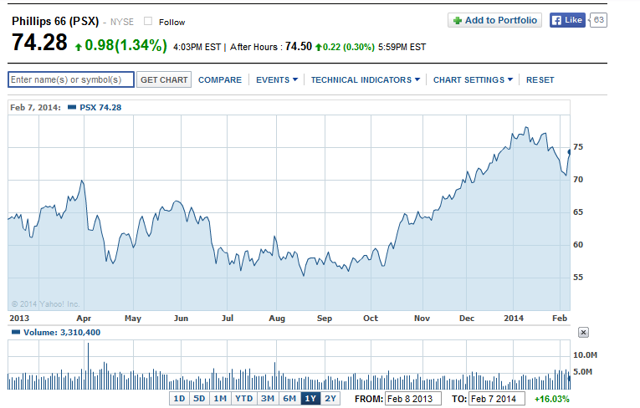 Over the last two years companies in the Oil- and Gas Refinery and Marketing sector have actually done really well, and that includes, without exception, all of the companies in the peer group: Valero Energy (NYSE:VLO), Tesoro Corporation (NYSE:TSO) and Western Refining (NYSE:WNR). Despite run-ups in share prices of around 100% for nearly every individual company, the sector still remains largely undervalued given its low valuation multiples (see further below).
(Source: Yahoo Finance)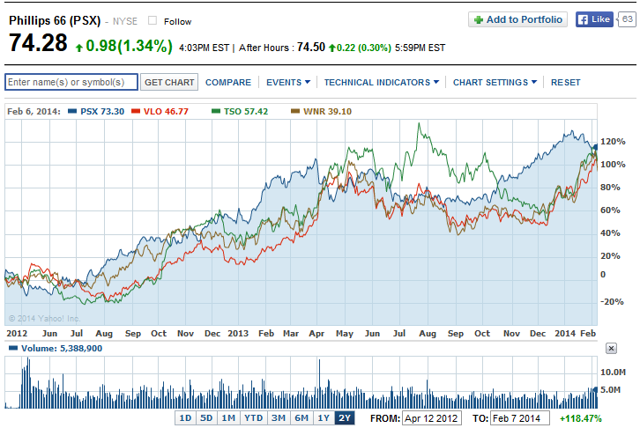 Fourth quarter performance results
Phillips 66 reported fourth quarter adjusted earnings of $808 million, or $1.34 per share, which compares against $1.3 billion or an adjusted EPS of $2.06 in the year-ago quarter. Analysts had expected an adjusted EPS of $1.10, which Phillips 66 has nicely outperformed by 22%.
Despite y-o-y declines in earnings, the refinery heavyweight delivered strong sequential earnings growth. Phillips 66's adjusted earnings in the third quarter of 2013 stood at $521 million and fourth quarter adjusted earnings came in substantially higher at $808 million (an q-o-q increase of 55%). While third quarter results were impacted by lower realized refinery margins, Phillips 66's refinery segment drove results in the fourth quarter 2013.
Fourth quarter 2013 adjusted earnings from Phillips 66's refinery business came in at $450 million, representing 56% of total adjusted earnings across all segments. The refining business produced an outsized sequential increase in adjusted earnings of $452 million. Adjusted earnings in the refinery segment came in at $(2) million in the third quarter of 2013. Fourth quarter results mark a major turnaround for the segment as well as for the company.
(Source: Phillips 66 fourth quarter conference call presentation)
With improving performance in Phillips 66's core business, operating cash flow also improved: OCF in the fourth quarter stood at $1.3 billion compared to $873 million in the previous quarter (an increase of 44%).
Phillips 66 and peers lowly valued
Like many oil- and gas majors, such as ExxonMobil (NYSE:XOM), BP (NYSE:BP) and Chevron (NYSE:CVX), refinery businesses faced sector-related challenges stemming from contracting refinery margins in 2013. Especially the third quarter proved particularly nasty, when Phillips 66's adjusted earnings in its refining segment fell $483 million sequentially.
The weaker refinery business environment in 2013 is probably the main reason why refinery companies still trade at relatively low multiples. Phillips 66 trades at less than ten times forward earnings (an earnings yield of more than 10%), while the peer group average P/E ratio stands at only 9.25. All refineries trade at depressed multiples.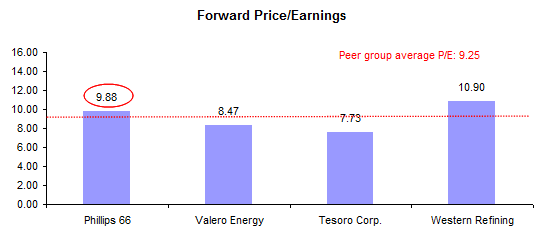 Phillips 66 currently pays $0.39 per common share in dividends, which equates to a dividend yield of 2.1%. Income-seeking investors might want to consider Phillips 66 for their income portfolio even though other oil- and gas related companies have higher distribution yields (large-cap exploration companies, junior explorers, midstream companies structured as master limited partnerships).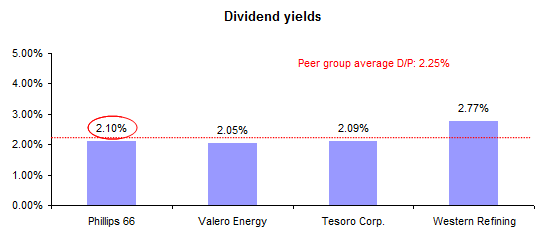 A summary table with key valuation metrics for the Oil- and Gas Refinery and Marketing sector is provided below:

Conclusion
Better-than-expected refinery margins have produced much-awaited improvements in Phillips 66's refinery business, which exclusively drove quarterly results. This is particularly noteworthy because the operating environment for refineries has caused a lot of uncertainty for businesses and investors due to contracting refinery margins throughout 2013. The presented turnaround in adjusted earnings in Phillips 66's most dominant business should alleviate investor worries about deteriorating industry conditions.
Despite the run-up in share price over the last two years, Phillips 66's valuation seems to be more than reasonable. Phillips 66 trades at less than ten times earnings, which is not reflecting the growth and earnings prospects that come with a booming energy industry in the United States. The company just recently announced that it is going to invest $3 billion in a fractionation facility in Texas and a liquefied petroleum gas export terminal on the Gulf coast. Substantial infrastructure investments by Phillips 66 suggest that the company is upbeat about its downstream earnings prospects, as well as long-term demand for storage- and refinery capacity. Long-term Buy.
Disclosure: I am long BP. I wrote this article myself, and it expresses my own opinions. I am not receiving compensation for it (other than from Seeking Alpha). I have no business relationship with any company whose stock is mentioned in this article.