If Q4 earnings results accomplished anything, they brought clarity to the question: Which of the US "Big 3" oil companies is being managed the best? The "Big 3" I am talking about are Exxon (NYSE:XOM), Chevron (NYSE:CVX), and ConocoPhillips (NYSE:COP). Years ago, ConocoPhillips was considered the red-headed step child: smaller in market cap, resource base, and scope. However, as often happens, the bigger and more favored companies got over-confident and lackadaisical, while the smaller, less favored company got a shot of adrenaline and sprung into action. As a result, ConocoPhillips and its companion company, Phillips 66 (NYSE:PSX), have been running rings around its larger brethren Exxon and Chevron. I think this will continue in 2014. Year-to-date, all three have sold off, yet the selling in ConocoPhillips is particularly overdone. As a result, COP is currently a compelling investment opportunity. I look for COP to hit $80 over the next 12 months. Combined with the current 4.3% dividend, that would equate to a total return of 30%.
According to YCharts, since COP spun off Phillips 66 in the spring of 2012, both PSX and COP have outperformed Chevron and Exxon. Here are the share price appreciation stats since that time, including the recent sell-offs in these shares:
PSX: +126.7%
COP: +15.0%
CVX: +3.5%
XOM: +4.1%
Some might consider this an unfair comparison, since COP spun off Phillips 66 back in 2012. However, I still consider the combined COP+PSX as a benchmark to which Exxon and Chevron should be comparing themselves. And the bottom line is this: ConocoPhillips and PSX are running rings around Exxon and Chevron. COP has clearly shown both of its bigger peers how to create value and deliver shareholder returns. The stats above (starting in April 2012, right after the PSX spin-off) show only share price appreciation and do not consider that COP has paid a much higher dividend than either CVX or XOM throughout the period, let alone the growing dividend at PSX.

PSX is outperforming XOM and CVX's downstream operations. And, as we all know, PSX has created its Phillips 66 Partners (NYSE:PSXP) MLP to drop down additional midstream assets and garner long-term tax-advantaged distributions. More on PSX in my article Phillips 66: Snap-Back Q4 Bodes Well For Continued Enterprise Growth In 2014.
COP's monetization of non-strategic assets has enabled it to focus and double down on high-return development projects like the Eagle Ford shale, while exploring for the future in places like the Gulf of Mexico. As a result, COP has rewarded shareholders not only with a significantly higher dividend than either CVX or XOM, but also with better share price appreciation.
This is how you run an oil company: for the shareholders, not for entrenched executive management. That statement holds true particularly for Exxon. After a Q3 that showed some promise, it was back to the same old XOM we have come to expect over the past 5 years. At best - a very mediocre performance. Lower production and lower earnings.
Below is a summary of 2013 total return performance of the three companies (along with PSX) as well as current yield, valuation metrics, and reserve replacement ratios ("RRR").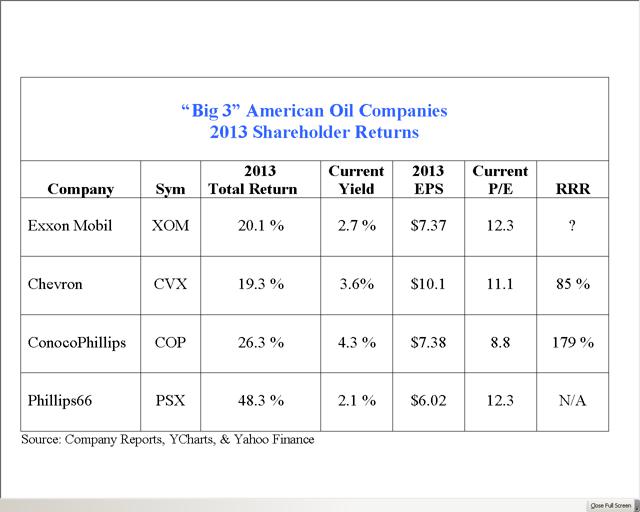 Valuation
Looking at the chart above, it is amazing to find COP still trading at a significant discount to XOM and CVX. A PE=8.8 after what management has proved it can do while XOM trades at a PE=12.3, the same as PSX? This is nutty... but creates opportunity for investors.
Reserves
In COP's Q4 and year-end earnings report, the company announced an organic reserves replacement ratio of 179% by adding approximately 1.1 billion boe to the asset base during 2013. Preliminary year-end 2013 proved reserves are 8.9 billion boe, up 3% from 2012. These are outstanding results for a company COP's size.
In comparison, Chevron announced its RRR was approximately 85%. The company added approximately 800 million barrels of net oil-equivalent proved reserves in 2013. It's interesting that COP added 300 million boe more of proved reserves than its larger competitor, CVX. Granted CVX is spending more on development projects these days, but still from a cap-ex perspective it is surprising. Once again, the RRR points out how well COP is operating as an independent O&G company.
Exxon did not announce its 2013 RRR in the company's Q4 earnings release. I'd be shocked if XOM's RRR was higher than COP's 179%.
Outlook Going Forward
The past is not the future, and we must look at the catalysts going forward to substantiate an $80 price target:
Excellent management.
3-5% growth in margins and production.
A highly optimized portfolio.
Excellent position in the Eagle Ford.
Excellent position in the Canadian oil sands.
Firming natural gas prices.
Excellent 2013 reserves replacement results.
A compelling dividend.
Wall Street continues to underestimate the management of ConocoPhillips despite the near-flawless execution of its large-scale, multi-year strategic plan. Recently, Oando PLC announced it had raised the $1.63 billion needed to buy COP's Nigerian assets. Just another slug of money that COP can plow back into its strategic asset base - and to shareholders.
From the Q4 Seeking Alpha transcript, COP reported that cash margins grew 11% compared to 2012. The margin growth reflects the fundamental shift toward liquids as well as increased production from places with more favorable taxes - primarily the lower-48 and Canada.
I have no doubt COP will reach its 3-5% growth target for organic production in 2014. After all, when was the last time COP management did not deliver on a commitment?
As for concern that COP would not be able to fund its dividend while executing its multi-year strategic plan, I would point out that COP actually raised the dividend in 2013. For the year, COP generated about $16 billion of cash from operations and over $10 billion from asset sales. It ended 2013 with about $6.5 billion in cash ($2.1 billion more than at the beginning of the year) and a reasonable debt-to-capital ratio of 29%: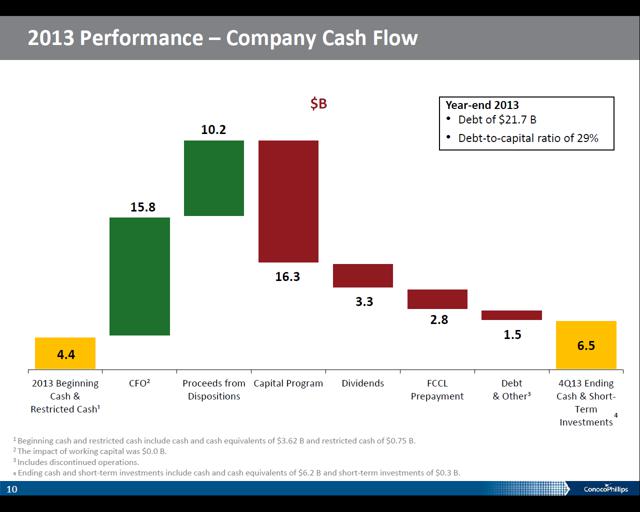 Summary & Conclusions
An $80 price target and a 30% total return for COP over the next 12 months is actually not as bold a prediction as it might appear. After all, COP traded over $74 as recently as November. The current sell-off offers an excellent entry point for new investors. While I still believe Chevron is the best integrated oil company on the planet, that peer group consists of Exxon, BP, and Royal Dutch Shell - not a hard group to outperform these days. The combination of COP+PSX offers a superior investment alternative to any of these other companies. COP+PSX are leaner, meaner, and higher-yielding alternatives. One has to wonder how much longer Exxon shareholders will wait before demanding the company take serious action to unleash shareholder value. Heck, even conservative and stodgy old StatOil (NYSE:STO) has recently taken action to address its underperformance. When will Chevron and Exxon unleash the value of their vast portfolios to enhance shareholder returns?
ConocoPhillips is a STRONG BUY at the current price. Investors in Exxon and Chevron should consider shifting some shares toward COP if they can do so in a tax-efficient manner. I know I am.
Disclosure: I am long COP, CVX, PSX, STO, XOM. I wrote this article myself, and it expresses my own opinions. I am not receiving compensation for it (other than from Seeking Alpha). I have no business relationship with any company whose stock is mentioned in this article.
Additional disclosure: I am an engineer, not a CFA. The information and data presented in this article was obtained from company documents and/or sources believed to be reliable, but has not been independently verified. Therefore, the author cannot guarantee its accuracy. Please do your own research and contact a qualified investment advisor. I am not responsible for investment decisions you make. Thanks for reading and good luck!