Friday was a very surprising day as it relates to oil prices. The surge in pricing of WTI caught us, and we think a lot of investors off guard, but there are serious questions about how long these higher prices can last. First, we have seen record production in the US and bottlenecks develop in the middle of the country. Sure, shipping by rail has helped alleviate some of this surplus inventory but not so much so that prices could be back in the $100/barrel range.
Another point we would like to make is that the oil equities did not necessarily follow suit, and this leads us to wonder whether this is a short-term play on weather with profits from the natural gas trade looking for a safe place to be parked. Regardless of the reasoning, the spread between WTI and Brent now stands at roughly $9/barrel and that is one of the narrowest spreads in the past few months.
Chart of the Day:
With WTI prices now trading above the $100/barrel threshold, we have some serious doubts about this market. The oil equities have continued to lag the physical commodity and this indicates to us that something is wrong. Either the equities are underpriced, or the commodity is overpriced. Our guess is that oil is overpriced and shall correct in due time.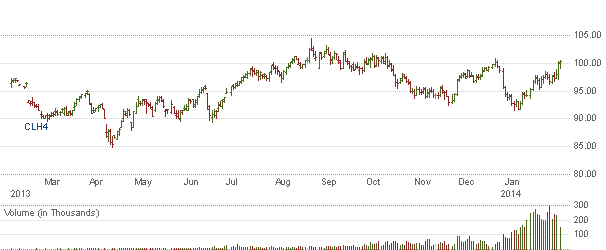 Source: CNBC
Commodity prices this morning are as follows:
Gold: $1,274.60/ounce, up by $11.70/ounce
Silver: $20.11/ounce, up by $0.174/ounce
Oil: $100.10/barrel, up by $0.22/barrel
RBOB Gas: $2.7395/gallon, down by $0.0094/gallon
Natural Gas: $4.676/MMbtu, down by $0.099/MMbtu
Copper: $3.2195/pound, down by $0.0165/pound
Platinum: $1,383.50/ounce, up by $4.30/ounce
MLP Disappoints
Saying that Boardwalk Pipeline Partners, LP (NYSE:BWP) disappointed might even be an understatement, but the units are down almost 40% on weak results and the fact that the MLP was forced to cut its distribution by more than 80%. The yield on this one has been cut dramatically, and although one would think that management would have planned to only have to make one cut here we have to admit that it could very well get worse before it gets better.
The assets in the MLP are in the wrong geographic area that one wants to be in right now as many of the shale plays in the Gulf region have seen a steep decline in exploration with the decrease in natural gas prices and natural gas production increasing in other shale plays as it is a by-product to the NGLs and oil being targeted.
Boardwalk Pipeline Partners, LP is a Loews (L) company and as such Loew's is seeing its shares decline as well. On fundamentals this is not a buy, however if one thinks that the Loews family will step in and right this ship, then this might very well be a buy down the road. We would most definitely let the dust settle here for another quarter or two before going long as the company has some short-term issues (contracts, etc.) that it needs to work through.
Weather Affecting Production
One of the reasons we have been reluctant to buy E&P names on the recent dips, other than the fact we are already overweight, is because we have speculated that the cold weather that has plagued the United States over the last 45 days or so was going to have a negative impact on production. This has turned out to be more fact than fiction as Chesapeake Energy (NYSE:CHK) blamed weather for its production numbers and also said that investors can expect to see weather play a role in production in the near-term, but that when business normalized production would grow sequentially.
The same type of issues were discussed in regards to Anadarko Petroleum's (NYSE:APC) production figures as they have had issues in the Wattenberg Field. Everyone in the play has had issues, with midstream assets not being able to handle capacity for most of last year, and then the infrastructure not being able to handle the cold temperatures, which drove down the area's takeaway capacity. Anadarko said that although production has been hampered, investors can expect more normal production moving forward as operations have already resumed most of their production.
Our guess is that this will be a continuing trend during earnings season and we would caution investors to remain cautious. Rather than purchasing what has been a large, protracted dip and hoping, we would wait for bad news and buy on the dip. It sounds counterintuitive, but it takes risk out of the trade, and with these junior E&P names that are growing production strongly, a hiccup one quarter does not necessarily spell trouble for future quarters.
We are looking for a short-term pullback in shares of PDC Energy and suspect that we will see the shares move back into the $45-47/share range. That is where we would be buyers, assuming the quarterly report indicates that any production miss is due to weather and not any drilling or geology issues.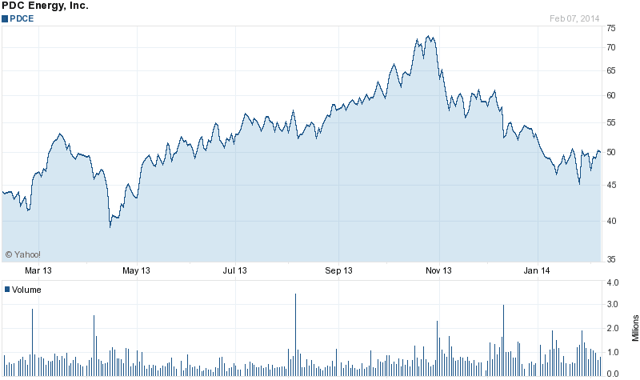 Click to enlarge
Source: Yahoo Finance
The name we would be watching for a possible trade moving forward is PDC Energy (PDCE), which reports next week and could have seen its operations impacted by the winter weather. With Anadarko's comments we suspect that it is highly probable PDC was impacted and think investors might be best served sitting on the sidelines until after the production and quarterly results are announced rather than making a move prior to the announcement.
Disclosure: I am long PDCE. I wrote this article myself, and it expresses my own opinions. I am not receiving compensation for it (other than from Seeking Alpha). I have no business relationship with any company whose stock is mentioned in this article.