Executive summary:
An increase in Hasbro's operating expenses reduces the net profit and free cash flow
The company continues to buy back more shares which will ultimately benefit the EPS and CFPS
I expect the free cash flow yield to increase to 6.6% in 2015.
Even though the results are ok, I'm reluctant to buy Hasbro higher than $47/share, which is based on a free cash flow yield of 7.5% in 2015.
Writing a put 45 January 2015 results in an annualized yield of 4.99% and might be the preferred way to wait for a pullback.
_________________________________
Introduction
In this article I'll have a closer look at Hasbro (NASDAQ:HAS) which has just reported its FY 2013 results. I will provide my view on the financial results of the company and the balance sheet. Thereafter I will briefly discuss the outlook for Hasbro which will result in my investment thesis at the end of this article.
My view on the financial results
For the financial year 2013, Hasbro reported a total revenue of $4.08B, which is almost exactly the same as in FY 2012 (-0.17%). Unfortunately, the company's operating expenses increased compared to the same period last year. The increase was mainly caused by higher royalty payments (up 12.2%) and a 3% increase in selling distribution and administration costs. This is the main reason why the operating cash income decreased by more than 15% to $463M. As the expenses increased on a flat revenue, the operating margin obviously decreased as well, to 11.4% coming from 13.5% in the same period last year.
The lower operating profit (and higher interest bill) had a direct impact on the net profit, which tumbled to $286.2M from $336M (-14.8%).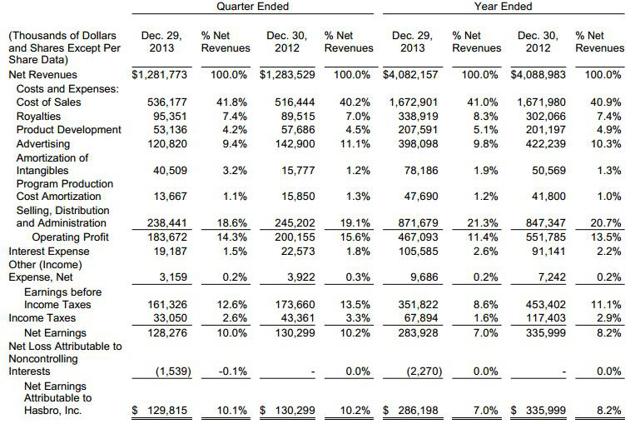 As most of my subscribers know, I also like to have a look at the cash flow statements of a company, as I believe these statements give a better view of the quality and profitability of the underlying business.
For the entire year 2013, Hasbro recorded an operating cash flow of $401.1M and an outflow of $217.7M. As the capital expenditures were limited to 'just' $112M, Hasbro reports a free cash flow of $289M, which is much lower than last year's free cash flow which totaled almost $423M. The free cash flow yield this year was just 4.2%, which is below my minimum standards of 5%. However, if one excludes the changes in working capital, the free cash flow yield was approximately $402M, which is a more comfortable starting point.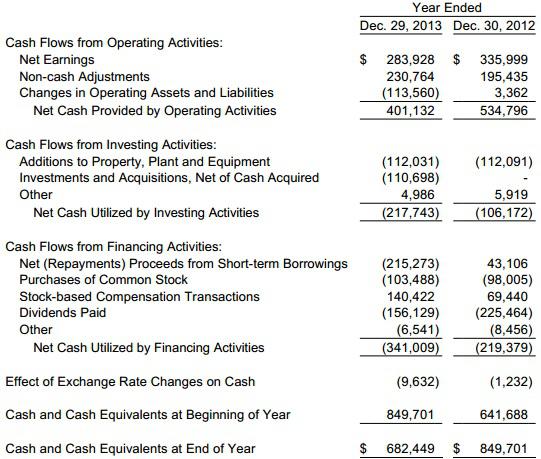 54% of the free cash flow was used to pay out the quarterly dividend (which has now been raised to $0.43/quarter) and another 35% was used to repurchase 2.3 million shares.
My view on the balance sheet
Moving over to the balance sheet, Hasbro had a working capital position of $1.1B, which is quite healthy considering the total market capitalization of just $6.9 billion. At the end of FY 2013, Hasbro had a current ratio of 1.82, which is also very decent (keep in mind a ratio higher than one means the company has sufficient current assets to cover its current liabilities).

The book value for Hasbro was $12.97/share, which means that the company is currently trading at approximately four times its book value, which is relatively expensive.
Outlook
The company does not provide an official outlook, but in this paragraph I'll try to shed my light about the future of Hasbro. I hope the company will be able to get its costs back under control, and together with a slight revenue increase over the next few years (at 1.5-2% per year) this should lead to an increase of the free cash flow. I am targeting a free cash flow of $415M in 2014 and $425M in 2015. As Hasbro will continue to repurchase shares, a free cash flow of $425M divided over 120M outstanding shares results in a free cash flow of $3.54/share in 2015.
Investment Thesis
As I usually use a free cash flow yield to determine whether or not to invest in a company, a cutoff point using a 7.5% free cash flow yield for Hasbro would be $47/share. This doesn't mean the company is currently extremely overvalued, it just means that if I would want a free cash flow yield of 7.5% in 2015 (based on my own assumptions), I would only be allowed to pay $47/share.
A possible solution and potential trade might be to write a P45 option with an expiry date in January 2015. As the current option premium would be $2.15, this trade would result in an annualized return of 4.99%. If I would be able to buy Hasbro at $45/share, my free cash flow yield in 2015 would be close to 7.9%.
Disclosure: I have no positions in any stocks mentioned, and no plans to initiate any positions within the next 72 hours. I wrote this article myself, and it expresses my own opinions. I am not receiving compensation for it (other than from Seeking Alpha). I have no business relationship with any company whose stock is mentioned in this article. I have no position in Hasbro, but might write an out of the money put option.