This morning, AudioCodes' (NASDAQ:AUDC) Seeking Alpha followers were greeted with an announcement that BroadSoft (NASDAQ:BSFT) and AudioCodes are collaborating on "One Voice for Hosted Services". This One Voice package of BroadSoft's unified communication (or "UC") services and AudioCodes' IP phones, routers, SBCs and gateways will be a one stop shop for Service Providers to offer enterprises seeking next generation VoIP services. This is a game changer for AudioCodes as it was Acme Packet's relationship with BroadSoft (as sole supplier) that helped turn it into a powerhouse enabling it to be taken over by Oracle (NASDAQ:ORCL) for 6 times revenue.
AudioCodes has just diversified its revenues stream and I look for other hosting companies like 8X8 Inc. (NASDAQ:EGHT) to follow suit in the months to come as I believe AudioCodes is the best one stop solution in the market.
Buy with short term price target of $10- $11 as AudioCodes introduces its "One Voice for Hosted Services" launch next week in Germany and attends the annual Microsoft (NASDAQ:MSFT) Lync Conference on February 18th with much promised cloud announcements. It's exciting times to be long AudioCodes right here.
Here are some reasons why today's news plus recent articles from AudioCodes' own head of NA sales and two upcoming conferences make AudioCodes a must buy:
· BroadSoft's commitment to One Voice is proof that AudioCodes is much more than a one trick pony which one could assume Acme Packet was prior to AudioCodes getting this vote of confidence from BroadSoft. I believe today's news will spark the interest of large institutions such as, Fidelity which owned approximately 13 million shares of Acme Packet prior to Oracle's acquisition and which currently owns Sonus Networks (NASDAQ:SONS).
· Mobility - I've been pounding the table on AudioCodes' mobile Over the Top (or "OTT") platform that should be coming out in a cloud based version as early as the Mobile World Congress. In fact, AudioCodes and BroadSoft have together worked on mobile for some time and comments today from Dean Bubley, Founder and Director of Disruptive Analysis that their collaboration could see then delivering new mobility services such as "an OTT model themselves" may bring my thesis into serious consideration and be very explosive to AudioCodes in the quarters to come if BroadSoft and AudioCodes push an OTT solution out to the hundreds of service providers that BroadSoft works with today. This is the special sauce to AudioCodes and could mean big EPS leverage in 2014.
· Hosting companies are exploding with next generation VoIP services and AudioCodes' strategy is right on the sweet spot in exploiting that growth and solving keys issues to the enterprises going to market with the services.
· According to Infotrack, nearly 60% of enterprises with over 500 seats are deploying or planning to deploy Lync.
· AudioCodes' Alan Percy, head of NA sales, recently announced that Cargill with 142,000 employees in 67 countries and Amgen (NASDAQ:AMGN) with 20,000 employees around the globe have implemented Lync and are utilizing AudioCodes' suite of products. He also stated that "I expect to see many more enterprise wins with Lync going forward".
· The Cargill and Amgen contracts that AudioCodes landed are just a start and an indication of how big this opportunity is for the company in the next 3-4 years.
· Mobile World Congress and Microsoft Lync Conference - hedge funds and institutions will be all over these events and it'll become very obvious that my post takeover model will be evaluated and shares will go much higher as big demand will build post these events.
Chart: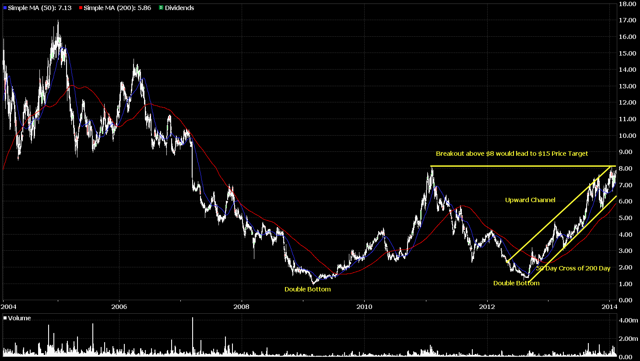 Today's announcement could be the catalyst that breaks AudioCodes out above $8.00. As you can see on the chart, $8 is resistance but with momentum building, it should see a quick run to $10 - $11. The longer term target is $15.
Conclusion:
It's very simple from here on out. I've been bullish on AudioCodes since it was $1.45 and I recently defended it when Oppenheimer downgraded it based on price target achieved (nothing changed with its business model). Today, the best analyst on AudioCodes, BroadSoft's CEO, Michael Tessler just told you to buy, with its adoption of AudioCodes' One Voice and what looks like the displacement of Oracle (Acme Packet). This speaks volumes to what AudioCodes possesses which is no surprise to the 1500 Seeking Alpha followers of AudioCodes. This company is going "One Way" - Up.
Disclosure: I am long AUDC. I wrote this article myself, and it expresses my own opinions. I am not receiving compensation for it. I have no business relationship with any company whose stock is mentioned in this article.