On Feb. 4, 2014, Microsoft (NASDAQ:MSFT) finally announced that Satya Nadella will replace Steve Ballmer as its new Chief Executive Officer. Many candidates were considered-including high profile candidates such as Alan Mulally [Ford (NYSE:F) CEO] and Stephen Elop [Nokia (NYSE:NOK) CEO] - and Microsoft decided to promote Nadella, who has been with the company for 22 years. In my opinion, I think that Nadella seems to be similar to Bill Gates in terms of having a strong technical background, a sense of where the company should be heading, and a clarity in Microsoft's competitiveness in a Post-PC market that is being dominated by Google (NASDAQ:GOOG) and Apple (NASDAQ:AAPL). In this article, I want to share my views on Satya Nadella and discuss why he can be a great CEO to lead Microsoft in the next decade.
Nadella's Background
First, Nadella, 46, was born in Hyderabad, India. He studied at the Mangalore University in India and obtained a bachelor's degree in electrical engineering. He went on to obtain a master's degree in computer science from the University of Wisconsin, followed by a master's degree in business administration from the University of Chicago (source: Microsoft).
Nadella also has a strong technical background. He worked at Sun Microsystems before joining Microsoft 22 years ago. At Microsoft, he moved up the ranks and held several important leadership positions. Recently, he was the Executive Vice President of Microsoft's Cloud and Enterprise group and played a major role in moving many of Microsoft's services to cloud computing and infrastructure. Before that, he was a Senior Vice-President of R&D for the Online Services Division (Bing Search Engine) and a Vice-President for the Business Division (Microsoft Office) (source: Executive Bio).
What Nadella Can Bring to the Table
It is too early to say whether or not Nadella is a good CEO because he just started and is not well-known to the public yet. In his first video interview, he was very optimistic in Microsoft's future even though it is far behind Google and Apple in the mobile operating system and mobile device market. He gave hints about his strategy when he said: "Going forward is a mobile first, cloud first world. In other words, everything is becoming digital and software-driven."
What makes him different from Steve Ballmer is that he has a strong computing and engineering background and has more clarity on where the industry is heading (mobile and cloud first). In comparison, Ballmer was a marketing and sales-oriented person who seemed to lack the technical expertise that I think is essential in any technology company. Nadella may have resembled Gates who is a great visionary and computer programmer. Gates also stepped down from his Chairman position and agreed to take on a more active role at Microsoft as a Technology Advisor. He will spend one third of his time working with Nadella and advising product groups. This is another good sign for Microsoft that will likely improve its innovative culture.
Nadella is known for growing Microsoft's cloud businesses. He is often credited for leading and improving the profitability of the Server and Tools division as well as the Cloud and Enterprise Group. He also helped Microsoft to transition from traditional client-server computing to cloud infrastructure and services, which helped the company to become a major player in the cloud computing industry.
The two divisions-Server and Tools (servers & cloud services) as well as Business Division (Office and enterprise software)-that Nadella served on are also the 'most profitable divisions with the highest growth rates' according to the company's 2013 Annual Report (see image below). The Windows division is still exceptionally profitable, but its revenues are decreasing due to the shift from traditional personal computers toward smartphones, tablets and mobile devices. What makes Microsoft a highly profitable company-despite its cash-draining businesses: Bing, Surface and soon Nokia-is its commercial licensing of Windows software and Office software and its cloud-computing services.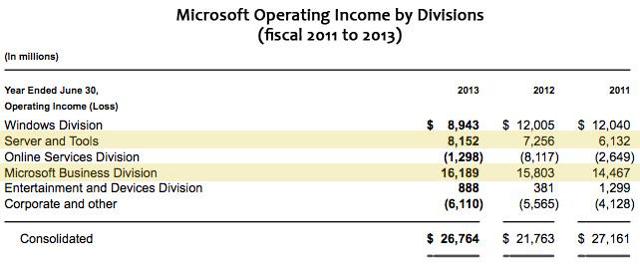 Note that Microsoft has restructured its divisions to Devices & Consumers and Commercial at the time of writing.
How Nadella Can Turn Microsoft Around
Nadella has the right technical background and expertise, and with the help of Bill Gates, he should be able to help Microsoft make better products and services, increase market share in the cloud computing industry, improve its enterprise software and services, and hopefully make better Windows Phones and tablets that become popular.
I believe that the one thing Nadella can do to turn Microsoft around is to make its mobile devices-especially its Surface tablets-more user-friendly with better hardware and operating system designs, more apps, and better pricing. I own an iPad and an Android-based Nexus 7. And I like both operating systems. However, I found it difficult to use a Microsoft Surface because it is not as user-friendly as an iPad and because it has a lot less apps.
The Surface is an important piece in Microsoft's ecosystem because the entire Post-PC market is shifting toward mobile-based devices. The decline in PC sales-due to the growth in tablet sales-leads to lower Windows licensing revenue for Microsoft. Hence, it is essential that Nadella focus on improving its Surface tablets in order to compete with Apple and Google. This is why he hinted that his strategy would be "mobile first and cloud first".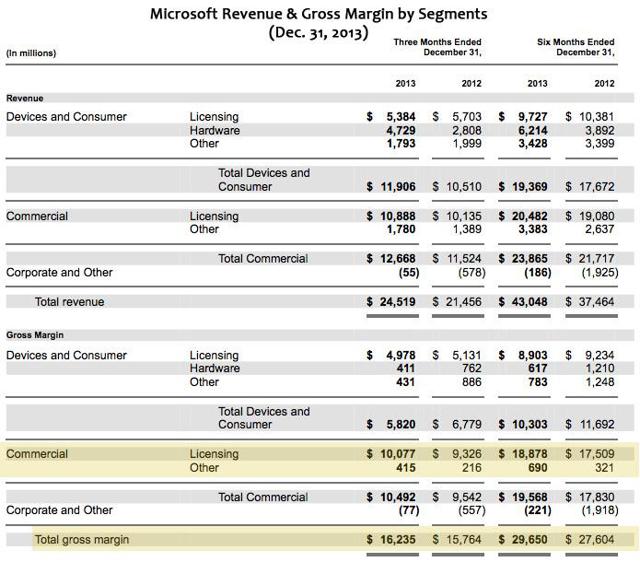 Microsoft is a market leader in enterprise software (e.g. Microsoft Office) and earns a large portion of its total revenue and gross margin from commercial businesses (see image above). The company has a huge "economic moat" in the commercial segment because most large enterprises as well as medium and small businesses still use Windows and Office. It is unlikely that companies will switch their computer operating systems and office software to other providers due to the enormous costs of switching and the cost of training of their employees.
I believe that it is likely that many enterprises will be using tablets - such as the iPad - to complement their desktop computers. If Microsoft does not succeed in its Surface business, it can offer a whole suite of enterprise products (Office and cloud services apps) that are "optimized" for iPads and Android tablets. Microsoft has been taking too long to introduce its highly profitable Office software for iPad and Android tablets. Nadella will also need to focus on mobile apps and the Surface in addition to Microsoft's cloud computing and enterprise services. I think that Microsoft has the largest potential in its commercial business and that it should make it stronger and less susceptible to Google and Apple's dominance in the mobile market.
The Bottom Line
Nadella can be a good CEO to lead Microsoft since he has the right technical background and vision (mobile first and cloud first) for the company. It will take us a while to know if he is the right leader. In addition, Bill Gates is taking on an active role again as a Technology Advisor for the company's product groups. I believe that Microsoft is in good hands with both of them playing an active role in the company.
Source: Microsoft 2013 Annual Report, Q2 2014 Quarterly Report & Investors Relations. The author is a lead writer at Intelligent Stocks. The article was originally published there.
Disclosure: I am long GOOG, AAPL. I wrote this article myself, and it expresses my own opinions. I am not receiving compensation for it. I have no business relationship with any company whose stock is mentioned in this article. I have no positions in MSFT and no plans to initiate any positions in the next 72 hours.