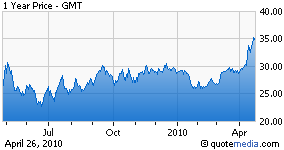 GATX Corporation's (GMT) first-quarter earnings of 42 cents per share were well ahead of the Zacks Consensus Estimate of 33 cents.
A year ago, the company reported a profit of 79 cents. GATX, which provides transportation assets to the rail companies, witnessed an earnings miss due to a gradually improving rail market, though revenues will remain choppy in the near term until the economy stabilizes.
Total revenues remain almost unchanged relative to the prior year quarter at $263.0 million. GATX reported a 16% year-over-year increase in total expenses to $222.1 million.
The weakened economy has led to a fall in fleet utilization to 96.0% as of December 31, 2009, from 96.5% the previous year. However, the utilization rates have improved sequentially (95.9% in the previous quarter).
Segment Results
Rail segment profit was $49.3 million, compared with $43.2 million in the prior-year quarter. The decline was the result of market pressures that negatively affected utilization (96.0% vs 96.5% in the prior year quarter), lease rates and remarketing income.
Specialty reported a segment profit of $12.1 million, down from $23.0 million in the prior-year period, primarily due to lower asset remarketing income.
American Steamship Company (ASC) reported a segment profit of $0.4 million, down substantially from $4.8 million in the prior-year period. The profit decline was mainly brought on by a reduction in tonnage carried due to a fall in iron ore demand.
Outlook for 2010
Management expects earnings for 2010 in the range of $1.50–$1.70 per share.
In the near term, we expect results to reflect steady rail utilization in the North American market. However, the pricing environment is expected to remain difficult. Marine charter rates will remain under pressure due to weak markets and increased vessel delivery. The ASC segment is expecting an increase in customer demand in 2010. An attractive and diversified asset and earnings base coupled with a strong balance sheet and access to capital will poise the company to enhance profitability with the eventual turn of the economic cycle.