We are pleased to present the February edition of our gold miners analyst watch series to our readers. As in previous articles of this series, we will be noting price targets and target changes in comparison with results published in our January edition.
We continue to consider the following stocks (in alphabetical order): Agnico Eagle (NYSE:AEM), Alamos Gold (NYSE:AGI), Allied Nevada (NYSEMKT:ANV), AngloGold Ashanti (NYSE:AU), AuRico Gold (NYSE:AUQ), B2Gold (NYSEMKT:BTG), Barrick Gold (NYSE:ABX), Eldorado Gold (NYSE:EGO), Gold Fields (NYSE:GFI), Goldcorp (NYSE:GG), Harmony Gold (NYSE:HMY), IAMGOLD (NYSE:IAG), Kinross Gold (NYSE:KGC), McEwen Mining (NYSE:MUX), New Gold (NYSEMKT:NGD), Newmont Mining (NYSE:NEM), Primero Mining (NYSE:PPP), Randgold (NASDAQ:GOLD), Sibanye Gold (NYSE:SBGL), St Andrew Goldfields (OTCQX:STADF), Yamana Gold (NYSE:AUY).
And for the present edition, we have added Lakeshore Gold (NYSEMKT:LSG) and Argonaut Gold (OTCPK:ARNGF) to our watch list.
We duly note that we source our data exclusively from Yahoo.com. Most companies considered for this article are covered by more analysts than reported in our table, but not all of them provide their data to our source website.
The table below summarizes our data. Grey columns represent data sourced directly from Yahoo.com, and light green colored columns represent processed data derived from this source data.
The first three columns list the company names, ticker symbols and share prices at the time of writing, followed by the change in share price since the last edition.
Price targets (low, median and high) are listed in the following three columns. These targets are followed by a column giving the number of analysts providing data to Yahoo.com and the mean recommendations given by these analysts ranging from 1.0 (strong buy) to 5.0 (sell). This concludes the data sourced directly from Yahoo.com.
The remaining columns list data points computed as percentages of the share prices at the time of writing as given in the third column. The column titled "median-price" gives the differences between the share prices and the median target prices. The column titled "high-low" gives the differences between the high and the low targets. The last four columns titled "target change" document the changes in price targets since the January report, with the last column giving the average changes over the low, median and high price targets.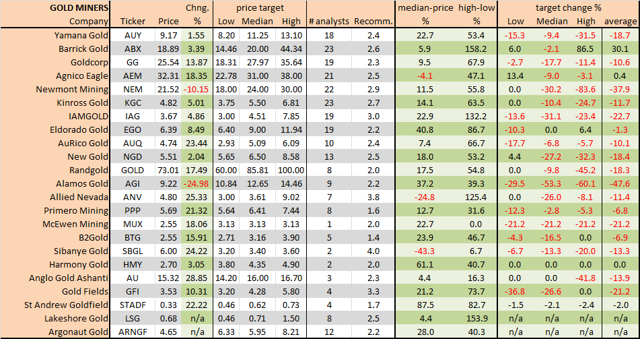 N.B. Price targets for St Andrew Goldfields, Lakeshore Gold and Argonaut Gold were provided in Canadian Dollars and converted to US Dollars for the purpose of this article using a conversion rate of C$1.0 = US$0.91 .
N.B. Only one single analyst covering McEwen Mining also logged the data on Yahoo.com .
The following diagram has been added to the format of our analyst watch articles and illustrates the change in share price since the last article in our series approximately one month ago.
Gold miners' share prices have shown some considerable strength during the past month. On average we compute an increase of 11.1% throughout our watch list, and six companies with a share price appreciation in excess of 20%. Anglo Gold Ashanti (+28.8) and Allied Nevada (+25.3) are leading the charge, closely followed by Sibanye Gold (+24.2).
Only two companies lost in value during the past month, namely Newmont Mining (-10.1%) and Alamos Gold logging a whopping -25% loss in share price.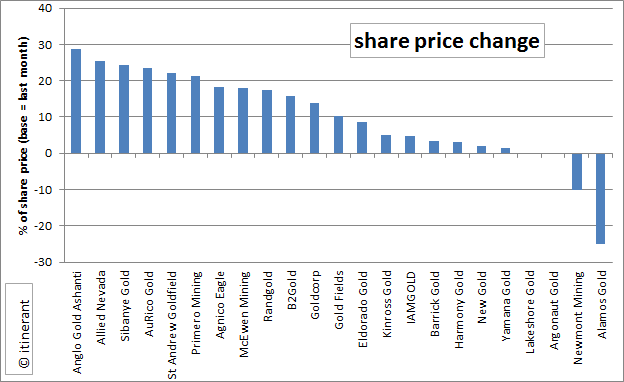 As in previous editions we have kept tabs on the difference between the current share price and the median price target and interpret this difference as a measurement for the potential of a stock. This value is given in column "median-price" and the diagram below. Caution is advised for stocks with recent catalytic events, since analysts take their time updating their data on Yahoo.com.
Unchanged from last month, analysts seem to expect the biggest moves to the upside from St Andrew Goldfields followed by Harmony Gold. The latter company has been plagued by serious accidents at its mines which might lead to some re-adjustments to the downside in coming weeks.
Three gold miners are trading above their median price target, namely Agnico Eagle, Allied Nevada and Sibanye Gold. The latter has maintained its share price above most analysts' expectations for quite a few months now.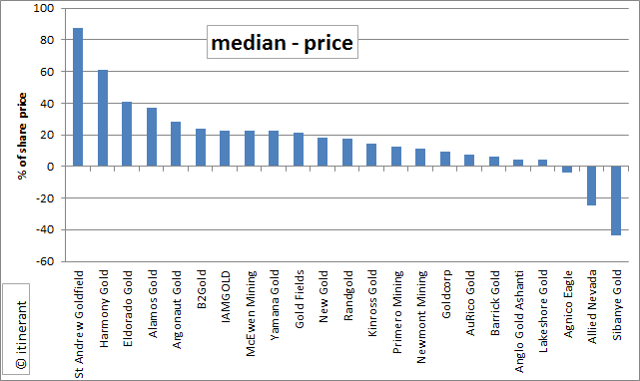 Column "high-low" measures the divergence in analyst opinions. The results from this column in the table at the top of this article are visualized in the next diagram.
Analysts are most add odds with regards to Barrick Gold, followed by Lakeshore Gold and IAMGOLD. Allied Nevada has dropped to fourth place in this category after placing first for quite a few months, indicating some degree of convergence in analysts' opinion.
The greatest degree of agreement among analysts is noted for South African miners Sibanye Gold and AngloGold Ashanti.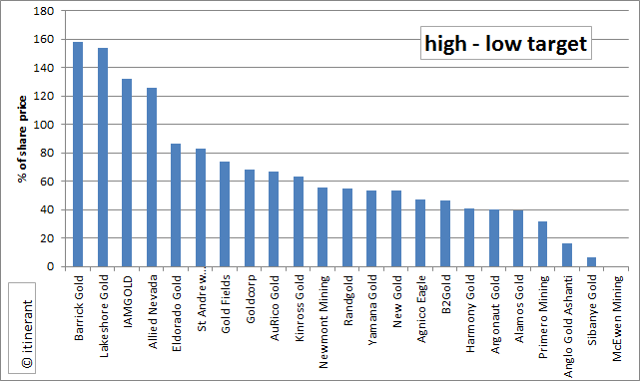 Targets were cut across the board despite the healthy increase in share prices. Barrick Gold was the only gold miner with a target increase worth noting. The most severe cuts are noted for Newmont Mining (-38%) and Alamos Gold (-47.6%).
On average targets were reduced by -12.6% since early January.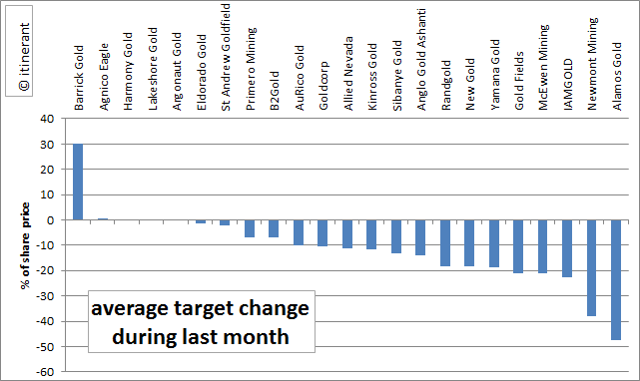 A visualization for column "Recommendation" concludes our report. The little red bars indicate recommendation changes since last month.
Unchanged from last month B2Gold is still held in the highest regards by analysts followed by Primero Mining and St Andrew Goldfields.
Allied Nevada and Sibanye Gold are bringing up the rear. Recommendations were cut quite severely for New Gold and Gold Fields since last month.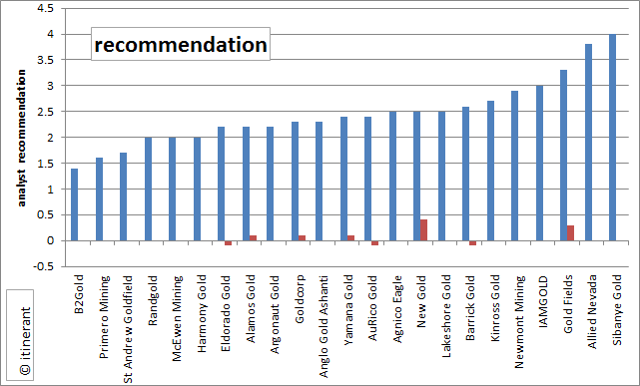 Parting Shot
Share prices for gold miners rallied during the past month, and some substantial gains could be made for those picking the bottom correctly. Despite these gains, we note severe cuts to the price targets given by analysts.
Will analysts be right and will we see a drop to new lows soon? Or are analysts simply late to the party and price targets will play catch-up in coming weeks? We will be watching with interest and will be reporting again in about a months time.
Disclosure: I am long AEM. I wrote this article myself, and it expresses my own opinions. I am not receiving compensation for it (other than from Seeking Alpha). I have no business relationship with any company whose stock is mentioned in this article.