In Q1 2011... is the likely answer.
Take a look at the graph below. You are looking at Microsoft's (MSFT) and Apple's (AAPL) annualized revenues, with figures derived by taking averages over each 4 successive quarters. It includes the latest quarter, just reported. I've drawn trend lines for both companies' revenue growth over the bars, and faintly filled in the projected annualized revenues in light blue and grey. The trend line starts in the 3rd Quarter 2007, which is the quarter that followed Apple's unleashing of the iPhone. (Click to enlarge)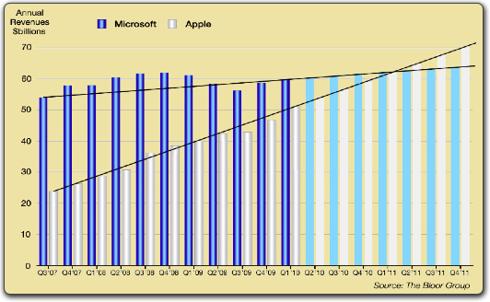 Apple's revenue growth is dominated by the iPhone, which now accounts for almost 50% of Apple's revenues. Revenue growth has been 113%, since the iPhone launch culminating in $13.5 billion for Q1 2010. Apple's computer business may well be healthy and growing, but Apple's stellar financial performance owes everything to the iPhone.
By all reports, Microsoft also had a blow-out Q1; its best ever winter quarter, in terms of net profit ($4.1 billion) and quarterly revenue ($14.5 billion). But as you can see from the graph, in terms of annualized revenue it never brought Microsoft back to where it was a year ago.
The graph would be easier to analyze if there wasn't a recession dropped smack in the middle. Clearly the recession smacked Microsoft harder than Apple, driving down the annualized revenue figures. It seems almost as though the recession walked past Apple's door and never knocked, but it's not so. The 30-40% growth Apple was enjoying in 2008 dipped under 20% in 2009, but now it's heading back to 27% and rising. Microsoft hasn't grown at that rate for years.
The Microsoft Picture
One of Microsoft's two big revenue streams, Windows, looks to be recovering – in fact it was up year-on-year by about 30%. But a year ago Microsoft experienced negative growth in the Windows market, in the first two quarters. So this year, with Windows 7 now in the market, the recession coming to an end and corporate PC buyers much more active, that level of growth is not surprising.
More ominously for Microsoft, the growth in Windows sales accounted for all the improvement over the previous year, and then some. Microsoft's Business Division, which includes the Office products had a minor fall in revenue, to $4.2 billion from $4.5 billion. This may just be a blip, as some Office revenues were deferred. We'll have to wait and see.
Microsoft's growth is constrained by PC market growth, because most of its revenues depend on PC sales. In Q1 2009, the PC market declined by 7% and this year it was up 24%. That pretty much explains the 30% jump in Windows revenues. We'll probably see the same kind of lift in the next few quarters, but after that it will probably fall back down to 10% growth – always assuming that the PC market continues the dance it was doing before the recession. In summary there's not much upside potential for revenues as the trend line on the graph is suggesting. It could be labelled "mild growth."
However, there is downside potential. We'll know more after Q3 2010. There's a new version of MS Office being released in June 2010 and Microsoft's position will be clearer when we know how well it has been received.
The Apple Picture
The smartphone market is expanding at 30% per year and Apple's share of the market is gradually rising. It's not an easy market to call, because it is volatile. But few commentators expect Apple to end up with less than 20% of the global market once all its exclusive deals have run out in the next year. It could easily achieve a much larger share. The trend line I've drawn simply assumes that the iPhone success will continue at its current rate. Thus, we can expect Apple revenues to overtake Microsoft's by 1st Quarter of 2011. However that completely leaves the iPad out of the equation.
Actually, Q4 2010 is more probable…
I've already written extensively about the iPad. In
Why The iPad Will Kill The Etch-A-Sketch
I suggested that Apple would sell 12 million iPads in the first 12 months after launch (a million a month), which seems far more optimistic than most of the Wall Street analysts, or even IDC, amongst whom the consensus seems to be about 5 million this year (half a million a month, plus a bulge at launch). So let's imagine that Apple only achieves that estimate. When you add in the accessories and the download revenues you are likely looking at a further $5 billion in revenue by December. Maybe there will be some cannibalization in there, with fewer sales of laptops (for the student market) and the iPod Touch, maybe trimming a $1 billion from that figure. But even so, that would bring the point at which Apple gains revenue equality with Microsoft, to Q4 this year.
Come to think of it, Q3 2010 is possible…
In
The iPad Will Replace The Laptop
I concluded that the iPad will be a laptop cannibal. It can be used for "light business purposes" -- email, calendar, address book, writing, presentations (as I found out by buying one). Indeed it has a whole swathe of uses in many contexts where a laptop would never be used. Right now Apple sells 20 million iPod Touch devices per year. I expect it will soon be selling a similar number of iPads. If my "optimistic" projection (a million a month for the first full year) is correct, then Apple will overtake Microsoft (in terms of annualized revenues) in Q3 this year.
What I really meant was Q2 2010…
But hey, do the math. Microsoft's revenues were $14.5 billion last quarter and Apple's were $13.5. There is a real difference between the two, but the gap will easily be filled by 3 month's sales of the iPad – even ignoring Apple's current growth rate of 27% on its other products. In fact, it wouldn't be surprising if Apple's Q2 revenues were somewhere north of $15 billion, even though the conservative guidance it offered at its earnings call was $13 – $13.4 billion. Historically, Microsoft 's Q1 and Q2 figures tend to be fairly even, and so do Apple's, but Apple just threw an iPad into the fire.
Given the distinct difference in the growth rates, once Apple revenues overtake Microsoft's, Microsoft will never catch Apple again, short of a major merger or acquisition.
Disclosure:
Long AAPL, Long GOOG