McDonald's brand mission is to be our customers' favorite place and way to eat and drink. Our worldwide operations are aligned around a global strategy called the Plan to Win, which center on an exceptional customer experience - People, Products, Place, Price and Promotion. We are committed to continuously improving our operations and enhancing our customers' experience.
Most restaurants survive by providing food that most people will eat, that is to say, their market is the majority of normal people. Of course, one restaurant cannot please everyone, but that does not stop them from trying to by offering as many options as possible. Fast food restaurants are no different, and as far as fast food restaurants go, McDonald's (NYSE:MCD) has about the most diversified product line out there. They offer everything from French fries to salads to specialty coffees. But at what point does new product development become too much? At what point does McDonald's quest for world domination take it away from its core purpose-becoming "our customers' favorite place and way to eat and drink"? This article will briefly examine that question.
McDonald's Bar-B-Q opened in 1940 as a drive-in with a full menu, but when the McDonald's brothers closed it for renovations in 1948, they re-opened it as a quick service restaurant simply called McDonald's and cut the menu to just nine items. This simplified menu helped them to easily grow through franchises, and with the vision of Ray Kroc, there were more than 700 stores across the United States by 1965. The combination of simplicity and uniformity on the McDonald's menu created in customers an expectation that they could go to a McDonald's restaurant and almost feel at home when they ordered. Indeed, McDonald's most targeted market was families with children. Ronald McDonald was introduced nationally in 1966 and became an instant success. Five years later, Hamburglar, Grimace, Mayor McCheese, and the rest of the gang were added to the mix. In 1979, the Happy Meal was added to the national menu. Because of this decision to target families towards the beginning of the company's history, McDonald's is now the largest toy distributor in the world. Actually, twenty percent of all orders at McDonald's include a toy. Clearly, an important part of McDonald's target groups is families.
As McDonald's became more established, more products were added gradually throughout the years, including the Big Mac in 1968, the Quarter Pounder in 1973, and the entrance into the breakfast market in 1975 with the Egg McMuffin. All products up to this time had seemed to make sense. McDonald's had always been a burger joint, with milkshakes, fries, soda, and coffee, but 1987 marked a turning point when McDonald's introduced the freshly tossed salad. The company was trying to shake the unhealthy image it had acquired and appeal to a wider range of customers by offering a healthier alternative to burgers and fries. This may have seemed like a good idea at the time, but in retrospect, was it in line with their mission statement of making McDonald's "our customers' favorite place and way to eat and drink"? The answer is not really. The key words in that mission statement were "our customers." Not anyone else's customers, just McDonald's customers. In adding salads, McDonald's was trying to appeal to a group of people who purposefully avoided McDonald's. This group of more healthy minded people, mostly Millennials, was not McDonald's core customer group. The addition of salads was a venture outside of McDonald's existing market and product group. This move was also most likely an attempt at competing with Subway, which also in 1987, had just opened its 1000th store.
An attempt at breaking into a new market is not necessarily a bad thing. With more and more people interested in calorie counting, and a generation rising up that's more environmentally sensitive, a move towards the healthy and the all-natural could have been a great help to the company for the long run. As time moved on, McDonald's began to invest more and more into the healthier side of its menu. Chicken sandwiches were added in 1997, the parfait in 2000, the switch from tossed salads to premium salads in 2003, the snack wrap in 2006, and of course, McCafe in 2009. In 1998 McDonald's made an investment in Chipotle (NYSE:CMG) (this turned out to be one of the most prosperous "healthy" investments McDonald's made, with the investment of $360 million growing to $1.5 billion when it was divested in 2006). The switch to premium salads actually helped out sales quite a bit originally, but presently only makes up less than three percent of sales, compared to the dollar menu which makes up fifteen percent. Do you remember McDonald's adult happy meal with a free pedometer? No? Neither does anyone else.
After last year's disastrous attempt at saturating the menu with new items (Mighty Wings, Premium McWrap, Steak & Egg Burrito, Fish McBites, steak breakfast sandwiches, new Quarter Pounders, Grilled Onion Cheddar, Hot 'n Spicy McChicken, Dollar Menu & More, and the return of the McRib), customers have became confused, and service times have skyrocketed as training has become increasingly difficult to keep up with. QSR Magazine stated that in 2013 McDonald's scored its highest drive through times ever recorded at 189.49 seconds, compared to the 90 second target. This is certainly not consistent with the second part of the mission statement where it says:
Our worldwide operations are aligned around a global strategy called the Plan to Win, which center on an exceptional customer experience.
As a direct result of this lack of "an exceptional customer experience," McDonald's same store US sales actually dropped 3.8% Y/Y in December and customer service complaints increased drastically.
Perhaps that was the wake up call executives needed though. Tim Fenton, COO, used the term "overcomplicated" to describe the new McDonald's menu and stated that:
We stumbled a bit last year with too many new products, too fast and we created a lot of complexity.
CEO Don Thompson said that McDonald's needs to establish "a stronger customer relationship this year." He also admitted that the Extra Value Menu was not beneficial to the customers at all, hence the development of the new Dollar Menu & More.
After saying all this, now what? Now that executives realize the error of their ways, how will they fix it? According to Thompson, the fix comes in two ways, one internal, and one external. The first fix is more training for staff and getting better equipment for restaurants. With more than 700,000 staff and a one year turnover of 150%, training can get tricky. Slowing down rollouts will certainly help with that. Thompson also wants to push a new prep table with more storage and accessibility to assist with the Made-For-You operating platform introduced back in 1998. As the second part of the plan, Thompson wants to put a heavier emphasis on marketing this MFY system. When it was released in 1998, there was not a lot of emphasis placed on informing customers about how exactly this system benefited them. This system allows food items to be made to order, something that helps with quality, freshness, and ease of customization. Thompson thinks marketing this will help make customers more comfortable ordering to their exact desire, and thus keep them coming back for more. Unfortunately, part of Thompson's plan didn't include backtracking a little on any of the new items. New menu items cost a lot to develop and distribute, so they don't disappear easily. Investors will have to see how long it takes for Thompson to admit defeat on this front.
What can investors take away from this information? With McDonald's stock near the 52-week low of $92.22, now may be the time to act. McDonald's has always had a way of fixing its mistakes and coming out stronger for them. That being said, with such a comparatively drastic decrease in sales and customer counts during the last month of the most recent quarter, it may take a little longer to build a relationship with disheartened customers again. Also, the training and prep table upgrades will not happen overnight, and with franchisees having to fund the bulk of the plan, it may be rather slow going. The stock could see a slight downside risk if Q1 FY 2014 remains sour, but by the middle to the end of this year, I see the company (and the stock) making quite the comeback. According to the long term and short term moving averages, the stock currently has downward momentum. With how close the averages are trading to the stock price right now, a small move up could reverse the indicators and confirm an uptrend. Price-earnings is also at one of the lowest levels since the beginning of 2013.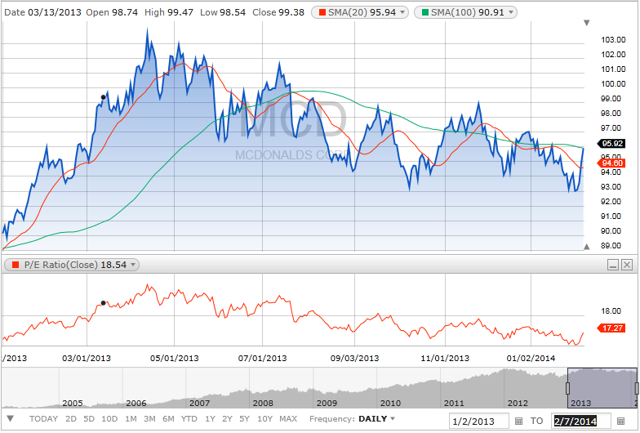 When the executives of a company create a mission statement, they need to keep it specific, but not too narrow. The company needs to know who its customers are, and what business it's in. McDonald's has forgotten that it is in the fast burger business, and in order to keep customers coming back, they need to decide if they want to stay in that business or not by maintaining and promoting the products they already have instead of introducing a new one every few months.
Disclosure: I have no positions in any stocks mentioned, and no plans to initiate any positions within the next 72 hours. I wrote this article myself, and it expresses my own opinions. I am not receiving compensation for it (other than from Seeking Alpha). I have no business relationship with any company whose stock is mentioned in this article.