Overview:
On January 8, 2014 my article outlining the investment potential in ViryaNet (OTCQB:VRYAF) was published. At 4pm today, ViryaNet announced earnings for the 4Q 2013 and for the full year 2013 that were truly exceptional. This article will serve to go over ViryaNet's earnings, and to see how the company has performed relative to the researched I provided a month ago.
Earnings Overview
(from company press release linked above)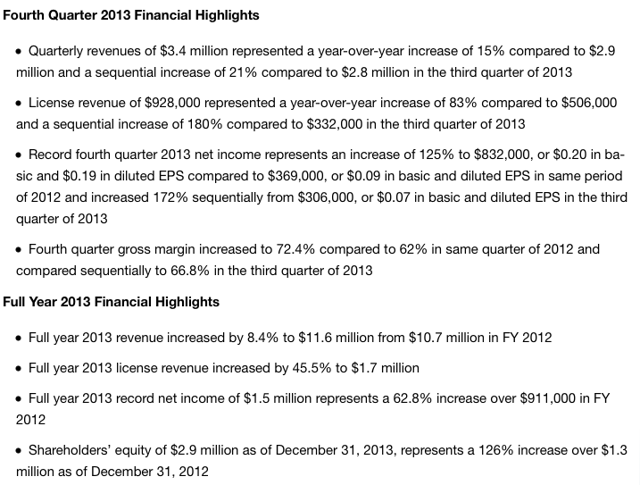 Click to enlarge
ViryaNet had an exceptional quarter, and full year financials that were way above my estimates.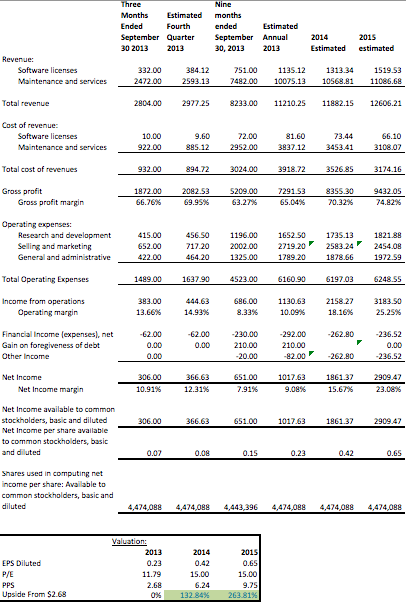 For the fourth quarter of 2013, the company reported revenues of $3.4M, above my estimate of $2.98M and a 21% increase over the third quarter of 2013. Licensing revenues of $928,000 were nearly triple my estimates and demonstrates that the company's transition to a cloud based provider is moving at a much faster rate than what was expected. All together, the company reported an diluted EPS of $0.19 for the 4Q of 2013, way above my estimate of $0.08. To put this in perspective, my estimate for the full year of 2013 was $0.23. This is a truly exceptional quarter by ViryaNet as the company performed way above my personal estimates.
For the full year 2013 ViryaNet's revenue came in at $11.6M, above my estimates of $11.2M in revenue for the year. This also marked a 8.4% increase over the FY 2012. For the full year 2013 licensing revenue rose 45.5% to $1.7M, above my estimate of $1.1M. On the bottom line, the company reported a record net income of $1.5M, a 62.8% increase over FY 2012. All the while the company's shareholders' equity increased to $2.9M as of December 31, 2013 - a 126% increase over the same period ending 2012.
One item that struck me as important during the earnings call was that the company is continuing to explore an uplisting, and has reached the threshold requirement of $2.5M in shareholders' equity required for an uplisting.
Valuation:
With a diluted EPS of $0.15 for the first nine months of 2013, the 4Q's addition raises this estimate to $0.34 for the full year 2013. This large increase in EPS marks the fact that ViryaNet is performing extremely well, and way ahead of my personal estimates. The company's performance in 2013 is just below my estimates for 2014. With $1.5M in net income and $0.34 in EPS for 2013, this demonstrates that company's excellent execution as my estimates placed 2014 as generating a net income of $1.86M on EPS of $0.42.
As such the company is executing much sooner than I had expected. ViryaNet's top and bottom lines came in much higher than my estimates for the 4Q 2013 and the full year of 2013. ViryaNet's results for 2013 are more in line with my estimates for 2014 - demonstrating that the company's cloud transition and various catalysts discussed in my comprehensive article are taking place much sooner than expected.
With a current P/E ratio of 15.28x, a full year EPS of $0.34 puts the share price projection currently at $5.10. I am extremely satisfied that ViryaNet's performance came in above my estimates and this demonstrates the company's drive to outperform and deliver for shareholders. Now I am off to listen to the company's earnings call.
Disclosure: I am long VRYAF. I wrote this article myself, and it expresses my own opinions. I am not receiving compensation for it (other than from Seeking Alpha). I have no business relationship with any company whose stock is mentioned in this article.
Additional disclosure: Always contact an investment potential before executing any trades, this article is informational and in my own personal opinion.