Introduction

The United Kingdom is a well regulated and developed economy with numerous companies that pay consistent and generous dividends. In this article, I introduce some lesser known small and mid-cap dividend growth stocks from the UK. The current yield may not be attractive to income focused investors as the market is probably rewarding these growth+income stocks with a fairly rich P/E multiple.
I want to remind fellow SA investors that the UK does not withhold tax on dividends for US residents. This means that stocks from the UK are almost similar to an American company when it comes to taxation on dividends making them suitable for retirement accounts unlike most other foreign stocks. One may want to look for my past articles for a discussion about the British economy and introduction to bigger stocks from the UK.
The dividend yield in the table below is based upon dividends paid out in the most recent financial year. The forward expected yield would most likely be higher as most of these are dividend growth stocks. Note that some of these companies are small companies and are not ADR listed on the American exchanges. One may want to use limit orders since the trading volume for most of these is extremely limited.
Company

ADR
Ratio

Price (USD)

EPS

Div Amt
(USD)

Yield
(USD)

Payout Ratio

Div Growth
10-Yr

Div Growth
5-Yr

Div Growth
1-Yr

Aggreko

1

1.039

25.45

0.392

1.54%

23.01%

15.73%

24.29%

15.01%

Compass Group

1

0.477

14.85

0.394

2.65%

50.31%

11.07%

17.32%

12.68%

Croda

0.5

1.3

20.14

0.488

2.42%

45.77%

17.86%

30.45%

8.18%

Devro

2

0.207

9.64

0.279

2.89%

41.06%

10.98%

13.82%

6.25%

Domino Printing

1

0.353

14.02

0.344

2.46%

59.46%

14.33%

11.37%

8.14%

Hiscox Ltd

1

0.531

10.55

0.295

2.80%

33.90%

17.66%

8.45%

5.88%

Pearson

1

0.842

18.14

0.738

4.07%

53.44%

6.76%

7.33%

7.14%

Smith & Nephew

5

0.617

75.64

1.305

1.73%

42.30%

13.14%

18.17%

4.98%

Tate & Lyle

4

0.57

50.89

1.634

3.21%

45.96%

3.65%

3.00%

5.22%
Aggreko (OTCPK:ARGKF)
Aggreko is one of the largest temporary power generation solution providers. It manufactures a wide range of equipment - from small temporary power generators to multi-megawatt power generation units for utility power grids. The company excels in specialized power generation equipment for rental applications and emergency power outages. It also makes onboard generators for ships and portable generators for the construction industry. Aggreko has a temperature control business also that provides modular cooling towers, air- and water-based chillers and heat exchangers. One big reason for growth over the last few years has been the requirement for temporary power generation as well as inability of public infrastructure to keep up with power requirements especially in emerging countries. The company has global reach and operates in 100 countries. Recently, Donald Yacktman bought a small stake in the company.
The company has excellent financials and has grown at a fast clip in the last 5 years. Revenue grew from £947m in 2008 to £1583m in 2012 while EPS grew from 45.56p to 100.40p over the same period, a compounded growth of 22%. Dividends also kept pace and increased at 16% over 10 years and 24% over 5 years. The latest increase in 2012 was also very respectable at 15%. The current dividend yield is 1.5% with a trailing 2012 P/E of 15.4. The company doesn't announce quarterly results but provides half-yearly reviews. Revenue and profits were flat for the first six month and are expected to grow only slightly for 2013 when full-year results will be announced in early March. I plan to make an investment decision after reviewing the full year results in March.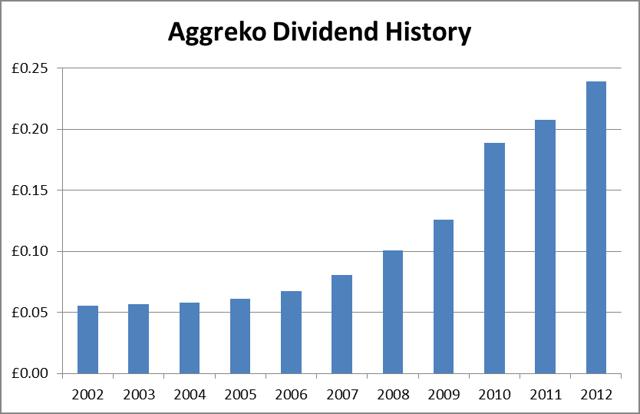 Compass Group (OTCPK:CMPGY)
Compass Group is a global foodservice and support services company. It is the largest contract foodservice company in the world with Aramark Holdings (NYSE:ARMK) being the second largest and Sodexo (OTCPK:SDXAY) as the third biggest. It serves meals in offices, factories, schools, hospitals, mining camps and sports and cultural venues. It operates in 50 countries and has more than 500,000 employees. Compass Group serves 4 billion meals a year and counts 90 of Fortune 100 companies as its clients. The company gets 47% of its revenue from North America and is the 11th largest private sector employer in the US. Europe and Japan account for another 34% of revenue while the rest comes from fast growing and emerging markets. Its biggest brands are Eurest and Bon Appetit.
Revenue has grown at a steady pace over the last few years at Compass. In the most recent financial year, it reported annual revenue of £17.5b. EPS has also kept up pace and increased allowing the company to maintain a healthy dividend growth rate. The current dividend yield is 2.6% with a very impressive 11% CAGR growth over 10 years including a 12.7% most recent annual increase.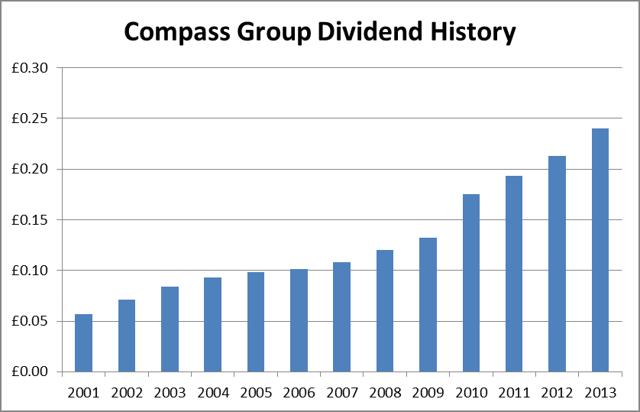 Croda International (OTCPK:COIHY)
Croda is a chemicals company that was founded in 1925. It is a leader in natural based specialty chemicals sold to virtually every type of industry. Its consumer care segment contributes 56% of revenue and consists of businesses in personal care, health care and crop care. Croda's Performance Technologies unit brings in another 36% of revenue and makes chemicals for home care, additives for polymers, coatings, lubricant additives and polymers. Finally, it has an Industrial Chemicals unit that manufactures base oleochemicals and co-products. The company has a good geographic reach with Europe contributing 41% and Americas 36%.
The company has grown at a good pace in the last few years and latest full year revenue stand at £1b. Dividends were relatively stable for a long time but saw a big jump in 2009-10. The 10-year compounded growth rate stands at 17% though the most recent increase was only 8%. The payout ratio is 46% leaving scope for continued growth in high single digits keeping pace with the increase in underlying profits. The current yield is 2.4%.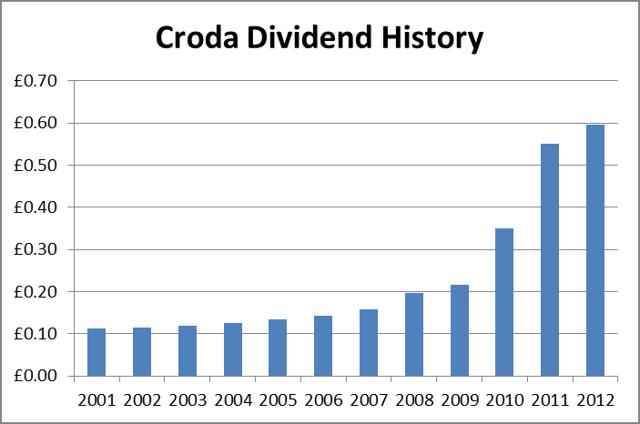 Devro (OTCPK:DEVOY)
Devro is one of the world's leading suppliers of casings for food especially for a wide variety of sausages and meat products. The company uses sophisticated technology to turn collagen into strong, flexible, edible food casing that helps its customers save money and make sausages more attractive for end consumers. Devro also makes tubular film for fresh, frozen or processed roasts and hams. This is a relative specialty area and competitors are few and none is on a sound economical footing. Viscofan SA of Spain is a big competitor that is more than double the size of Devro. Viskase (OTCPK:VKSC) based in Illinois is another competitor but does not come close on profitability.
Devro yields 2.9% right now with a 41% dividend payout ratio and a consistent 11% compounded growth rate over 10 years. The growth slowed down to 6% in the latest year. I expect the company to continue to do reasonably well as meat consumption in emerging markets is increasing with growing urbanization.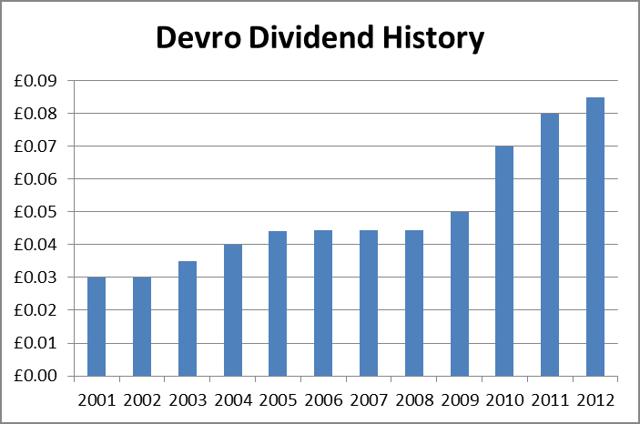 Domino Printing (OTCPK:DMIPY)
Domino Printing is a developer and manufacturer of inkjet and laser printing products. It is a 35-year old company that now sells in 120 countries. The company provides manufacturers and printers with the ability to code, mark or print data, information or graphical images on their products or packaging at high speed. Its products are capable of printing on a broad spectrum of materials and substrates. Food, beverage, pharma and commercial printing are the largest sectors and represent 67% of the total sales. The company has seen growth in emerging markets where the company's products have been able to provide value for legislative driven mandates for 'sell by' and 'best before' dates.
The company made some good progress in 2013 and managed to grow the revenue slightly even as economic weakness persisted around the globe. The underlying earnings per share did fall though but the company maintained its dividend growth and increased the rate by 8%. The previous years saw much higher growth and the 10-year compounded growth rate is 14.3%.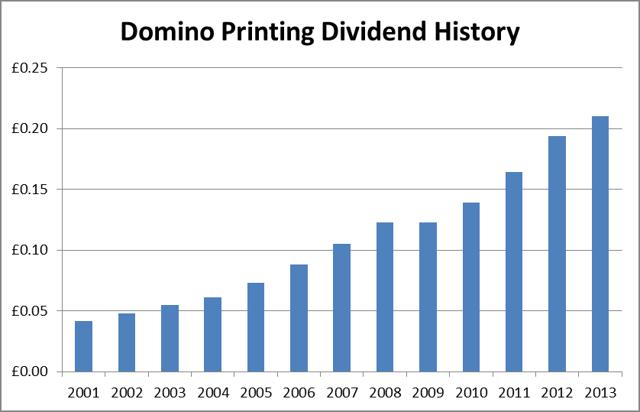 Hiscox (OTC:HCXLF)
Hiscox is an international specialist insurer that is incorporated in Bermuda. It is an underwriter at Lloyd's of London and offers property and casualty insurance to companies and high net worth individuals. Its roots date back to the early 20th century though the company in the current form was formed in the 1980s and 1990s. Its business activities include providing insurance cover for property, marine, aerospace including satellite damage, professional indemnity, hacker and political risk. Hiscox also provides home and contents insurance including classic cars, fine art, kidnap and ransom insurance for high net worth individuals. The company saw major insurance losses in 2011 due to floods in Australia, tsunami in Japan and other catastrophic events around the world.
Gross premiums written grew from £1.15b in 2008 to £1.56b in 2012 while profits after tax rose handsomely from £71m to £208m during the same period. This helped the company increase dividends from 12.75p to 18p. Compounded dividend growth over a 10-year period is even more attractive at 17.6% though the most recent increase was only 5.9%. The current yield is 2.8%. Hiscox may be a fine dividend growth investor with an appetite for financial companies. I personally do not venture close to them as they are far too complex for me to understand.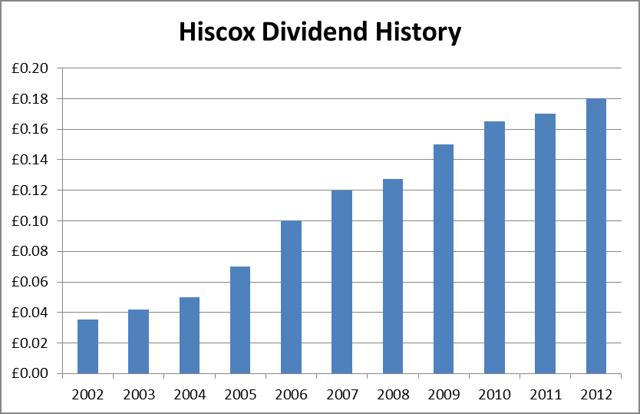 Pearson (NYSE:PSO)
Pearson is the world's leading education company. It provides curriculum materials, multimedia learning tools and testing programs for educating children from pre-school to high school. It even has materials for professional certification. Pearson also owns the Financial Times Group which is one of the world's leading business information companies. The company owns a 47% stake in Penguin Random House which is one of the largest global book publisher. Pearson used to own Penguin which merged with Random House of Bertelsmann in July 2013. Pearson Education generates about 60% of its sales in North America though it operates in 70 countries. Its brands include Prentice Hall, Addison-Wesley, Allyn and Bacon, Benjamin Cummings and Longman.
Even though print business worldwide has faced some tough times since the advent of digital publishing, Pearson has managed to do reasonably well. The company continues to make long-term organic investment in content to stay ahead of the competition. At the same time, Pearson has invested heavily in digital products and services that has helped it achieve more than 35% of its annual revenue from digital products. The company is looking to grow in fast-growing markets of China, India, Africa and Latin America. I feel that these initiatives would help it sustain the dividend growth of 7% which is very interesting when coupled with a current yield of 4% and a payout ratio of only 54%.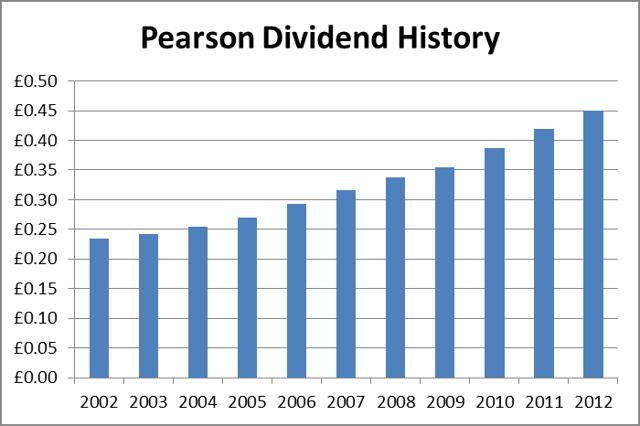 Smith & Nephew (NYSE:SNN)
Smith & Nephew is the world's largest producer of arthroscopy products and second largest producer of advanced wound management products. It is also the third-largest producer of trauma and clinical therapy products and fourth largest producer of orthopedic reconstruction products. It is a large global company with more than 11,000 employees and operations in more than 90 countries. Annual sales in 2013 were more than $4.3b. Its biggest competitors are Johnson & Johnson (NYSE:JNJ), Stryker Corp (NYSE:SYK) and Zimmer Holdings (ZMH). The company is focusing to build upon its initial success in China and expand business in other BRIC economies of Brazil, Russia and India. The company is not shy in supplementing its organic growth with strategic acquisitions. Its acquisition of Plus Orthopedics in 2007 gave a strong foothold in China. Smith & Nephew acquired Healthpoint Biotherapeutics in 2012 and last week announced acquisition of ArthroCare for $1.7b.
The company has grown rapidly over the last decade and repeated the performance in the latest financial results for Q4 2013. The compounded dividend growth over the last 10 years is 13% though the growth slowed to 5% in 2013 following a massive increase in 2012 over 2011. I expect the company to do well as the world ages and requires more implantable hips and knees!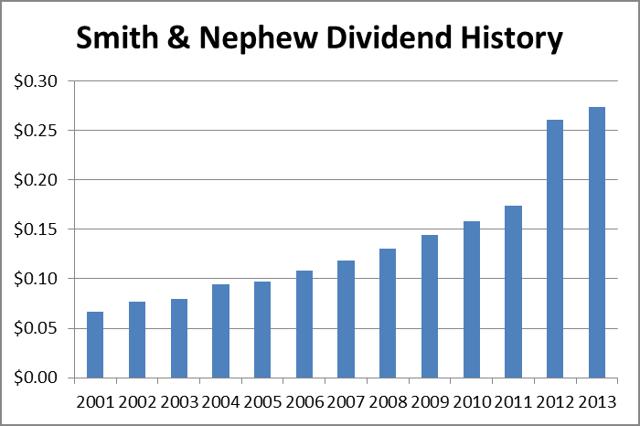 Tate & Lyle (OTCQX:TATYY)
Tate & Lyle is a global provider of high quality ingredients for the food, beverage and other similar industries. The company discovered the artificial sweetener, sucralose, in 1978; though the patent has expired now the company still retains about 80% of sucralose market. Tate & Lyle products are used in the vast majority of the world's top 100 food and beverage companies. They make products like sucralose sweetener for Splenda, texturants used in starch and gum, dietary fibers and other wellness ingredients. The company also supplies ingredients to the paper and board industry, fuel industry, animal feed and personal care products. The company is undergoing a strategic transformation to focus on specialty food ingredients business that should lead to better margins in the future. The company's competitors are International Flavors & Fragrances (NYSE:IFF), Celanese Corp (NYSE:CE) and Suedzucker (OTCPK:SUEZF).
The company has grown at a slow pace in the last few years. It has managed to keep debt levels at a constant level while increasing EPS and dividends at approximately 3-5% every year for the last 10 years. The latest increase was at 5% and the stock yields 3.7% right now.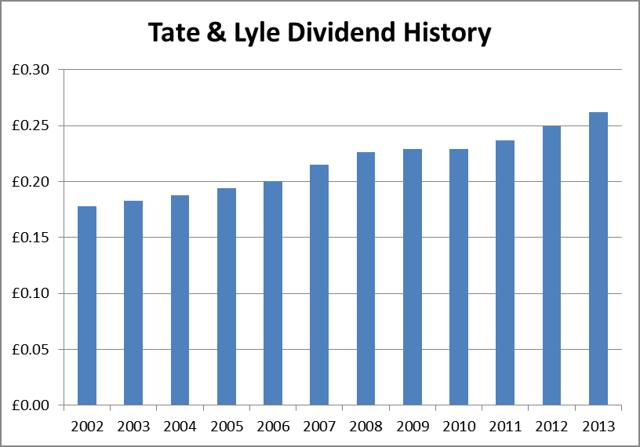 Concluding Remarks
I do not own any of these stocks but plan to watch them very closely and initiate position in some of them. I am most interested in Pearson and Smith & Nephew. I will continue to monitor all other stocks as well as they represent an opportunity for dividend growth as well as capital appreciation given their strong fundamentals. I would like to encourage the reader to do further research before investing and using limit orders when investing in these companies as they are thinly traded.
Disclosure: I have no positions in any stocks mentioned, and no plans to initiate any positions within the next 72 hours. I wrote this article myself, and it expresses my own opinions. I am not receiving compensation for it (other than from Seeking Alpha). I have no business relationship with any company whose stock is mentioned in this article.