Emerging market equities drastically underperformed developed market equities in 2013. The broad MSCI Emerging Market Index ETF (NYSEARCA:EEM) had a return of -5.76% and very few of the underlying emerging market components of the index had good returns. See table below.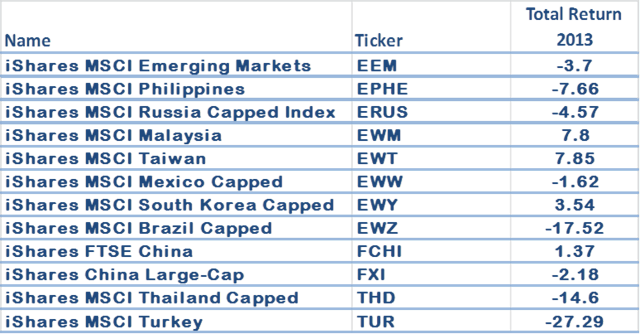 Source: Morningstar
Meanwhile developed market equities, including the SPDR S&P 500 ETF (NYSEARCA:SPY) and MSCI EAFE Index ETF (NYSEARCA:EFA) had returns of 32.7% and 21.4%, respectively.
The forecasts for emerging markets in 2014 don't get much better either. Based on variety of factors that may (KEYWORD: ((NYSE:MAY))) affect emerging market equities, the consensus forecast is for emerging markets to underperform developed markets again. Only one of the research providers shown below has an overweight to emerging markets. The rest of them are either underweight or neutral. Developed market equities and European equities are the clear favorites.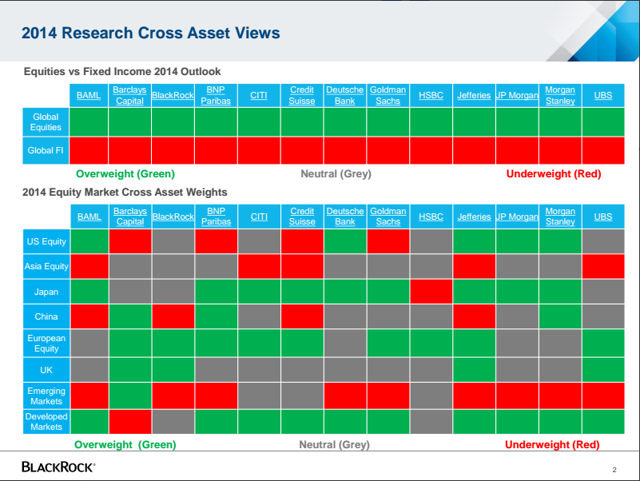 Source: BlackRock
But lumping all emerging markets together leaves out the fact that there are certain global economic trends that may actually benefit specific countries in the emerging market space. First, let's touch on the factors expected to result in headwinds for emerging markets.
The Consensus Drivers of Emerging Market underperformance are as follows:
· Strong USD - As Fed tapering evolves (So far asset purchases have been reduced by $20 billion and expectations are that there will be additional tapering of $10 billion after each Fed meeting), the dollar is expected to strengthen, which is expected to drive inflows into the U.S. as global investors shift away from other currencies.
According to DailyFX, the dollar is expected to continue to strengthen as yields rise.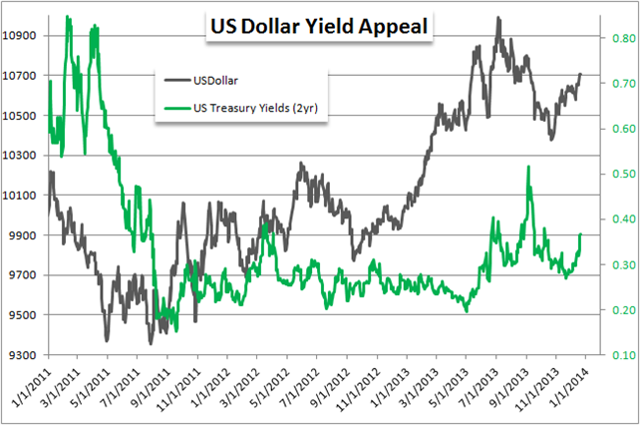 Source: DailyFX
· Rising interest rates - higher rates are expected to have a residual effect on emerging markets as both businesses and consumers will find financing more expensive, resulting in lower spending.
· Fiscal, monetary, and political challenges faced by some emerging countries will result in capital outflows in what is frequently termed 'risk-off'.
Investors are usually underweight emerging equities
Several studies have revealed that U.S. investors are typically underweight to emerging market equities. The average allocation to emerging market equities is anywhere from 2.5% to 6%, according to several sources, including Vanguard and BlackRock.
When you consider that emerging markets make up anywhere from 14% to 16% of the MSCI All Country World Index (NASDAQ:ACWI), the average investor's allocation to emerging is severely underweight. This could be due to unfamiliarity with companies in those markets, risk aversion having to do with higher volatility, accounting differences that make analyzing companies more challenging, or skepticism about political or regulatory changes.
Finally, much of the emerging market equity avoidance may be attributable to previous bad experiences. For example, emerging market equities had returns of -30% in 2000, -53% in 2008, -18% in 2011. Those were very painful experiences.
And human nature is such that when we have a very painful experience we tend to avoid situations that may put us in a position to repeat that experience. For example, how long does it typically take a normal person to drink again after suffering through a very painful hangover? (We're not talking about college students) We might adjust the pace or quantity of what we drink to minimize the possibility of experiencing such misery again.
This may be another reason why investors avoid emerging markets. But unlike binge drinking, which has no long-term benefits, investing in emerging markets, while painful in the short term, can be fruitful in the long term. The checkerboard chart below indicates that while emerging markets have been the worst performer in several of the last 10 years, it has the highest annualized return over the entire 10-year period.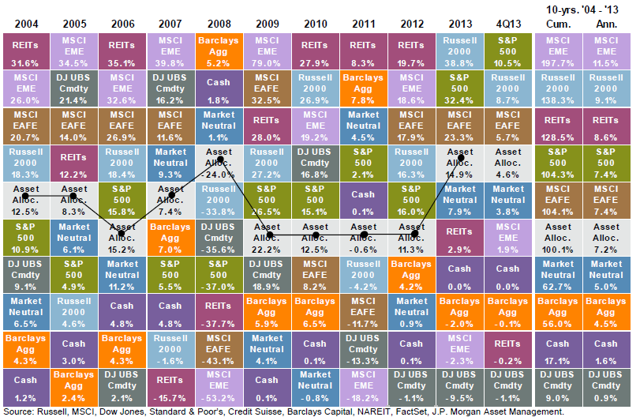 Source: J.P. Morgan
Surprisingly, emerging markets have outpaced developed markets in both dividend per share growth and earnings per share growth since 1995. Notwithstanding the contraction in emerging markets dividends and earnings per share since 2011, emerging markets have performed well.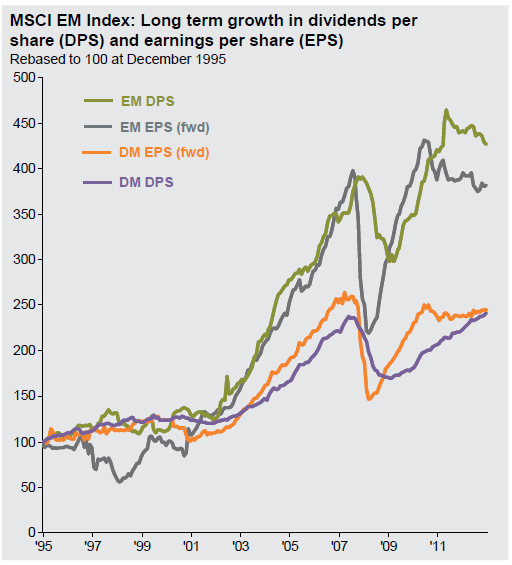 Source: J.P. Morgan
Furthermore, if volatility is one of the primary reasons for underweighting EM equities, it shouldn't be. Although volatility has historically been much higher in emerging markets than developed markets, it has become more comparable since 2000.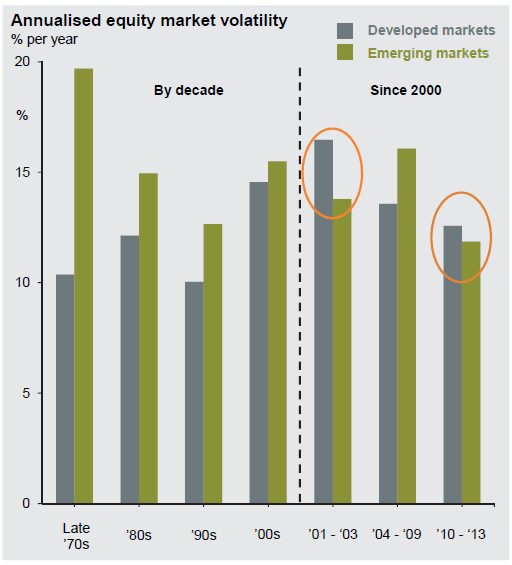 Source: J.P. Morgan
These aren't our grandparents' emerging markets
Emerging markets have steadily evolved over the last four decades, and particularly in the last 20 years. The share of global consumption had been dominated by the U.S. and other developed markets until earlier this century, when EM consumption began to grow as U.S. consumption declined. It is no coincidence that the rate of investment in EM started its ascent just a few years before. The level of EM investment surpassed the level of U.S. investment in approximately 2005, while EM consumption as a percent of global consumption surpassed that of the U.S. in 2007.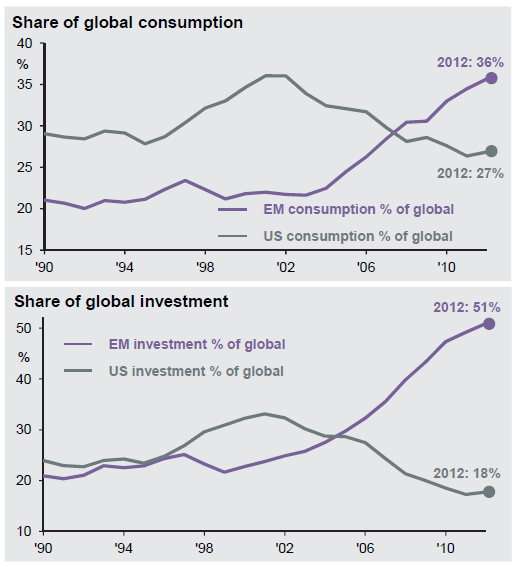 Source: J.P. Morgan
Are emerging markets actually cheap?
With the risks and uncertainties still prevalent in EM, investors might still wonder if the potential return is worth the risk. While EM equities may be considered undervalued, it isn't always a good idea to invest in assets that are cheap. Sometimes they are cheap for a reason. If they are cheap and have positive future prospects, then we've found a good opportunity.
For example, on a price to book basis, EM equities look slightly undervalued with a price/book ratio of 1.53, compared to the long-term average of 1.82. While not the cheapest they have ever been, they still look attractive.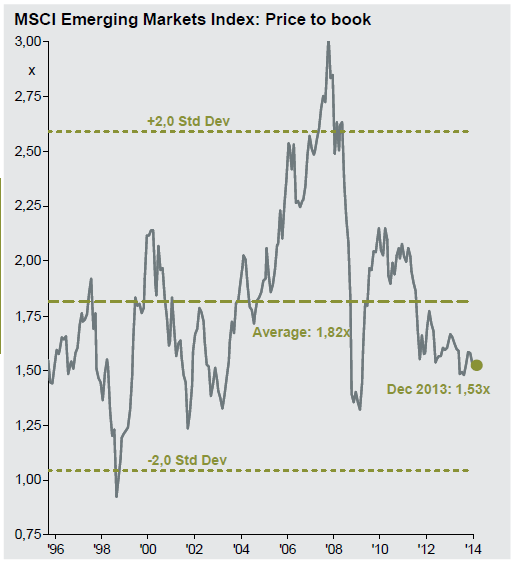 Source: J.P. Morgan
They also look undervalued relative to their developed market peers. The forward PE of the MSCI EM Index is currently at a discount of 29% to the PE of the MSCI All Country World Index, while the average PE discount has been closer to 22%.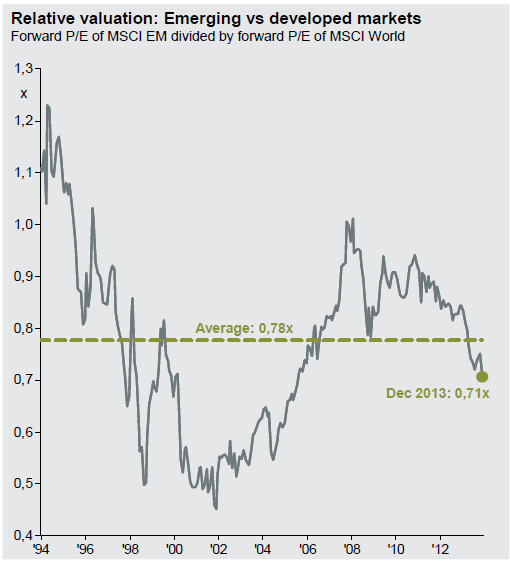 Source: J.P. Morgan
So even if the MSCI EM Index may look cheap with a forward PE of 10.2x, it is important to look at fundamentals and the underlying components to determine if this is in fact the case.
The EM index is overweight to financial services and materials relative to the MSCI ACWI and while financials are trading below the 10.2x average PE for the index, materials, healthcare, and consumer staples are trading at a substantial premium. What we can draw from this analysis is that there are certainly some sectors that look undervalued within the index, but there are equally as many sectors that seem a bit stretched.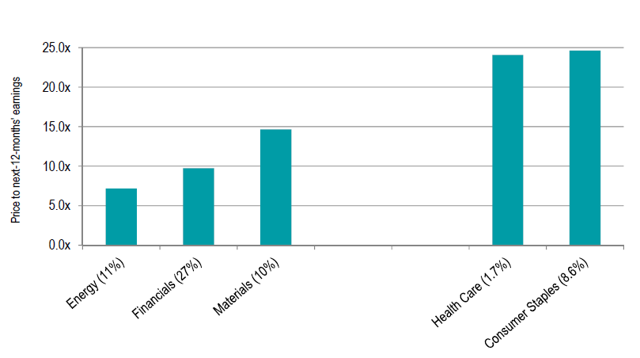 Source: MFS
Looking at the long-term valuations by country, we can also reason that EM markets in general seem to be cheap relative to the rest of the world. But countries like Mexico and India seem to be a bit overvalued, while Russia and China are not only cheap on a relative basis to world markets, but are also cheap relative to their long-term averages.

Source: J.P. Morgan
Heterogeneous is genius
Emerging market equities have historically been considered a homogeneous group. It didn't matter if Russia was any different from Colombia, investors usually considered emerging markets as a group without regard for the specific nuances of each region or country. Looking across the emerging markets today, however, reveals some clear differences in these markets that make some countries more attractive for investors than others. In this environment, it is important to be selective.
To determine if there are attractive risk-adjusted returns, investors should evaluate a country's political stability, long-term solvency, and short-term liquidity, among other things. The table below shows the external and fiscal positions of a select number of emerging market countries, along with regional totals at the bottom. A country like Chile has a very low debt to GDP ratio of just 5%, which compares favorably to Hungary, with a debt to GDP ratio of 60%.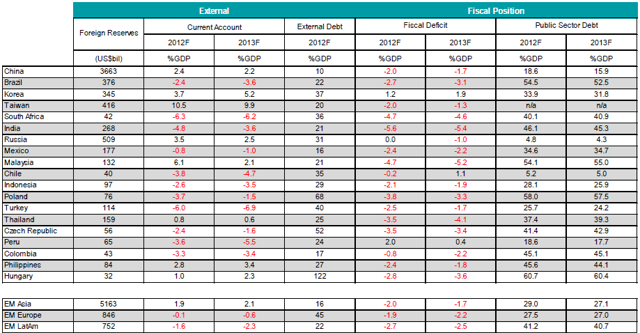 Source: J.P. Morgan, MFS, January 2, 2014
While emerging market GDP growth has been slowing, the fact is that most of the emerging market countries have higher GDP growth than developed markets and debt-to-GDP ratios that are much lower. The one caveat is that borrowing costs for emerging market economies are much higher than their developed market counterparts, oftentimes almost double the DM rates. So far, this has not been an issue but is certainly something to watch out for.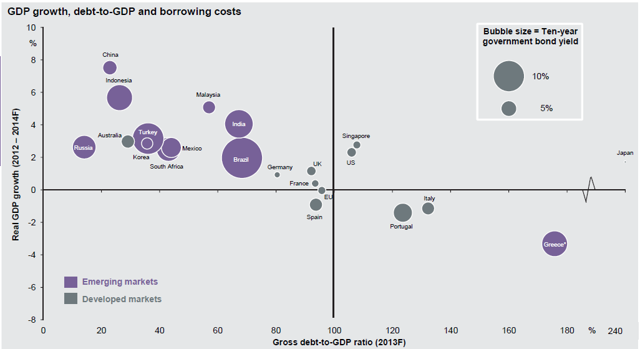 Source: J.P. Morgan
When choosing which countries to invest in, particularly in a heterogeneous situation, it is also important to understand the sector concentrations of each country and how it might be affected by the economic environment. For example, the Russia equity market is heavily weighted towards energy, while South Korea is technology focused.

Source: J.P. Morgan
The key to investing in emerging markets may lie in the developed markets
We're not suggesting that investors pile into emerging market equities. We are saying that we do see opportunities where the consensus does not. We already mentioned that most investors are severely underweight to emerging markets. At a minimum, an investor should at least reconsider a more neutral allocation in line with the market capitalizations of the world's equity markets, and adjust accordingly from that level. We want to make sure we preserve capital in the short-term, but we also want to make sure we grow our capital over the long term. We aren't market timers so we can't say for sure that it is the perfect time to invest in emerging markets, but as Jane Mendillo, CEO of Harvard Management stated this week on Barrons:
Given our long-term view, emerging markets look attractive. There is a lot of consternation out there about emerging markets, and there is good reason for some of it. But those concerns really are for the next six months or a year or two. We're looking at investments over a five to ten year time frame, and in that context, emerging markets are attractively priced today.
Mark Mobius, the long-time Emerging Market equity expert for Franklin Templeton Funds has said:
You sometimes got to take some pain in the short term in order to outperform in the future.
One of his books, The Little Book of Emerging Markets: How to Make Money in the World's Fastest Growing Markets, is a must read.
For the long-term investor, a neutral allocation would translate into a 15% allocation to an all equity portfolio and approximately a 7.5% allocation to a portfolio that is 50% allocated to equities. (50% x 15% = 7.5%)
Furthermore, as we have stated throughout this article, there are clear indications that not all emerging markets offer the same risks and opportunities. One way to identify the potential winners from the losers is to identify which countries/companies will benefit from U.S. or European economic growth. The chart below shows the sensitivities of select EM countries to GDP growth in Europe, U.S., and Japan. While GDP growth is not always a good indicator of future equity returns, it is certainly a good place to start looking for opportunities. The most sensitive economies according to the chart are Thailand, Taiwan, Singapore, and South Korea.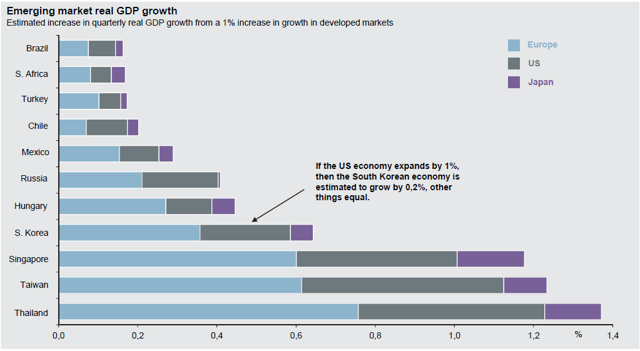 Source: J.P. Morgan
More specifically, J.P. Morgan has created the 'strategy heat map' below to further identify specific sectors that look attractive within each country.

Source: J.P. Morgan
Investing in emerging markets
An investor looking to add exposure to emerging markets may do so in a variety of ways. There are a variety of mutual funds that invest in broadly diversified emerging markets. If you prefer to have a mutual fund manager make country and region allocation decisions for you, then we suggest finding a mutual fund that has had good performance over 3-, 5-, and 10-year periods.
For more directed investments, there are ETFs that are focused on specific regions or countries. We find the following 4 ETFs interesting in light of some of the factors we have discussed throughout the article.
An investor can also invest directly in the equities of emerging market companies, but for the average investor, it would be best to invest in the American Depositary Receipt (ADR) of foreign companies, and the options available via that route do not include all companies traded on the foreign exchanges.
Another option is to invest in U.S. companies with a high level of emerging market exposure. We analyzed the MSCI World with EM Exposure Index to identify such companies. The index includes top ranked companies with the highest proportion of revenues derived from a target country or region(usually greater than 25%). This is a much 'safer' way to get indirect exposure to emerging markets and some of the companies identified include:
And since we often write about REITs on Seeking Alpha, we would also suggest taking a look at the Cohen & Steers Emerging Market Real Estate Fund (APFAX) as an option for those of you looking for emerging market real estate exposure.
Challenges
In our opinion, the biggest challenge for an investor in emerging markets is the self-fulfilling prophecy that can often be promulgated by the masses. The possibility of investors fearing a strong market correction in specific emerging markets may result in security selling and massive capital outflows from these countries. The effects could result in contagion affecting other emerging markets and eventually, a decline in all global equities.
With large current account deficits, Turkey, Brazil, and India, are three of the most vulnerable countries and Turkey has already raised rates recently to stem the weakening of the Lira.
Furthermore, despite the potential long-term returns of emerging market equities, they no longer offer the same level of diversification they used to. Correlations of emerging markets to developed market equities has increased steadily since 1998 and oftentimes spike during times of global financial stress. This increase in correlation has also occurred when comparing regions within the emerging markets, such as LATAM and Asia.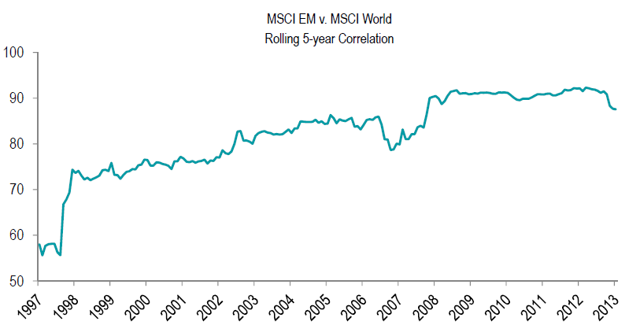 Source: MFS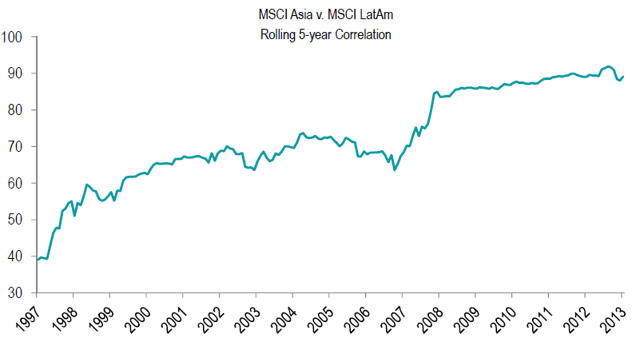 Source: MFS
Currencies
One of the biggest challenges for investors in emerging markets is managing currency risk. Investing in an emerging market whose equity market is rising AND currency is strengthening can be a windfall for investors. But the opposite scenario can be devastating. It is important to assess the impact that currency movements will have on the returns for a USD-based investor. You wouldn't want to experience dramatic price appreciation in local currency terms, only to have those returns wiped out by currency effects.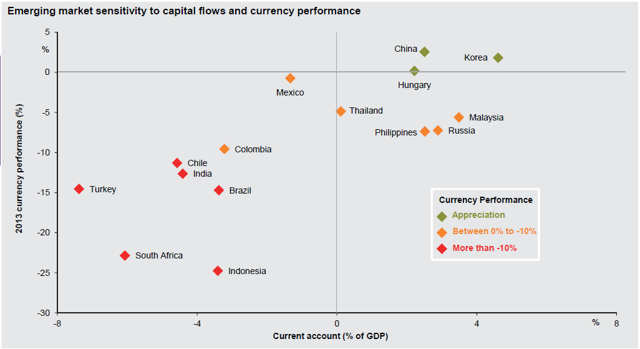 Source: J.P. Morgan
Conclusion
Investing in emerging markets can be a scary proposition for any investor not familiar with them. But just like we have done throughout our lives, it is often beneficial to familiarize ourselves with the unknown to either protect ourselves, or find opportunities where we wouldn't otherwise have looked.
We think too many analysts and experts are negative on emerging markets as whole and the media is disseminating a message that lacks important details. Not all emerging markets are the same, and there are opportunities to invest in today. We can't promise this is an optimal entry point, but we certainly don't subscribe to the panic and hysteria that may cause investors to completely avoid emerging market exposure. Emerging markets consist of approximately 15% of global market capitalization, and investors should use that as their starting point. Not avoid EM altogether.
Sources: Morningstar, BlackRock, DailyFX, J.P. Morgan, MFS
Disclosure: I am long QCOM. I wrote this article myself, and it expresses my own opinions. I am not receiving compensation for it (other than from Seeking Alpha). I have no business relationship with any company whose stock is mentioned in this article.