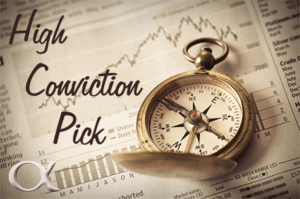 Michael Meyers is CEO and chief investment officer of Arcoda Capital Management, a New York-based RIA that manages global healthcare long-short funds.
Michael has enjoyed a 20-year career in healthcare asset management, investment banking and in the operating environment. He earned an M.P.H. in Health Policy and Management from Columbia University and an A.B. in Biology from Brandeis University in Massachusetts. Prior to moving to the buy side in 1999, Michael was director of Biotechnology and Pharmaceutical Investment Banking at Merrill Lynch in New York.
Seeking Alpha recently got the chance to ask Michael about his current highest-conviction stock pick.
What is your highest conviction (US traded) stock position in your fund - long or short?
One of our highest conviction long ideas is Auxilium (NASDAQ:AUXL), a therapeutics company with a substantial new product cycle.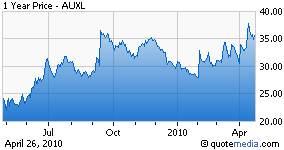 Auxilium is a specialty biopharmaceutical or therapeutics company. Our long thesis is based primarily on a large new product cycle opportunity through the recent launch of their flagship drug, Xiaflex. Xiaflex treats a rare and debilitating disorder of the hand known as Dupuytren's Contracture. Dupuytren's is a disease of the tendon-finger connections whereby a hard cord develops under the skin, and as a result, the fingers are bent toward the palm and cannot fully extend. Until the recent launch of Xiaflex, the primary approach to the treatment of Dupuytren's was to wait until the condition progressed enough to indicate invasive surgery.
The company has also partnered with Pfizer (NYSE:PFE) as Auxilium's EU marketing partner for Xiaflex and they have recently filed an application for approval in that region.
Auxilium is also conducting clinical trials for Xiaflex in other indications and the company is also commercializing a treatment for male hypogonadism.
Can you talk a bit about the sector? How much is Auxilium an "industry pick" as opposed to a pure bottom-up pick?
Auxilium is a therapeutics growth company. This sector is typically characterized by companies that have late-stage product candidates and/or marketed products with niche target markets or with blockbuster (greater than $1B) sales potential.
Auxilium is representative of our fundamental approach to investing. The Auxilium investment case is deeply rooted in analyses that utilize market research and financial modeling to arrive at a target price. From a top-down perspective, the mid-cap therapeutics sector has exhibited strength lately due to M&A activity, as several therapeutics growth companies have been acquired by larger-cap pharma over the past year.
How is Auxilium positioned against competitors?
Auxilium is "competing" against invasive surgery or watchful waiting. There are no effective competing pharmacologic therapies.
Can you talk about valuation? How does Auxilium's valuation compare to its peers?
Auxilium's current enterprise value is $1.3 billion at $33 per share. Our base case yields an enterprise value of $1.85 billion, or $47 per share - 32% upside from current levels. We have analyzed Auxilium on a discounted cash flow basis that assumes no terminal value beyond 2021, uses a 10% discount rate and peak Xiaflex sales (for Dupuytren's) of $600 million. Xiaflex has biologic exclusivity protecting it from follow-on biologics (biogenerics) for at least 12 years in the U.S.
Our target price also implies a sales multiple of 4.2 times 2015 sales, using a 15% discount rate. This is a comparable multiple to some of Auxilium's mid-cap peers. We also consider a price-to-earnings multiple of 23 times 2015 results, discounted by 15%, where the comparable companies trade at approximately 26 times 2011.
What is the current sentiment on Auxilium, and how does your view differ?
Sentiment is largely neutral to negative. The bear thesis, partially reflected by the 16% short interest as a percentage of float, assumes that physicians are substantially incentivized to perform surgery, or that reimbursement hurdles will prevent initial uptake of Xiaflex. Our diligence suggests that these concerns will be overcome by physician and payor interest, and receptiveness to a nonsurgical treatment option coupled with pent-up patient demand.
We believe that initial sales will exceed Street expectations based on our survey work, modeling, and due diligence with physicians and payors. Based on estimates of about $6,000 per procedure – $3,250 list price per vial times two vials used per procedure (2.4 used in clinical trials), we believe 2010 sales will surpass consensus of $45 million, which implies 7,500 Xiaflex procedures.
Even based on the most conservative market size estimate of 40,000 candidate procedures (reimbursement codes suggest 40,000-100,000 surgeries per year), this implies only 19% penetration. Putting this into further perspective, a recent survey indicates an average of 15 Xiaflex procedures per doctor within just the first six months of launch, with each doctor seeing 58 Dupuytren's patients per year. From a different point of view, with an estimated 2,500 hand surgeons, this implies just three procedures per physician needed to meet consensus expectations.
In addition, we believe there is a significant, if not larger, opportunity for Xiaflex in Peyronie's disease, a condition with a similar pathology. Auxilium is about to initiate Phase III trials in this indication, yet sales forecasts for this indication are absent from most sell-side models.
Does the company's management play a role in your position?
Management teams are typically critical investment criteria for us, short or long. The management team of Auxilium is well known to us.
Auxilium's team has a track record of success across disciplines at companies such as MedImmune, Glaxo (NYSE:GSK), Aventis, Novartis (NYSE:NVS), Wyeth, and Johnson & Johnson (NYSE:JNJ), among others. While at Auxilium, they have successfully navigated Xiaflex from in-licensing through clinical development, FDA approval, partnering with Pfizer in the EU, and commercial manufacturing and launch.
In addition, the company's management team and staff have been selling and promoting an existing product that is annualizing at approximately $200 million, and has posted double-digit growth for over seven years.
What catalysts do you see that could move Auxilium's stock?
The most important near-term catalyst is reporting of initial sales of Xiaflex over the coming quarters. We will be tracking progress regarding the number of physicians who are trained in the administration of Xiaflex as a leading indicator as well as conducting surveys to understand trends. In addition, the company is expected to initiate a Phase III trial of Xiaflex in Peyronie's disease after meeting with the FDA for guidance. Finally, we expect Auxilium's EU partner, Pfizer, to secure EU approval for Xiaflex in the first half of 2011.
What could go wrong with this pick?
The main concern with Auxilium is a disappointing launch trajectory for Xiaflex, which would be below consensus expectations of approximately $45 million in 2010. There are several hypotheses cited for this concern: physicians' preference to do surgery due to economic incentives; possibilities for adverse events such as tendon rupture; and reimbursement hurdles. Based on our primary research and diligence efforts, we are confident that these will have a minimal impact on success.
Thanks, Michael, for sharing your thesis with us.
Disclosure: Arcoda Capital Management is long AUXL.
Read more High Conviction Picks »
If you are a fund manager and interested in doing an interview with us on your highest conviction stock holding, please email Rebecca Barnett.