McCormick (NYSE:MKC) is the undisputed giant in the global spices and seasonings industry. As investment markets struggle to digest the uncertainty that has come with increased volatility in the New Year, McCormick is a stock that offers investors a demonstrated track record of smooth and satisfying long-term results regardless of the market environment. And following a recent sharp pullback, it is now also offering investors a potentially zesty short-term total returns opportunity.
McCormick has been a long time stock portfolio favorite for a variety of attractive fundamental reasons. To begin with, the company controls a massive market share in the spices and seasonings market with its eponymous brand name as well as other well known labels such as Lowry's, Old Bay and Zatarain's. And company management has parlayed its market dominance into impressively steady operating results regardless of the economic environment.
First, revenue growth has been consistently solid year after year in growing at an annualized +6% rate over the past decade. This even includes incrementally positive revenue growth during the most difficult of times during the depths of the financial crisis in 2008 and 2009. While this is thanks in part to the stability of product demand for staple products like spices and seasonings, it is also a testament to the strong stewardship of company management during varying economic climates.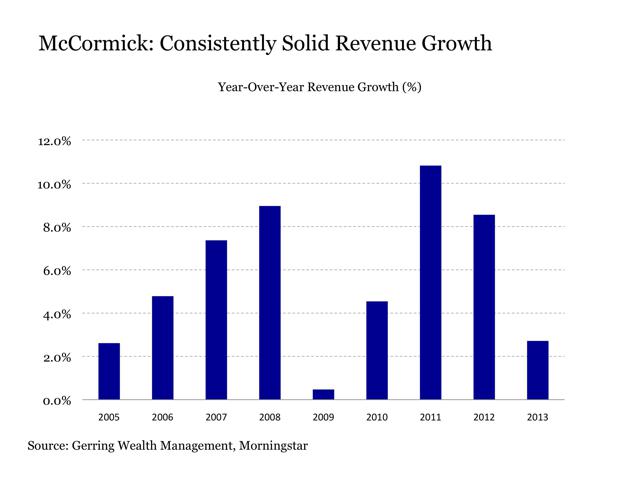 This same consistency is also evident in bottom line results, as McCormick has steadily grown earnings year after year including during the highly turbulent financial crisis period. And while earnings did retreat in 2013 from previous year peaks, the long-term trend of earnings increases remains very much intact.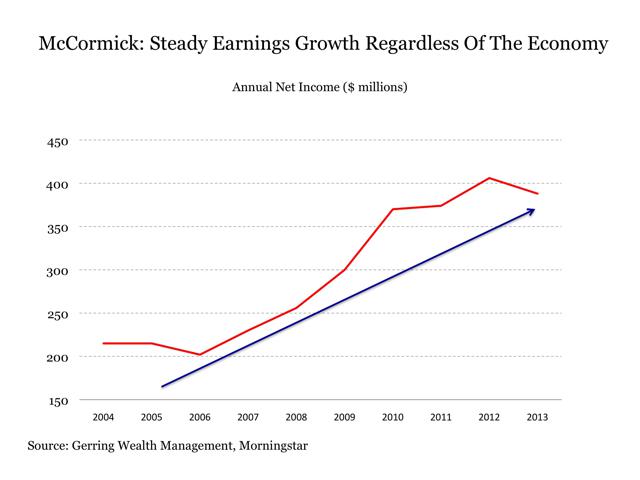 Just as impressive is McCormick's consistency on the dividend front. The company has increased its dividend at a double-digit annualized rate over the last decade that has included consistent increases year after year. This is only the latest in a string of annual dividend increases that have been ongoing for more than a quarter of a century.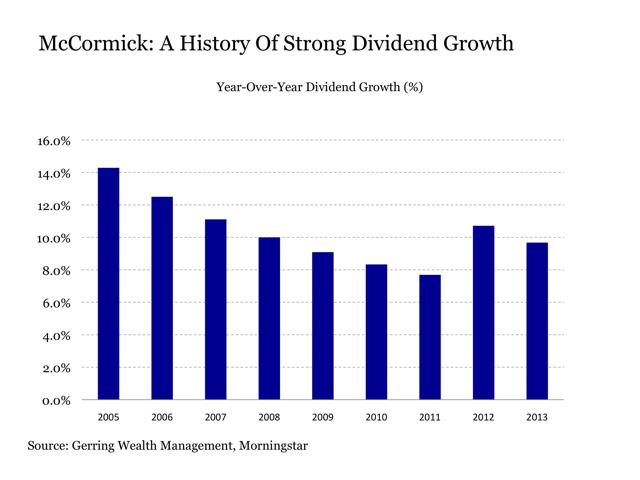 McCormick's margin performance is also solid. Although operating and profit margins have retreated somewhat from peak levels achieved in the early years of the post-crisis period, they remain at or above the levels seen during the early to mid part of the last decade.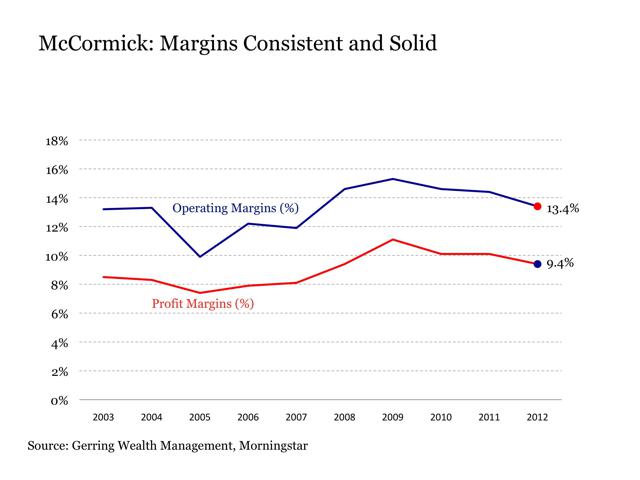 And while McCormick's stock valuation appears rich at first glance, it is actually fairly reasonable when considered relative to history. For example, McCormick's current 12-month trailing P/E ratio of 23.1 times is well within the normal multiple range for the stock over time. Moreover, the company's book, sales and free cash flow multiples are all roughly in line with long-term averages. So while the stock is certainly not inexpensive at current prices, neither is it expensive, as it is currently trading generally on par with its historical fair value.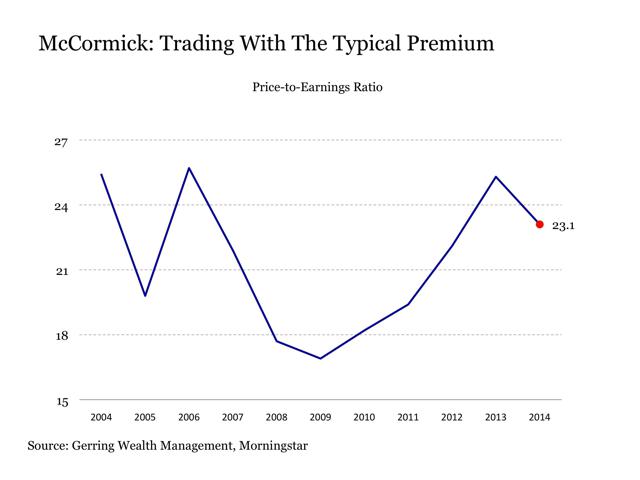 These are just a few of the variety of fundamental factors that make McCormick an attractive high quality holding for investors.
Given that we remain in highly uncertain times for investors in the aftermath of the financial crisis, which of course came in the aftermath of the bursting of the tech bubble, it is worthwhile to also evaluate the sturdiness of McCormick's stock during times of crisis. This is particularly important given the advanced age of the current bull market and the increased volatility seen thus far in 2014.
McCormick has a particularly impressive history of holding up well during times of crisis. During the financial crisis from 2007 to 2009, the maximum cumulative decline for McCormick's stock was less than -20% versus a more than -50% decline on the S&P 500 Index (NYSEARCA:SPY) during this same time period. And it has since gone on to continue to perform well along with the broader market in the post crisis years since.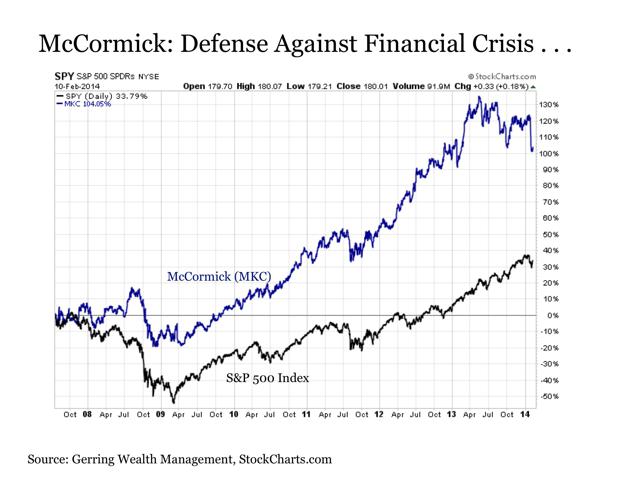 The performance of McCormick stock during the bursting of the tech bubble at the start of the millennium was even more remarkable, as the maximum cumulative decline in the stock price was less than -10% and it essentially moved with a strong negative correlation versus the declining broader market throughout most of the correction from 2000 to early 2003.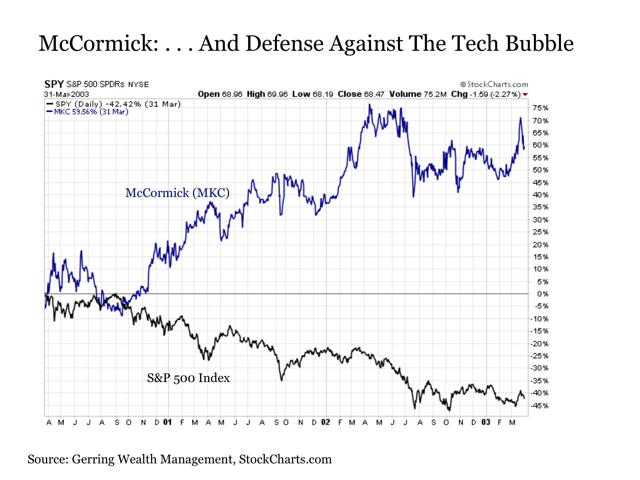 Thus, McCormick is a stock that may be worth consideration for holding through both good times and bad and regardless of the direction of the economy or broader market.
Recent events also may now be providing investors with a particularly good entry point not only for long-term stability but also for attractive short-term capital gains.
Over the last year, McCormick has shown the propensity to gap lower. On four separate occasions since the beginning of 2013, the stock has experienced a precipitous gap lower with immediate declines ranging from -8% to -10% in each episode. In the first three instances, the stock almost immediately rebounded to close the gap if not exceed it with total returns on the bounce ranging from +7% to +21%. As for the fourth instance, it has just taken place with a near -10% decline in the stock after first gapping lower on January 29.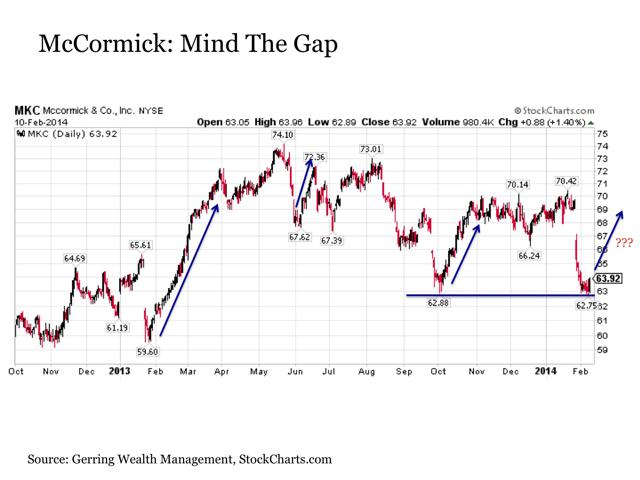 Whether McCormick makes it four in a row in closing the gap over the next few weeks remains to be seen, but if it were come to pass it would result in a low double-digit return through owning a high quality name for a relatively short-term period of time. The fact that McCormick has the benefit of support at early October lows is an added plus, as the stock appears to be responding very well to this support level at least so far.
Bottom Line
McCormick offers an attractive risk adjusted total returns opportunity for investors. Not only does it have an impressive long-term track record of strong operating performance with dominant market share in a defensive industry, but it is also reasonably valued in a market where so many names are trading at stretched multiples. It also has the unique characteristic of being a stock with the demonstrated ability to not only survive but also thrive during periods when the broader market is under extreme stress. Lastly, the stock also offers a particularly good entry point with attractive short-term returns potential following its recent pullback. For these reasons and more, McCormick may be a stock worth consideration for investors as they continue out into 2014.
Disclosure: This article is for information purposes only. There are risks involved with investing including loss of principal. Gerring Capital Partners makes no explicit or implicit guarantee with respect to performance or the outcome of any investment or projections made. There is no guarantee that the goals of the strategies discussed by Gerring Capital Partners will be met.
Disclosure: I am long MKC. I wrote this article myself, and it expresses my own opinions. I am not receiving compensation for it (other than from Seeking Alpha). I have no business relationship with any company whose stock is mentioned in this article.
Additional disclosure: I am also long the broader market via the SPLV and hold a meaningful allocation to cash at the present time.