It was a little under two years ago when Yelp (YELP), a local review service, made its public debut on the financial markets. In March 2012, the company listed its shares at $15 giving it an $898 million valuation at the time. Flash forward to today and the company now trades with a market capitalization of $5.91 billion. As of the last market close on February 6, Yelp last traded at $89.46, a nearly 500% rise since its IPO.
From the standpoint of most investors, this would be considered a success. However there remains the question of whether the share price adequately reflects the company's fundamental value. After all, popular sentiment and financial realities can often be worlds apart. A brief look at the company's financials raises some immediate questions considering the rapid rise experienced over the past two years.
While revenue has significantly risen, Yelp's bottom line has stagnated. With increases in net revenue, sales and marketing expenses have appeared to have grown nearly just as fast. It is noteworthy to see that insiders continue to sell off their holdings and stock-based compensation continues to rise. Yelp appears to be progressing towards profitability in the near future but will the earnings expectations be nearly as promising as the market price has now factored in?
A Look At The Financials
For the full year of 2013, Yelp's net revenue amounted to $232.99 million while total costs and expenses added up to $241.81 million. Factoring in other losses, the company's net loss attributable to shareholders resulted in $10.07 million. Taking a look three years prior and we see a similar earnings result. For the full year of 2010, Yelp's net revenue amounted to $47.73 million while the company's net loss amounted to $9.74 million.
In the last year alone, Yelp's revenue rose 69%. Yet at the same time, sales & marketing expenses rose 53.6% and product development expenses rose 86.8% respectively. The company continues to push hard to grow its customer base and retain its existing clients. While revenue is naturally the focus for any growth-stage company, it will be important to see if Yelp can continue its revenue growth once the company takes its foot off the accelerator.
A Look At Insider Sales
Despite the lack of net income attributable to investors to date, insiders have already taken advantage of current share prices. A look at the graph below illustrates the limited confidence in the company's current valuation as seen by key officers. CEO Jeremy Stoppelman, CFO Robert Krolik, COO Geoffrey Donaker, and SVP Laurence Wilson continue to exercise their options or convert their class B stock in order to sell directly on the open market. The source of the chart below can be found here.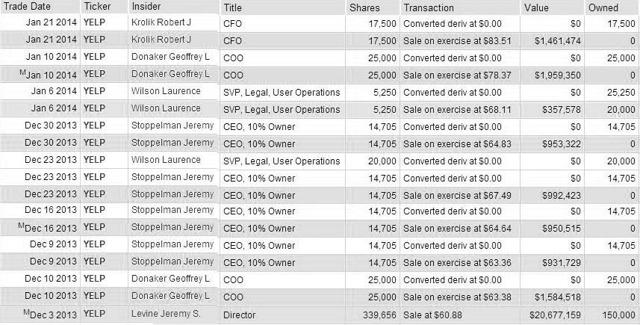 Similarly, it was only two months ago when director Jeremy Levine felt comfortable in disposing nearly 70% of his holding in Yelp at an average share price of $60.88. The direct transaction resulted in a sale worth $20.68 million. He now owns a total of 150,000 shares in the company despite once having 882,656 shares throughout most of 2013.
Interestingly enough, stock-based compensation also played a large role in the company's lack of profitability to date according to the latest earnings results. For the full year of 2012, total stock-based compensation expenses added up to $14.88 million. For 2013, this rose to $26.68 million. The 79% increase in this category more than covered the company's net loss of $10.07 million for the year.
A Look At The Playing Field
While Yelp may be a leading listing service for local reviews, it's important to remember that the space is becoming increasingly crowded. While the company most often receives a comparison to Angie's List (ANGI) as a public pure-play competitor, it's important to remember that Yelp is facing competition from a large array of companies. Even in its own engineering blog, Yelp shows some of the competition is coming from sources investors may not have considered. Google (GOOG), Facebook (FB), Foursquare, Yellowbook, and TripAdvisor (TRIP) are all encroaching on some aspect of Yelp's market opportunity.
Additionally, there are multiple problems beginning to arise on the front of customer satisfaction. A partial collection of such issues are shown below:
Final Thoughts:
From an entirely growth-centric perspective, Yelp continues to perform well. The company's revenue is climbing quickly. Indeed, the book value has also significantly improved due to the company's recent offering. Yet there remains the question if the company's market value has far exceeded a fair relationship with this book value. With its $5.91 billion market capitalization, Yelp now maintains total assets of $515.98 million in total assets.
The company's latest offering helped to increase the amount of cash on hand. From December 2012 to December 2013, the company increased their cash reserves from $389.76 million from $95.12 million. This reserve will help to stem the ongoing losses. Yet the lack of profitability and ongoing dilution is unlikely to remain fruitful for investors over the long term. This is especially the case as expenses keep pace with the revenue gains and no bottom-line progress has been seen for 3 years.
Yelp's outstanding share count continues to grow, and this only further dilutes the potential earnings now factored into the rising share price. This is problematic for a company now sporting a forward price-to-earnings ratio of 216.68 based on analyst estimates of $0.41/share by the end of 2015. Can it be that the local-listing titan deserves such a high multiple based on its financial progress to date? Based on the insider trading habits of the most active company employees, that sure doesn't appear to be the case.
Disclosure: I have no positions in any stocks mentioned, and no plans to initiate any positions within the next 72 hours. I wrote this article myself, and it expresses my own opinions. I am not receiving compensation for it (other than from Seeking Alpha). I have no business relationship with any company whose stock is mentioned in this article.
Additional disclosure: While I have no position in YELP, I have long and short options in the company.