According to Bloomberg, the S&P 500 is trading at 14.2x forecasted earnings. If you like Forward P/E ratios, that's cheaper than at any time since 1990. (Note: Bloomberg actually excludes the post-Lehman bankruptcy when discussing how inexpensive stocks are.)
On the flip side, the S&P 500 has an inflation-adjusted Shiller's P/E of 22.1. This is an inflation-adjusted price-to-earnings ratio that compares current prices to the previous 10 years. If you purchase this argument, stocks are wildly overvalued by 25%-30%!
Of course, the bullishness of forward P/Es are based on 12 months earnings projections that are notoriously unreliable. If one returns to September of 2007 and checks out what forward P/Es were for the next 12 months… the point is easily made.
On the flip side, it may be self-serving for bears to look back on 10 years that were far from typical in the last 150 years. Indeed, it seems a bit self-serving of these folks to employ data that incorporates the ugliness of the 2007-2009 recession while discounting optimistic guidance for the future by the corporations in the S&P 500.
What we really have between bulls and bears is a failure to see beyond respective agendas. Bulls maintain that we're witnessing a V-shaped economic recovery in a low-rate environment that is perfect for stock growth. Bears maintain that stocks will fall because governments will remove economic stimulus, interest rates will rise, taxes will climb and consumers will be slow to spend. (Ironic Note: Bearish analysts use trailing P/Es like Shiller's P/E with past data for earnings, while employing future prognostications of what may or may not happen to taxes, interest rates and the economy at large.)
So what should you do? Recognize that hundreds upon hundreds of factors may influence the stock market. Oil, interest rates, short selling, regulatory reform, scandal, sovereign debt, institutional trading, speculation, currencies, history — just to name a precious few. With recognition comes sensible decision making.
For example, if you wish to buy the S&P 500 for capital appreciation purposes, you must know the conditions under which you would sell. It may be when you hit a trailing stop-loss on your dollar cost average basis for iShares S&P 500 (IWV). Or it may be when the price of the S&P 500 SPDR Trust (SPY) falls below a 200-day trendline, currently at approximately 110.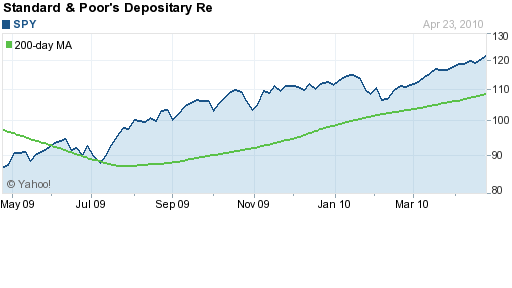 On the other hand, if your purpose involves dividends, you might only plan to sell if there's a threat to the safety of dividends and/or a significant threat to dividend growth. For instance, the SPDR S&P Dividend Fund (SDY) yields 3.3% annually as it tracks the S&P High Yield Dividend Aristocrats Index. Selling might depend on whether or not 90% or more of the companies in SDY raise dividends each year… as those companies are expected to do.
Disclosure Statement: Gary Gordon, MS, CFP is the president of Pacific Park Financial, Inc., a Registered Investment Adviser with the SEC. The company and/or its clients may hold positions in the ETFs, mutual funds and/or index funds mentioned above. The company receives advertising compensation at the ETF Expert web site from Invesco PowerShares Capital Management, LLC. The commentary does not constitute individualized investment advice. The opinions offered herein are not personalized recommendations to buy, sell or hold securities.