Bank of America (NYSE:BAC) survived the 2001-2002 financial recession nicely due to CEO Ken Lewis's focus on credit quality and cutting costs from overlapping areas due to Bank of America's size and scale associated with the 1999 merger of legacy Bank of America Corporation and NationsBank. Bank of America's EPS from continuing operations only declined by 7.5% from 2000 to 2001 and increased by 41.4% in 2002 and 20.65% in 2003 because of Ken Lewis refocusing the company on basic core operations. This led Ken Lewis to announce in October 2003 that Bank of America would acquire FleetBoston Financial for $46B of Bank of America's stock (deal closed in April 2004). Unfortunately, it seems that Ken Lewis fell in love with himself and engaged in a deal-crazed acquisition spree from 2004 to 2009, which resulted in the company incurring $15.6B in goodwill impairments, $15.6B in mortgage representations and warranties charges and $125.5B in credit losses from 2008 to 2012. Fortunately for Bank of America, Warren Buffett stepped in with a $5B investment in the bank in 2011 and Brian Moynihan is steadily refocusing the company on its core operations. Bank of America's shareholders are hopeful that Brian Moynihan will not repeat Ken Lewis's empire building mistakes again.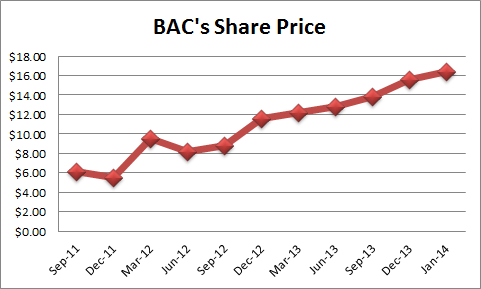 Source: Morningstar Direct
When Warren Buffett made a $5B investment in Bank of America on behalf of Berkshire Hathaway (BRK.A, BRK.B), Bank of America's share price was trading at a 68% discount to its book value and it was suffering from revenue declines and a recurring incidence of "non-recurring charges". Although its credit losses peaked in 2009 and declined since then, its FY2011 credit losses of $13.4B were much higher than its pre-crisis loan losses of $5B in 2006. Despite Bank of America's best efforts to control its non-interest expenses, its efficiency ratio (non-interest expenses/total revenue) still increased from 47.28% in 2006 to 85.59% in 2012 before declining to 77.07% in 2013. At least this shows that Bank of America has the opportunity to reduce its expenses as a percentage of its revenue in the future and investors should agree with Brian Moynihan when he said that Bank of America has not approached its true earnings potential. Bank of America's shares still represent a good value to investors as its share price is trading at a 21.25% discount to its book value per share of $20.71.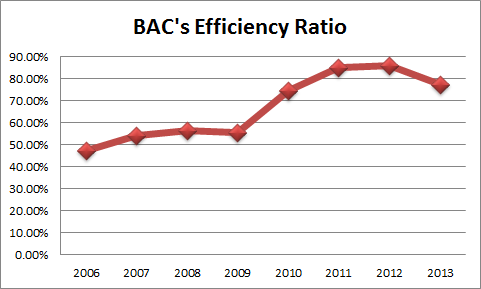 Source: Bank of America Investor Relations
Bank of America's performance in FY 2013 provided rays of hope to its investors. Bank of America generated incremental net interest revenue growth of nearly 4% in FY 2013 versus FY 2012 and its non-interest income grew by 9.4% reported (4.5% adjusted for the exclusion of reduced mortgage representations and warranties expenses). Bank of America's earnings per common share increased by 260% in FY 2013 because of the aforementioned revenue growth, because credit loss provisions declined by 56.5% and non-interest expenses declined by 4%. Although Bank of America's revenue growth for 2013 was unspectacular, at least it was better than Citigroup's (NYSE:C) Citicorp operations (3%), J.P. Morgan Chase (NYSE:JPM) (-0.4%) and Wells Fargo (-2.67%).
Bank of America trimmed its balance sheet in 2013 by reducing its trading account assets ($27B), its Federal Funds sold assets ($29.6B), its derivative assets ($6B) and its debt securities holdings ($36.4B) in order to reduce its Federal Funds purchased liabilities by $95.1B. However, Bank of America saw incremental improvement in its core asset and liability categories such as its loans, its deposits and its bonded indebtedness. Bank of America's net loans increased by 3.07% year-over-year, its deposits increased by 1.3% and it reduced its outstanding debt by 3.5%.
Although Warren Buffett's Berkshire Hathaway is the largest stakeholder in Bank of America based on its $5B preferred stock investment in 2011, it is not the only notable value investor in the company. In 2011, Berkshire Hathaway invested $5B in Bank of America's preferred shares, which yield 6%. As part of Berkshire's preferred stock investment in Bank of America, it received 700M common stock warrants that mature in 2021 with a strike price of $7.14/share. Berkshire's BAC warrants generated a $6.5B profit so far (if Berkshire were to exercise its warrants for stock) and Berkshire's preferred shares generated $750M in dividends. Furthermore, Berkshire Hathaway was able to exclude 59.5% of the dividends it received from its Bank of America preferred stock investment by holding it in one of its many property/casualty insurance subsidiaries. Other notable investors (as of Q3 2013) in Bank of America include the following:
Fairholme Fund (99.7M shares of Bank of America worth $1.6B)
Viking Global (44.9M shares of Bank of America worth $736M)
Fisher Asset Management (39.6M shares of Bank of America worth $649M)
Paulson & Company (38.9M share warrants of Bank of America representing $638M of its stock)
AQR Capital Management (10.64M shares of Bank of America worth $174.5M)
Analysts covering Bank of America are expecting the company's profits to recover in 2014 and 2015. In 2013, Bank of America earned $.90/share and the consensus analyst EPS estimate calls for Bank of America to earn $1.35 in 2014 and $1.62 in 2015. Bank of America's return on average tangible shareholders' equity was 7.13% in 2013 and 8.53% in Q4 2013. Investors should expect significantly higher returns on equity in 2014 and 2015 as Bank of America is able to continue cutting expenses as part of its Project New BAC cost-cutting program. Bank of America's investors should expect that there is a high potential likelihood that the Federal Reserve will allow it to increase its dividend and repurchase shares. In fact, KBW estimates that Bank of America will be allowed to increase its quarterly dividend from 1 cent/share to 5.75 cents/share and buy back $5.185B worth of its shares.
In conclusion, it is not too late to take a position in Bank of America. Bank of America's share price is at a 21.25% discount relative to its book value and it is incrementally improving its revenue and steadily decreasing its operating expenses. We believe that Bank of America has not yet realized its true earnings potential and that it has the opportunity to generate positive operating leverage in order to improve its operating margin. We can see why Warren Buffett and other leading investors have invested significant amounts of amount in Bank of America's shares.
Disclosure: I am long BAC. I wrote this article myself, and it expresses my own opinions. I am not receiving compensation for it (other than from Seeking Alpha). I have no business relationship with any company whose stock is mentioned in this article.