Sanofi (NYSE:SNY) is a French company that develops pharmaceuticals (diabetes, consumer healthcare, Genzyme products), vaccines and animal health activities. The entity was formed in 2004 from the merger of Aventis and Sanofi-Synthélabo. Sanofi then bought Genzyme in 2011 for approximately $20.1b and is now one of the top 3 global players in consumer healthcare.
The company operates in more than 100 countries and employs more than 110,000 collaborators. With a $91.8b market capitalization, Sanofi is the second biggest French company after Total SA.
Overview and investment thesis
Sanofi published last Thursday its YE2013 results that highlighted stable revenues (-0.5% at €32.951m) but decreasing Business EPS (-9.8% at €5.05). The French company lowered twice its objectives in 2013 and the analysts now worry about the prospects for 2014. The group lowered its EPS growth forecast to 4-7% when analysts expected 10-15%. According to the management, which had never published revenues forecast before, the negative outlook is mainly due to heavy investments in new products.
As a consequence, the share price was down 2.66% Thursday and down 13.5% since November 2013.
| | | | |
| --- | --- | --- | --- |
| $m | 2013 | 2012 | Variation (%) |
| Net sales | 43,763 | 44,900 | -2.5 |
| Operating income | 6,781 | 8,264 | -17.9 |
| Net income | 5,146 | 6,498 | -20.8 |
| Operating cash flow | 10,002 | 11,965 | -16.4 |
| Cash & cash equivalents | 10,966 | 8,198 | 33.8 |
| Net debt | 8,026 | 9,917 | -19.1 |
Source: Financials
Given the 4Q13 positive results and Sanofi's prospects for 2014 compared with its peers, it could be interesting to buy the stock if the price keeps decreasing over the next few weeks. The share price is back at its 2012 level and moreover offers a 4% dividend yield.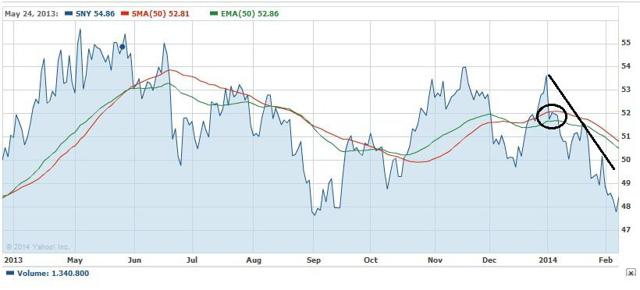 Good Q42013
| | | | |
| --- | --- | --- | --- |
| $m | 4Q2013 | 4Q2012 | Variation (%) |
| Net sales | 11,502 | 10,999 | 4.6 |
| Operating income | 1,806 | 544 | 231.8 |
| Net income | 1,489 | 501 | 197.5 |
Source: Financials
Sanofi published improving Q4 results with sales increasing by 6.5% to €8,457m.
The good performance is mainly due to:
Strong performance of Diabetes (+19%) and Genzyme products (+31%)
Improving activity in emerging markets (+10%)
Improved resilience to the competition risen by generic products
Better outlook than its peers with a lower valuation
Sanofi appears to be very careful in its forecasts, which could surprise the markets this year. The forecasts developed by the management (4-7% of EPS growth) are significantly higher than for Roche (OTCQX:RHHBY) and Novartis (NYSE:NVS); they expect EPS to grow between 1% and 5% according to analysts.
Moreover, the French company currently trades at a 13.9 PE when Roche is trading at 18.8 and Novartis at 21.2. Sanofi appears then to be undervalued compared with the European pharmaceutical sector.
Several possibilities for the cash accumulated with a potential share buyback
The French group has a significant amount of cash (combined with a strong debt profile) that could be used to improve the EPS over the next years according to analysts. Be that as it may, the value of the company should be impacted very positively next year.
Potential uses of the cash:
Acquisitions or share buyback. Sanofi realized only €300m of acquisitions in 2013 compared with the €1-2 billion objective. As a consequence the Group could start an acquisition campaign but according to the CFO, a share buyback is still possible in case of opportunity.
Repurchase of L'Oreal's stake.
Strengthen the stake in Regeneron. According to the CFO, the objective is to get 20% in order to nominate an administrator and consolidate the results. Many molecules are developed in partnership with the US biotech and such an operation would be seen very positively by the investors.
Global considerations about the strength of Sanofi
1. Product and geographical diversification with good perspectives
Sanofi's revenues were mainly driven by the Emerging Markets in 2013 (+4.4%) and the United States (-0.7%), which is very positive for the long-term. Revenues from Asia and the Middle East especially grew by more than 10% in 2013. The group's performance remains solid even though revenues from Western Europe declined by 5.6% yoy. Sanofi's geographical diversification is to my mind a strong asset.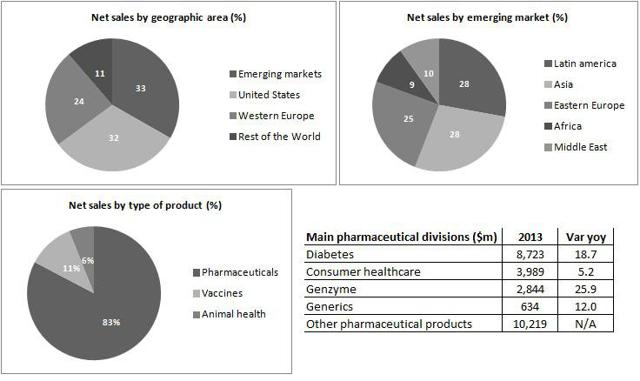 Source: Financials 2013
Sanofi's revenues are also well diversified in terms of products. The diabetes and Genzyme divisions grew by 18.7% and 25.9% in 2013 and are the most dynamic departments. The Lemtrada (multiple sclerosis treatment) was launched in Germany in October and was approved in Canada, Australia, Nordic countries and Mexico. Genzyme is also preparing its appeal to the FDA in the USA.
Nine products with high potential are currently being developed and should seek approval over the next four years. The global pipeline now contains 49 projects (of which 12 are in Phase III) with 80% of biological components. According to Elias Zerhouni, head of research, their success rate is two times higher than small chemical molecules, which is very positive.
About generics, it looks that the impact on sales was much lower at Q4. The Generics division performed well in 2013 with a 12% increase to €478m. However Generics sales decreased by 41.0% to €35m in the US due to reduced sales of the authorized generic of Lovenox and Taxotere but sales increased by 23.6% in Brazil to €59m.
I finally like the fact that Sanofi has a rare diseases division operated by Genzyme (€1.974m, +16.6% yoy). Chronic diseases, pandemics or multi-resistant bacteria have been identified as major risk factors at Davos last January, investing in a group like Sanofi could be interesting to get exposure to these Black Swans.
2. Strong debt profile
Net debt decreased by 22% in 2013 and went from €7,719m to €6.043m, improving the group's debt profile. In 2013, the net cash generated by operating activities was €7.655m after change in working capital.
3. Strong dividend track record
Sanofi has been distributing an increasing dividend over the last years and currently yields at 4%. I believe that the dividend is sustainable given the company's strong cash-flow generation. The Board proposed a dividend of €2.80 for 2013.
The group generated €7,531 of operating cash flows in 2013 and easily financed CapEx, dividend payment as well as a €1,641 share buyback operation.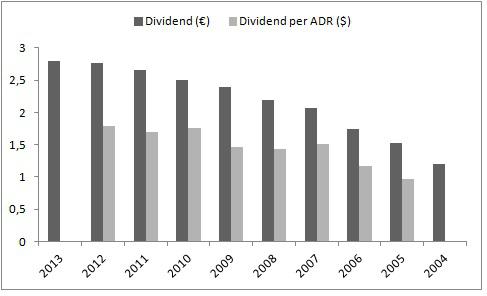 Source: Sanofi
Conclusion
Sanofi is one of the top pharmaceutical players in the world and offers strong prospects, especially in emerging markets. The group surprised the markets when it recently lowered its outlook for 2014, which triggered a decrease in the share price over the last weeks. As a consequence, there might be some opportunities to buy the shares at a good price over the next few weeks.
Disclosure: I have no positions in any stocks mentioned, and no plans to initiate any positions within the next 72 hours. I wrote this article myself, and it expresses my own opinions. I am not receiving compensation for it (other than from Seeking Alpha). I have no business relationship with any company whose stock is mentioned in this article.