Chinese officials have intimated that stimulating the domestic economy was job #1 and relatively loose monetary policy would remain. Furthermore, a report in China Business suggested a new economic stimulus plan could be enacted by August.
While we do not view a new stimulus as necessary or prudent, the net result of the statements and speculation is continued growth in the Chinese economy.
Additionally, Investor's Business Daily reports that NetEase (NASDAQ:NTES) is in talks to buy a stake in MSN, thus becoming Microsoft's (NASDAQ:MSFT) partner in Chinese search. If this occurs it would place Baidu squarely in Microsoft and NetEase sights and create the most formidable threat to Baidu (NASDAQ:BIDU) since Google.
To be sure, we are not convinced these companies will succeed where Google failed, but even a modest gain in market share would impact NTES bottom line.
Furthermore, as of September 2009 World of Warcraft is back in the control of NetEase and has made large contribution to earnings.
Finally, NetEase has commenced registration for its new social networking service. Once again even a small gain in market share should have a large earnings impact.
Valuation
Relative to its direct competitors, NetEase is fairly valued. However, we believe the continued growth in World of Warcraft coupled with the potential for a deal with MSN will be the catalyst for multiple expansion.
As recently as September of 2009, NetEase traded at a 21 p/e. Using this multiple and average 2010 earnings of 2.59 yields a price target of $54.
Option Strategy
Over the last month the divergence between IV and HV has reached levels not seen since Sept-Oct 2009. Immediately following the last volatility divergence NTES price dropped almost 20%. Given our fundamental and technical outlook we believe the volatility divergence is a precursor to a significant move higher in the underlying equity. While IV has increased it still remains cheap on a historic basis.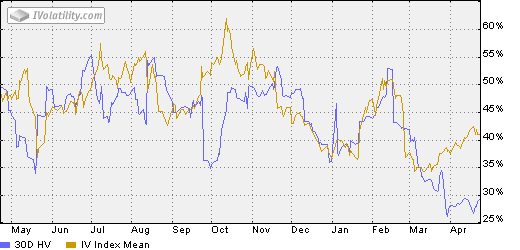 Our short term (3 month) technical target for NTES is a range of $44-$50. The current IV level of ~40% suggests a move above $44 would be entirely within the realm of probabilities expected by the market. In fact, a move to $46.36 would only be a one standard deviation event.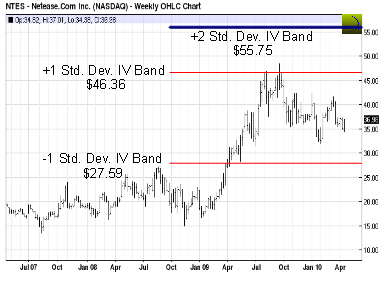 The upper end of range falls within the 2 standard deviation band. To be sure this event would be expected less than 5% of the time. However, an increase in IV to 60% would move the upper 1 standard deviation band to $51 – adding to the probability that our target is hit. An IV increase to 60% in entirely possible as it hit this level in Sept-Oct 2009.
Disclosure: Author holds a long position in NTES