I was introduced to The Fresh Market (NASDAQ:TFM) by a mentor who runs a successful RIA. To give you some perspective, he is a common sense driven value investor that usually invests in turnarounds that are already turning and trading at steep discounts to book, and mature, differentiated, Buffettesque value plays. He does not typically invest in growth stocks and that's why his recommendation of TFM was so surprising and meaningful to me- meaningful enough to do my own due diligence.
Company Overview
The Fresh Market was founded in 1982 and went public in late 2010. It is a small gourmet food retailer that currently operates 140 stores in 26 states. Stores range in size from 17-22k sq ft which is pretty small for a grocery store. The company has a target of 500 stores and has a lot of white space left on the map left to work with: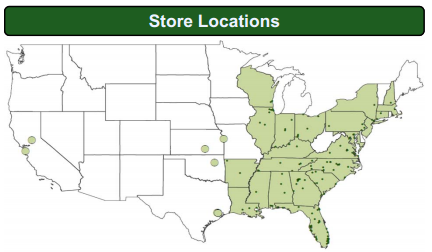 Source: Goldman Sachs Retail Conference Presentation
The company is a fast grower in a fast market.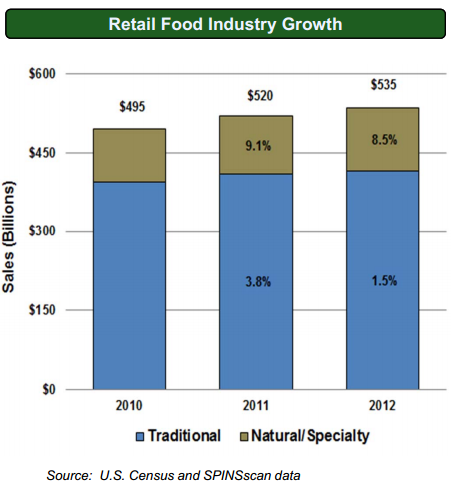 As you can see, growth in the traditional food retail industry is minimal, but the Natural/Specialty industry has grown at over 8% in each of the last 2 years. TFM specifically has grown sales at a 5 year CAGR of 13% and store count at a CAGR of 11%.
The company differentiates itself through pricing. In commoditized products like canned non-perishables that aren't really different from store to store, the company prices competitively with other retailers, but in differentiated perishables like meats and cheeses, the company believes its offerings are of substantially better quality than the competition (or at least we can agree that the offering is different). In these areas, they've adopted a premium pricing strategy. I've never had the chance to visit a Fresh Market but I've spoken to a few who have and they agree on two points- prices are high and the premium products really are of high quality. One went so far as to say that the deli department at Fresh Market is the best they've encountered.
What I really like about TFM from a qualitative standpoint is the value-based management that the firm's executive management team employs. They describe themselves as return-oriented and report ROE, ROIC ex. Cash, and ROA prominently in their quarterly earnings releases and conference calls. This is the way the managers at the biggest and best corporations in the world manage and there is a reason for that. Unfortunately, such shareholder-friendly management is extremely difficult to find among small and mid-caps. When I find a small firm with this sort of managerial focus, I remember it and keep track of the stock price, even if it's way out of my range when I find it.
Indicators
The stock is pretty heavily shorted. Short float is currently at 16.13% and days to cover is at 5.8. As a contrarian, this is good to see. I also like pent-up demand and the possibility of a short squeeze, though it wouldn't be a major one if it did happen.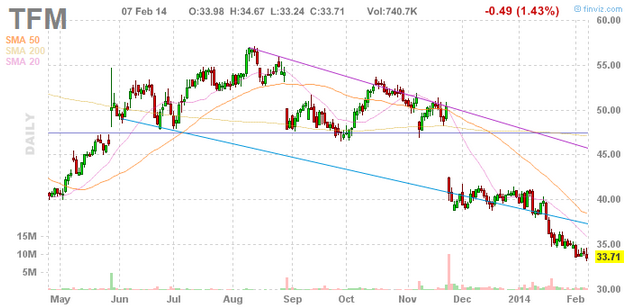 Source: FinViz
Shares now sit at a 52 week low, 41% off their 52 week high. The recent prolonged sell-off was caused by a combination of weak consumer confidence data, weak retail earnings data, and what most consider to be a weak Q3 earnings report from TFM specifically. The firm was downgraded in November by Goldman Sachs, which lowered its price target to $43. A few other analysts have downgraded the stock in the last few months as well.
A director bought $42k worth of TFM stock in April but insider selling is more prominent and there haven't been any share repurchases since the company has been public.
Health of the Business
In order to get a picture of how a business has performed and where it is going, I pick a few metrics that I feel are important for the particular industry and company. In the excel screenshot below, you can see the performance metrics I considered for TFM and how they've trended in the last 3 quarters:

To give you some perspective, the company has a long-term goal of 18-20% sales growth annually achieved via 15% unit growth and 3-5% comps growth. The company is performing well in both categories and expects to hit its goal for the year, but analysts are concerned with the comps. The company is at the low-end of its range to begin with, but in the Q3 call, management lowered their full year guidance for comps slightly and described a 200bp comps decline in the final month of Q3, as a result of political uncertainty and a decline in consumer confidence. Analysts badgered management about it for more details and it sounds like new store openings from competitors hurt them too. The discussion of comps was very unsettling and made it seem like management was still seeing the underperforming comps a month into Q4. It introduces new uncertainty regarding the sustainability of the long-term growth story and for that, I'll be looking for a larger discount to fair value in the stock.

Revenue has come in strong and seen slight improvements but they still have a ways to go to get to the 18-20% range.
Operating margin improved YOY in Q1 and Q2, consistent with management's persistence that they still have room for improvement through a more efficient supply chain, trimming shrink, and becoming less promotional once brand awareness has been planted. Operating margin declined in Q3 by a significant amount. Management didn't seem too concerned and attributed the decline to expense investments like advertising necessary to get new stores to ramp up quickly. The company already boasts operating margins about double the food retail industry average, so I'm a little cynical about the sustainability of that. For that reason I assumed a slight long-term decline in operating margin of 40bp from where they are now, still well above the industry average.
Cash from operations is probably the most impressive number they've been reporting. The company was up 29% in Q1 and accelerated by about 10% in the 2 quarters since. In my experience, cash from ops can fluctuate a great deal due to timing, sometimes causing a quarter or two of huge improvements, even for a company that hasn't performed well. To combat that, I look at least 3 quarters together, which usually distinguishes the true growers from the ones that are just seeing fluctuations. Looking at these 3 quarters of TFM together, it's pretty clear that the increase is not attributable to timing, but genuine, solid growth.
On to the value creation metrics. I wish more companies reported these so prominently like TFM. Unfortunately, there is a clear downtrend in both numbers, ROIC ex. Cash and ROE. These numbers capture data from the last 4 quarters, they are not the most recent quarter annualized, meaning that they don't capture changes as obviously. A 2.7% decline in trailing ROE in 2 quarters is a big deal and indicates that the business is becoming more capital intensive, something that I figured would eventually happen, but not so soon. Management attributed this to a decline in average store age. In other words, their mix is shifting to younger stores that haven't fully ramped yet. That's a reasonable explanation, but I sincerely hope there isn't something more than that going on. In my model, I assumed a sales to capital ratio of 4.7. That's consistent with where the business is now and substantially below the industry average of 5.
In general, it seems like the growth story is still intact, but TFM is not as fast a grower as investors and analysts thought a few quarters ago. That may just be an expectation problem, though it is management's job to temper our expectations.
Valuation
To value the firm, I first used a DFCF model. I assumed the following:
10 year high growth period
17% revenue growth next 5 years slowly diminishing thereafter
7% operating margin (company has been at 7.4% and the industry average is 3.4%)
Sales/Capital of 4.7 (slightly above performance and below industry average of 5)
Cost of Capital 8.69% for the next 10 years, 7.19% in terminal period
I got a value of $35.08 per share, only 4.1% above market. From this it looks like shares are pretty efficiently priced.
I then tried to come up with an accurate EV/FCF multiple. Enterprise value consists of $1.626B in market cap, $33.6mm in debt, $26.019mm in capital leases, and $14.606mm in cash, for a total of $1.671B.
The company has generated $120mm in cash from ops in the last 12 months. Capital expenditures comes in at $110.524mm, but about 95% of this is related to new store investment- it is growth capex and hence should not be considered as a necessary expense to subtract from our profit measure. 5% of $110.524mm is $5.5262mm, which I subtracted from cash from ops to get to $114.5mm in FCF.
The stock trades at an EV/FCF multiple of 14.6. A general rule that I use similar to Peter Lynch's PEG is that a firm deserves to trade at a multiple equal to 10x expected annual profit growth. You could call it EV/FCF/G. Since I expect revenue to grow at 17% and margins to remain relatively stable, I would consider TFM to be a 17% grower and hence deserving of a multiple of 17x. From that standpoint, shares look about 16% undervalued. That's better than what we got before, but still not that significant.
Combining the two valuation methods, I think shares are about 10% undervalued right now and worth $37.08. I typically seek at least a 35% margin of safety, but especially in this case due to the uncertainty of margin and comps stability, so the stock really isn't in my range here. I'd consider buying at $27.50.
Conclusion
The Fresh Market is a high growth gourmet food retailer with a ton of growth potential that posted somewhat concerning results recently, leading to a massive sell-off. The growth story is still intact, but investors have adjusted their expectations downward, and justly so. Shares seem slightly undervalued, but given the uncertainty surrounding the results and in an increasingly crowded industry, I want the shares substantially cheaper before making an entrance.
Disclosure: I have no positions in any stocks mentioned, but may initiate a long position in TFM over the next 72 hours. I wrote this article myself, and it expresses my own opinions. I am not receiving compensation for it (other than from Seeking Alpha). I have no business relationship with any company whose stock is mentioned in this article.