eBay (NASDAQ:EBAY) reported 1Q10 financial results last week (results can be found on eBay's site here; conference call transcript can be found on Seeking Alpha here) and plenty of press articles covered the results. We're not going to recount figures in this post as we have limited time, but we wanted to go on record now that -- in our view -- the company's current and future earnings power remain impressive.
As a result, we expect shares to track moderately growing earnings higher over time. Also, at 15x forward earnings (7% earnings yield), we see some room for further multiple expansion that should juice share performance as earnings increase for this E-commerce stalwart. Shares are currently trading at 13x consensus 2011E earnings.
Briefly on what happened last week (old news by now): eBay reported an inline 1Q10 and guided slightly lower than Wall Street expectations for 2Q10 while maintaining full-year guidance. Foreign currency movements and higher U.S. taxes (because the company is performing better stateside) are the primary culprits for the lower near-term guidance. In a market that favors momentum and "beat and raise quarters" (see our Netflix (NASDAQ:NFLX) post last Thursday), traders were quick to dump shares of eBay and at least one brokerage house (Deutsche Bank) took a "victory lap" for its pre-existing "sell" rating while another downgraded the stock to sell from hold.
An article published by BusinessWeek/Bloomberg lauded the DB sell call and highlighted that not only had the analyst had the sell call in place since October 2007, but a short-term trading call was made the very the morning of eBay's reporting date.
Wow, congratulations on the 50/50 gamble that eBay would guide lower that afternoon -- while having a specific edge or insight into a quarter is preferable, we submit that actually "gaming" results/guidance within a few pennies for such a large company with many moving pieces is extremely difficult and a dangerous game. We know from experience. Fortunately, it worked out this time for DB. However, what about the up-move from $10 to the mid-$20s over the past year (contrary to the longstanding sell call)?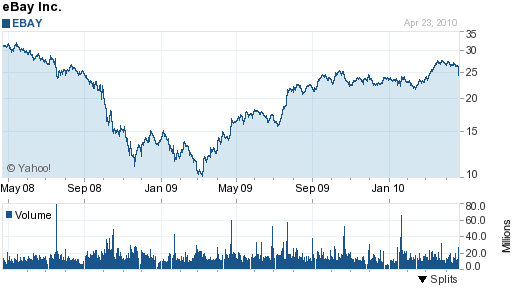 The shorts can enjoy a brief victory lap, yet we think the celebration will be just that: only a respite. Why? PayPal is a rapidly growing category killer in online payments and the Marketplaces segment -- no matter how you look at it -- is a high margin, high ROIC cash cow, growth or no-growth (although it is growing and we expect more growth from the core e-commerce site as well as Shopping.com, StubHub, classifieds, and advertising). Excess cash will continue to accumulate on the balance sheet, enabling additional growth through reinvestment/acquisitions and returns to shareholders through share repurchases (and perhaps a dividend someday).
We think investors/traders who are negative on eBay are missing the forest for the trees -- a sell rating seems completely oblivious to the company's formidable competitive advantages detailed in our eBay post last August. It's a tremendous franchise that we're happy to own at current levels.
Disclosure: Author holds a long position in EBAY