Would you be able to suggest a few reliable high dividend utilities to research for investing in a Roth IRA? I was researching ED but noticed the lack of dividend growth. It seems like other utilities like SO, PPL, and D have higher degrees of risk as compared to ED.

I am trying to sort them out by pros and cons. Would you be able to shed some light as to the most notable risks and rewards for each? If there is another utility worth researching, please let me know
I received this email a while ago, and it is exactly what many investors are seeking: a list of reliable high dividend companies in the utility sector. However, there are added subtle caveats hidden in this seemingly simple request.
First off, the investment funds are in a Roth IRA, so there is the issue of suitability of risk and suitability of time horizons as it may be assumed that the funds will be invested with a longer-term retirement focus. Utilities are usually bought for the longer haul where the impact of slow earnings growth and increasing income can have the most affect.
Secondly, there is the desire for high dividend yield, and that becomes easy to accomplish by screening utility companies by yield. Thirdly, there is the issue of dividend growth, where one can also research and compare 3-year or 5-year historic dividend increases.
Fourth, the writer is asking for a risk assessment of four utility companies without revealing the level of risk either desired or specifically identified to avoid. Utility companies and their shareholders have exposure to environmental risks, regulatory risks, comparable interest rate risk, overall market valuation risk, and so on. One criterion could be for each candidate to have generated higher than sector average returns on invested capital ROIC that should translate into higher earnings and dividends over time. This becomes a more difficult assessment.
In addition, there is no indication of which of these factors are more important than the others are, so developing a screening process becomes almost impossible, as there is no apparent starting point. For this investor is yield more important than dividend growth? Is the risk to principal more critical than overall total return potential?
The above is a typical conundrum most utility investors encounter.
I tend to start my search for new investments with a review of quality. S&P Capital IQ offers an Equity Ranking system that provides a good initial screen. As part of most brokerage accounts is access to individual research reports and S&P Capital IQ is available through many basic research tools. Some brokers allow the Equity Ranking as a specific search criterion on their stock screener tool. S&P offers rankings of A+ to D for 10-yr consistency in earnings and dividend growth. B+ in this ranking is considered "average". Below is a description (pdf) of the ranking system:
S&P Capital IQ Quality Ranking

The S&P Capital IQ's Earnings and Dividend Ranking System measures the historical growth of earnings and dividends. Those companies with high growth in earnings and dividends rank higher than companies whose earnings and dividends grow more slowly or not at all. The starting point in the ranking process is a computerized scoring system based on per-share earnings and dividend records over the most recent 10-year period, a time period sufficient to measure a company's performance under varying economic conditions. The system measures growth, stability within the trend line, and cyclicality. From these, scores for earnings and dividends are determined. The system makes allowances for company size, since large companies have certain inherent advantages over smaller ones. Once computed, a final score is measured against a scoring matrix. The results are reviewed and sometimes modified, because no mechanical system can evaluate the many special considerations that could affect a company's earnings and dividend record.

A+ Highest, A High, A- Above Average

B+ Average, B Below Average , B- Lower

C Lowest, D In Reorganization

NR Not Ranked
The ease of understanding this long-term performance ranking makes the Equity Rating a good screening baseline and most utilities are rated, making comparisons useful. The components of successful long-term utility investing is dependent on the longevity of the factors rated by S&P - earnings and dividends, and their growth patterns over the previous 10 years.
Investors may want to restrict their "quality" criteria to those with A+ and A rankings. Of the total sector companies followed by the ranking system, there were no A+ rated utilities. There are eight A rated utilities listed below by dividend yield:
Entergy 5.2% yield (NYSE:ETR), AGL Resources 4.1% yield (NYSE:GAS), Piedmont Natural Gas 3.8% yield (NYSE:PNY), Wisconsin Energy 3.7% yield (NYSE:WEC), Nextera Energy 2.9% yield (NYSE:NEE), York Water 2.9% yield (NASDAQ:YORW), Chesapeake Energy 2.7% yield (NYSE:CPK), and Aqua America 2.5%(NYSE:WTR)
S&P High Quality Index ETF (NYSEARCA:SPHQ) lists six components from the utility sector. The index is composed of companies in the S&P 500 that are rated A- and above. Below are the six companies that fall into these criteria, by current dividend yield:
Entergy, Southern Company 4.9% yield (NYSE:SO). SCANA 4.4% yield (NYSE:SCG), AGL Resources, Wisconsin Energy, and Nextera.
From a combination of these two lists, candidates that may be worth of additional research could be the top five by current yield. They are:
Entergy
Southern Company
SCANA
AGL Resources
Piedmont Natural Gas
The writer indicated an opinion that Southern Company had a higher risk, but did not indicate what that opinion was based on. The most common reason for currently shying away from SO is its exposure to nuclear power and the current construction of a new nuclear power generating facility. SO is also struggling with cost overruns at its newest coal-fueled facility. SCANA also has exposure to the same risk as they are also in the process of building a new nuclear power plant, but their construction is much farther along. Entergy has a relatively high exposure to nuclear power generation and some investors may find this objectionable. Removing the three candidates that have exposure to nuclear power would leave the natural gas utilities AGL Resources and Piedmont National Gas.
Going back to the original five possibilities, there is a risk that management has not earned its dividend growth. This risk would manifest itself in ROIC being consistently less than dividend growth. Fastgraph.com offers both 12-yr dividend growth on their basic graphs and ROIC calculations for premium subscribers. Morningstar.com also offers historic ROIC calculations on their Key Ratio page. Payout ratio comparisons over time should hopefully reveal a consistent or declining percentage as an increasing payout ratio over time may put a dent in future dividend growth.
Entergy has increased its dividend by 9.1% over the previous 12 years, but has generated between 4.6% and 7.1% ROIC. This means a 9.1% dividend growth probably is unsustainable. ETR payout ratio has increased from 48% in 2003 to 70% in 2012. Southern Company has increased its dividend an average of 3.2% over the previous 12 years while generating between 3.9% and 5.5% ROIC. SO payout ratio has been relatively constant at between 69% and 75%. This may indicate that Southern Company has a more sustainable dividend growth policy. AGL Resources has a 12-yr dividend growth of 5.9% and a ROIC range of 4.7% to 7.8%, indicating its growth streak may be sustainable at its current pace. The obstacle facing AGL Resources shareholders is a growing payout ratio from 50% in 2004 to 71% in 2012.
Another risk that should be evaluated is the regulatory risk. S&P Credit offers the following map of their assessment of the level of regulatory support individual states offer utilities in their jurisdiction: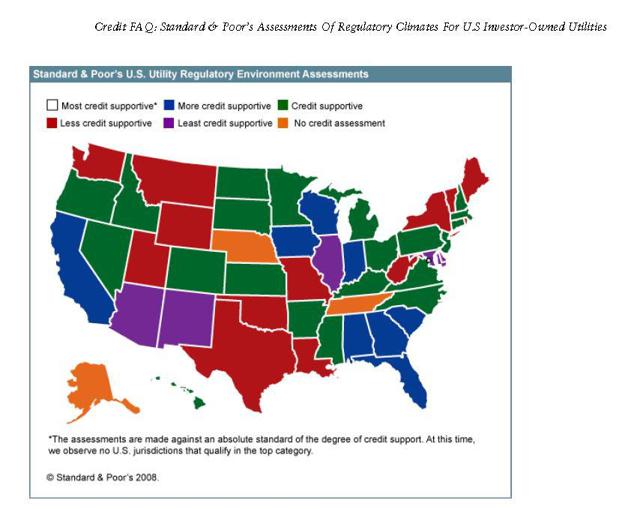 While the map is dated 2008, it should still be relatively accurate as the regulatory climate in specific areas don't radically change in a short amount of time. Investors should match up each utilities service area to the S&P assessment in order to acquire a better understanding of the background regulatory environment. It would seem those utilities that focus in the deep South should offer a better regulatory backdrop than other contiguous states.
The A- component of the Index ETF only includes those utilities that are also components of the S&P 500. However, an additional 21 companies have earned an A- rating and are not a component of the S&P 500. These companies deserve equal consideration, if time allows.
The next Equity Ranking below A- is B+ and including this group would add an additional 23 companies. However, B+ rated companies are considered "average" and a basic research goal is to focus on quality management teams that have outperformed in the important categories of earnings and dividends.
The above listed ten utilities should be a great starting point for further research for reliable companies with higher current yields and reasonable dividend growth potential.
Author's Note: Please review important disclaimer in author's profile.
Disclosure: I am long SO. I wrote this article myself, and it expresses my own opinions. I am not receiving compensation for it (other than from Seeking Alpha). I have no business relationship with any company whose stock is mentioned in this article.