By Bryan McCormick
US stock index futures are moderately lower after mostly weak trading in Asia, excluding Japan, and a sharply down session in eurozone and UK markets.
Despite better bank earnings this morning from Deutsche Bank (DB) and Lloyds (LYG), European financial stocks were under pressure today. Concerns over Greece's debt crisis have come to the fore once again, dominating trading and lowering the euro sharply.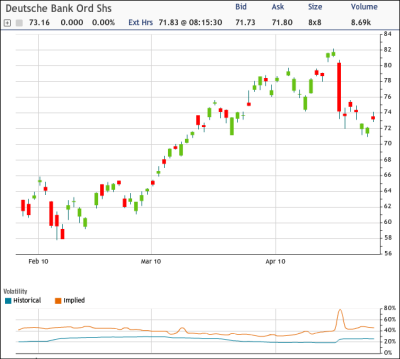 With Goldman Sachs (GS) scheduled to testify before the Senate today, US bank shares may also fall under pressure. Without the financials participating on the upside, the S&P 500 is likely to weaken.
Commodities have slipped as well from their positive tone, with crude backing off the $85 area. Industrial metals are trading lower, in part because of the higher U.S. dollar.
Earnings results are so far mixed this morning, with 3M (MMM), Cummins (CMI), Lexmark International (LXK), and DuPont (DD) up significantly after delivering solid numbers with better guidance. On the downside, United Parcel Service (UPS), Ford (F), and Boston Scientific (BSX) are down after releasing their results.
For tomorrow, the following are a few of the notable names reporting. Akamai (AKAM), Comcast (CMCSA), Corning (GLW), Express Scripts (ESRX), First Solar (FSLR), General Dynamics (GD), Goodyear Tire & Rubber (GT), Northrop Grumman (NOC), Sealer Air (SEE), Southern (SO), Sprint Nextel (S), Dow Chemical (DOW), VeriSign (VRSN), Wyndham Worldwide (WYN), and Visa (V).
Disclosure: No positions