By Bryan McCormick
US stock index futures are moderately lower after mostly weak trading in Asia, excluding Japan, and a sharply down session in eurozone and UK markets.
Despite better bank earnings this morning from Deutsche Bank (NYSE:DB) and Lloyds (NYSE:LYG), European financial stocks were under pressure today. Concerns over Greece's debt crisis have come to the fore once again, dominating trading and lowering the euro sharply.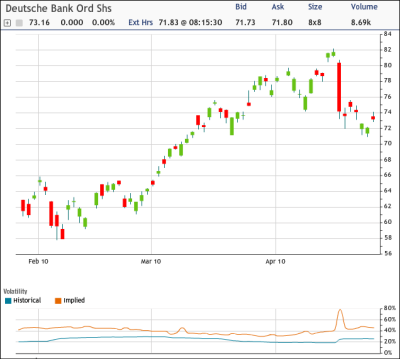 With Goldman Sachs (NYSE:GS) scheduled to testify before the Senate today, US bank shares may also fall under pressure. Without the financials participating on the upside, the S&P 500 is likely to weaken.
Commodities have slipped as well from their positive tone, with crude backing off the $85 area. Industrial metals are trading lower, in part because of the higher U.S. dollar.
Earnings results are so far mixed this morning, with 3M (NYSE:MMM), Cummins (NYSE:CMI), Lexmark International (NYSE:LXK), and DuPont (NYSE:DD) up significantly after delivering solid numbers with better guidance. On the downside, United Parcel Service (NYSE:UPS), Ford (NYSE:F), and Boston Scientific (NYSE:BSX) are down after releasing their results.
For tomorrow, the following are a few of the notable names reporting. Akamai (NASDAQ:AKAM), Comcast (NASDAQ:CMCSA), Corning (NYSE:GLW), Express Scripts (NASDAQ:ESRX), First Solar (NASDAQ:FSLR), General Dynamics (NYSE:GD), Goodyear Tire & Rubber (NYSE:GT), Northrop Grumman (NYSE:NOC), Sealer Air (NYSE:SEE), Southern (NYSE:SO), Sprint Nextel (NYSE:S), Dow Chemical (NYSE:DOW), VeriSign (NASDAQ:VRSN), Wyndham Worldwide (NYSE:WYN), and Visa (NYSE:V).
Disclosure: No positions