The Utilities Sector continues to encounter numerous fundamental challenges. Electricity demand continues to be stagnant in most parts of America, particularly residential demand, which has remained flat since 2006. This stagnation in demand is hurting companies while they also have to spend more capital to advance their systems. These heavy expenditures, when spread over low growth consumption, will lead to input cost increases, resulting in depressed margins and financial difficulties.
Wholesale power producers are also having difficulties in the face of the demand to offset low power prices and the rapid expansion of renewable energy. These combined challenges are prompting companies to reconsider existing strategies and think about new business models. Consequently, many companies continue to close coal and some nuclear plants. Entergy (NYSE:ETR), Duke Energy (NYSE:DUK), Edison International (NYSE:EIX) and Dominion (NYSE:D) have shut down nuclear plants in the face of these headwinds that are having an effect industry-wide.
Taking this turbulent environment into consideration, I have picked NextEra Energy (NYSE:NEE), a company rising to meet challenges and generating steady growth. When researching companies, I keep my focus on its dividend stability by analyzing how their business plans, financial situations, and future prospects are likely to sustain dividends. This is how I approached NEE. I will also look at its peers group: and PPL Corporation (NYSE:PPL) and Exelon Corporation (NYSE:EXC).
How NextEra Energy is a Safe Investment
NextEra Energy's operating performance is driven primarily by its two subsidiaries, Florida Power & Light Company [FPL] and NextEra Energy Resources [NEER]. FPL is one of the largest rate-regulated electric utilities in the U.S., serving about 4.6 million customers in Florida. NEER, jointly with affiliated entities, is the largest generator of renewable energy provided by the wind and sun in North America. So far, its development program and other initiatives to enhance productivity and reduce business costs are working.
At FPL, aggressive investment in the business is improving consistency, lowering fuel costs, reducing emissions, and enhancing the value proposition for its customers. FPL's average regulatory capital employed for the full year stands at $2.9 billion. In 2013, FPL effectively completed extended power upgrades to two nuclear facilities in Florida, making them the largest U.S. nuclear upgrade investments in history and adding 500 megawatts (MW) of clean, zero-emission generation to the FPL fleet. FPL continues to improve the electric grid with its Energy Smart Florida program. Further, the company has initiated a storm-hardening program to strengthen its infrastructure. Its modernized Cape Canaveral facility started operations, and the company is working on modernization of the Riviera Beach facility which is expected to schedule an in-service date in the second quarter of 2014. The construction of a modernized facility for the Port Everglades plant is underway as well, with an expected in-service date by mid-2016.
The company is also making more investments at NEER. NextEra Energy Resources increased around 375 MW of new U.S. and Canadian wind capacity to its account in 2013, boosting the overall size of the wind portfolio to 10,210 MW. In 2013, the company reached its highest level of wind production at almost 30 million megawatt hours of generation. NEER expects to bring around 2,000 and 2,500 MW of new contracted U.S. wind projects between now and 2015, of which 1,425 MW are already in place and running.
With its aggressive investment strategy to improve production, NextEra Energy is looking to generate 5% to 7% growth in 2014, and their recent year's result and investments justify these future projections. At the end of the 2013, NEE's net income was standing at $2.1 billion, an increase over the past year of $1.9 billion. For the full year o 2014, NEE is looking to generate EPS in the range of $5.05 to $5.45. Based on a payout ratio of 54% and predicted 5-7% growth in income, NextEra Energy's current dividend growth rate is sustainable.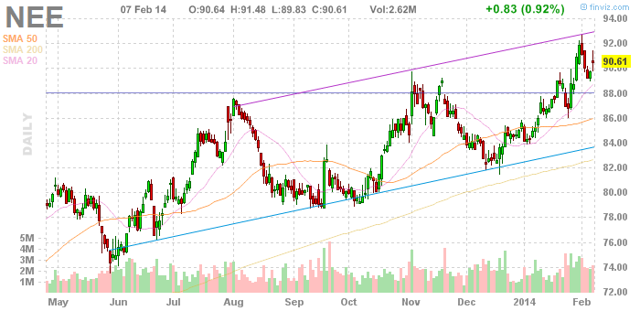 I do not recommend investors initiate a position when the stock is trading at all time highs. Instead, investors must wait for any dip in the price before initiating a position. I do believe that holding a stock at this level can generate big profits and the company has solid growth plans in place to sustain its returns.
Where PPL stands
PPL Corporation is an energy and utility holding company that, through its subsidiaries, is engaged in the generation and marketing of electricity in the northeastern and western parts of the U.S., as well as in the delivery of electricity to Pennsylvania and the U.K. With a diversified business model, its strategy is to optimize energy supply margins and mitigate near-term volatility in both earnings and cash flows. More explicitly, the company's strategy is to optimize value from its marketing portfolios remain highly competitive.
To do this, PPL is matching energy supplies with load-under contracts of different durations in conjunction with creditworthy counterparts. This enhances profits while efficiently managing exposure to energy and fuel price instability, operational risk and counterpart credit risk. With this strategy, the company has been generating strong top and bottom-line growth. On average, its revenue growth is about 18.2%, while the industry average remains at 1.6% over the past three years. The company has demonstrated this trend again in the recent year by generating earnings from ongoing operations of $1.59 billion, or $2.45 per share, that exceeded its forecasted range of $2.30 to $2.40 per share, on top of 2012 earnings from ongoing operations of $1.42 billion. The continued strong performance of its regulated business segments and its expectations for sustainable growth allowed the company to increase dividends to $0.3725 per share which takes the new annualized dividend to $1.49 from $1.47 per share.
PPL's operating cash flows are not providing cover to dividend payments due to massive capital expenditures. However, managing payout ratio of around 59%, its dividends look safe. Further, PPL looks undervalued to me as its stock is trading at only 12 time-to-earnings while the industry average is at 20.0. Overall, with its diversified business model, solid business strategy and strong top and bottom line growth, I believe PPL Corporation has the ability to sustain dividends.
Where Exelon Stands
Exelon Corp. is a utility services holding company engaged, through its subsidiaries ComEd, PECO and BGE, in the generation and energy delivery businesses. Exelon recently reduced its quarterly dividend by 41% to 0.31/share. The company reduced its dividend in order to make more payments and to lower debt levels. Obviously, divided cuts are not appreciated by investors, and this situation is no exception. The company's stock dipped to the lowest levels at the end of 2013. However, the stock has begun to exhibit some momentum and in the last month alone, it gained 10%. Exelon posted solid growth in earnings for the full year despite the challenging environment and the company is looking to generate operating earnings of $2.25 to $2.55 per share. I believe Exelon can prove to be a solid pick for patient investors as the company has solid upside potential and it is well-set to generate steady growth in earnings.
In conclusion
Though the industry has been encountering many challenges which forced companies to make massive investments in growth opportunities, NextEra Energy is one of the best companies operating in this industry. The company's recent investments set strong footprints for the future growth.
Disclosure: I have no positions in any stocks mentioned, and no plans to initiate any positions within the next 72 hours. I wrote this article myself, and it expresses my own opinions. I am not receiving compensation for it (other than from Seeking Alpha). I have no business relationship with any company whose stock is mentioned in this article.