Whole Foods (NASDAQ:WFM) is a US based healthy grocery store that's headquartered in Austin, TX. It has nearly 400 locations with nearly 60,000 employees and its gunning for a goal of 1,200 locations. The company's stock symbol changed from WFMI to WFM in May of 2011 and its stock split 2:1 in May of last year.
Whole Foods has traded well for investors - even though it is well off of its high since lowering its guidance heading into the new year. Still, investors over the last 12 months have yielded 15.1% on WFM. To start 2014, Whole Foods has stalled alongside of the major markets, off 4.5% year-to-date.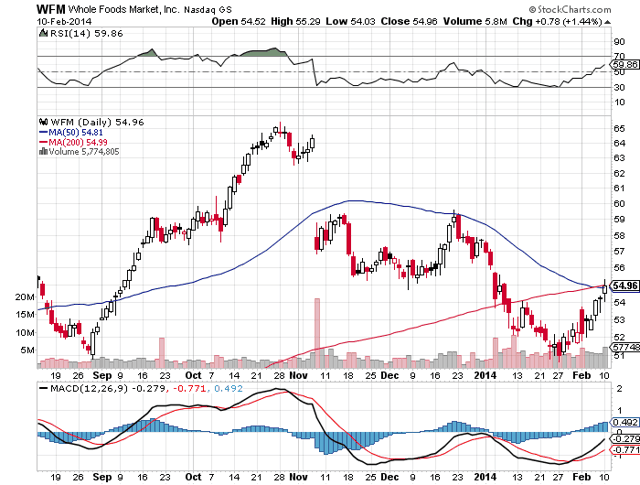 From a technical standpoint, the stock is close to a pretty crucial point here - the 50DMA and 200DMA have met the stock price at $54 and earnings is likely going to catalyze the next technical trend for the stock, where the 50DMA will likely become support to the upside or resistance to the downside. The stocks support at $51 did well to hold at the end of January this year - $56 is the next telegraphed resistance.
Whole Foods is set to report its Q1 earnings after the market closes tomorrow, Wednesday, February 12th. Analysts are expecting $0.44/share earnings on $4.29 billion in revenue.
(source - Yahoo! Finance)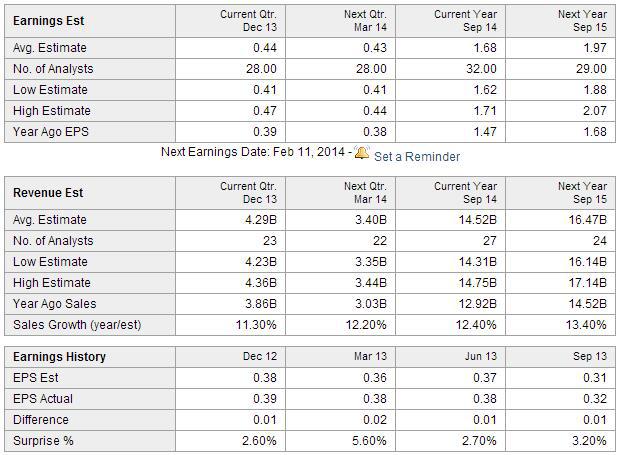 Like many other retail stores, same store sales is going to be the major metric to gauge growth. Additionally, the company has recently commented about wanting to have 1,200 stores open - investors will be looking for commentary surrounding this newly stated goal.
In the quarter past, the company reported great metrics and a record 2013, but investors weren't sold on the guidance the company offered for 2014. So, this report will be a good look into how the company has been faring so far this year.
Analysts that are bullish on the company based on valuation and its continued success through last year mostly have price targets in the $60-$64 region:
A number of other firms have also recently commented on WFM. Analysts at Piper Jaffray upgraded shares of Whole Foods Market from a "neutral" rating to an "overweight" rating in a research note to investors on Monday, February 3rd. They now have a $61.00 price target on the stock, up previously from $60.00. Separately, analysts at Sterne Agee cut their price target on shares of Whole Foods Market to $61.00 in a research note to investors on Tuesday, January 28th. They now have a "buy" rating on the stock. Finally, analysts at Cleveland Research downgraded shares of Whole Foods Market from a "buy" rating to a "neutral" rating in a research note to investors on Friday, January 10th. Eight investment analysts have rated the stock with a hold rating and sixteen have assigned a buy rating to the company. Whole Foods Market currently has a consensus rating of "Buy" and a consensus target price of $67.50.
Bears and those not sold on the company like Goldman Sachs, think the company's valuation is at a crossroad:
"While we still view WFM as a leader in the rapidly growing wellness segment of food retail owing to its strong brand, the recent deviation in reported results from several industry and macro indicators leaves us more guarded. On our estimates valuation still appears rich relative to both high growth and steady growth retailers with comparable fundamentals. Given we expect in-line 1Q EPS and a potential downward revision to FY14 guidance, we do not expect a positive rerating on the results and stay Neutral," said Grambling.
I'll be watching the same store sales, which need to come in around 6.3% or higher in order to create momentum for the company to the upside. With most companies having issues with same store sales [exception Michael Kors Holdings (NYSE:KORS)], there's a chance we could see a poor number here blamed on weather.
I'm somewhat a fan of the company itself (I lived next to one at one point) and I like what they offer in their stores. But, with a trailing twelve month P/E of 37 and a forward P/E of 27, the market continues to expect aggressive growth from this company moving through next year. The company's price to book value is 5.2 - this stock, at this price, is not exactly cheap. Whole Foods sports a $20.45 billion market cap heading into earnings this week.
For earnings, I'll be sitting this one out and watching from the sidelines.
Best of luck to all investors.
Disclosure: I have no positions in any stocks mentioned, and no plans to initiate any positions within the next 72 hours. I wrote this article myself, and it expresses my own opinions. I am not receiving compensation for it (other than from Seeking Alpha). I have no business relationship with any company whose stock is mentioned in this article.