The market has moderated since it pulled back from all time highs between January 15th and February 3rd. In the last week we've seen big turnarounds from some names that started 2014 as dogs. While the reversal in fortunes for stocks that traded poorly to start the year hasn't been universal, we noted in our decile analysis last Friday that some of the least loved names in the market were leading the way back. Below are two tables highlighting some big turnarounds we've seen over the last week in the S&P 1500 Index.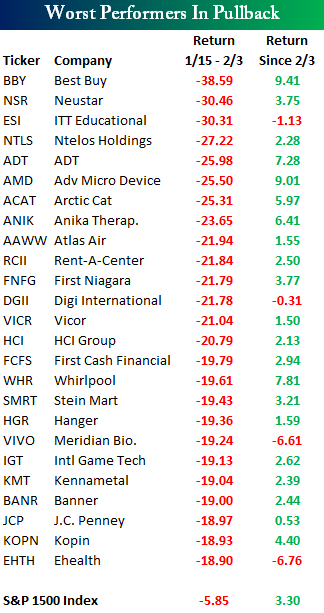 If you'd bought the 25 worst names in the S&P 1500 (in terms of performance since January 15th) as of last Monday night, you'd be sitting on a gain of 2.75 percent in the week since. Catching the falling knife wasn't a perfect strategy (the S&P 1500 outperformed that return by 55 basis points and two of the stocks lost over 5%) but we think it's indicative of how the market has calmed down since fear selling started to rear its head in late January and early February. Names like Best Buy (NYSE:BBY), AMD (NYSE:AMD), and Whirlpool (NYSE:WHR) bottomed and then had a healthy bounce as the market sorted its way through earnings season and weak emerging markets.
In the move back to the upside following the recent market low on February 3rd there have been some real home runs. A play on perennial short favorite Green Mountain (NASDAQ:GMCR) would have been a big winner as Coca-Cola (NYSE:KO) announced a 10% purchase in the name. Other big rallies have ranged from market darlings (NYSE:KORS) to under the radar comebacks (NYSE:BKS). The group of 25 best performers in the S&P 1500 since last Monday actually outperformed on the way down (down 4.46% from January 15th to February 3rd) and are now really outperforming on the way up with an average gain of 20.29% since the most recent bottom.