Executive summary:
Coca-Cola is due for a dividend raise soon. I expect two cents.
Dividend raise should put annual yield back over 3.00%.
Balance sheet has weakened, but share count is coming down.
Green Mountain deal shakes up this space.
Recent pullback offers decent entry point ahead of raise.
_________________________________
Throughout the year, I highlight companies that are due for dividend raises. This month, beverage giant Coca-Cola (NYSE:KO) is set to raise its dividend. A recent pullback in shares combined with a raise should make shares more appealing for investors. Today, I'll break down the prospects for a dividend raise, and examine the latest news that will shake up this space.
Recent dividend history:
Coca-Cola has consistently raised its dividend for several decades. The chart below shows the dividend's rise since 2003, and these payouts are split adjusted. To see the company's dividend history, please click here.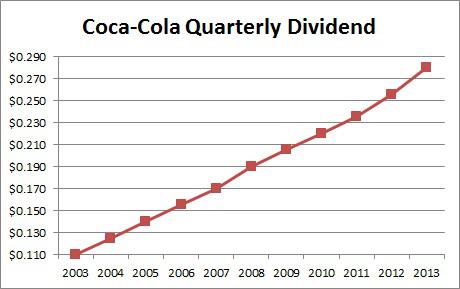 In 2005, the quarterly dividend stood at $0.28. In 2013, the dividend was raised to $0.28 per quarter, and that was split adjusted for the 2 for 1 split. So between 2005 and 2013, the dividend doubled. In 2013, the company raised the dividend from $0.255 ($0.51 before the split) to $0.28 (would have been $0.56 excluding the split). That was a raise of nearly 10%. Most of the recent raises have been in the high single digits, percentage wise.
Balance sheet update:
It will be another week before the company reports its fourth quarter and full year 2013 results. Thus, we don't have an updated balance sheet in yet. For this argument, I'll go back to the Q3 balance sheet. The table below shows some key balance sheet statistics at the end of Q3 against a year earlier. Dollar values are in millions.

*Liabilities to assets ratio.
Yes, the balance sheet did get weaker over the past year. However, we have seen this with a lot of large cap companies. There are a ton of names using this favorable interest rate environment to take out debt and buy back stock. Companies are also using these low rates to pay back or refinance higher rate debt. While it normally isn't good that working capital has gone negative, I don't think anyone believes that Coca-Cola is in any financial trouble currently. The company has bought back a ton of stock, which has reduced the outstanding share count by 70 million to 4.416 billion. While rates are low, the debt pile will increase. When rates really start to turn, you won't see as much stock bought back and some of the debt will start to be paid back.
Analyzing the Green Mountain deal:
Last week, the future of the beverage industry was shaken when Coca-Cola announced a partnership with Green Mountain Coffee Roasters (NASDAQ:GMCR). Green Mountain will be the exclusive partner and producer for Coca-Cola branded single-serve, pod-based cold beverages. The deal runs for 10 years. Additionally, Coca-Cola purchased nearly 17 million shares of Green Mountain at under $75 a share for $1.25 billion, which at the time was for 10% of Green Mountain. As Green Mountain buys back stock, Coca-Cola's ownership percentage will rise. On Monday, Green Mountain shares closed at $110.92, so Cola-Cola is sitting on a sizable profit.
As I stated in the above article, this was more a desperation deal for Green Mountain than it was a necessity for Coca-Cola. Green Mountain's revenue growth has plunged in recent years, and the company is looking for new products to get into the Keurig. Cold beverages seem to be the next wave, but there's a lot of proving needing to be done here. Those pod-based beverages may be really expensive, so consumers will have to weigh the cost. Also, there is not a set product in place yet. On the flip side, you have SodaStream (NASDAQ:SODA) with its line of make your own soda at home products. SodaStream had more than $560 million in revenues during 2013.
We won't see these new cold products out until late 2014 or early 2015. A lot could change before then. Perhaps PepsiCo (NYSE:PEP) comes in and signs a deal with SodaStream, or maybe even buys out the company. Green Mountain shares rocketed higher on the news of the deal, but SodaStream shares have as well. SodaStream had a huge warning in January, so now the prevailing thought is that SodaStream has to do something as a response. It will be interesting to see how this all plays out.
Comparisons in the space:
When it comes to the competition, PepsiCo is obviously the biggest competitor. Dr. Pepper Snapple (NYSE:DPS) is also a name that provides some competition. In the past, I've included SodaStream in my competition segment, but have separated SodaStream in my comparison table. The fact that Coca-Cola signed a deal with Green Mountain shows that SodaStream was a competitor, albeit on a small-scale basis. The following table shows a comparison of 2014 growth estimates, valuations, and dividend yields as of Monday. These estimates are likely to change, especially as these companies report earnings.

Looking strictly at the numbers, there isn't a lot of separation between the big three in terms of growth. Most of the growth profiles are fairly comparable, with Coca-Cola right in the middle. Coca-Cola does trade at the highest P/E value, but the premium isn't that large when compared to Pepsico. Dr. Pepper Snapple has traded at a huge discount for the couple of years I've followed these names. The Dr. Pepper Snapple dividend yield looks high right now because the company just raised the dividend last week by nearly 8%. Excluding the raise and using Monday's closing price, Dr. Pepper Snapple would have a dividend yield of 3.12%. Once Coca-Cola and Pepsico raise their dividends, the yields will be a lot closer. Again, if you are looking for growth, and not opposed to a little extra risk, SodaStream offers a compelling valuation at the moment.
Predictions for a raise:
Let's now look at what some dividend possibilities might be. You should remember from above that over the past year, Coca-Cola has reduced its outstanding share count by a little over 1.5%. The following table shows dividend raise possibilities: how much the increases would be, what the new annual total dividend would be, and what the yield would be (based on Monday's close).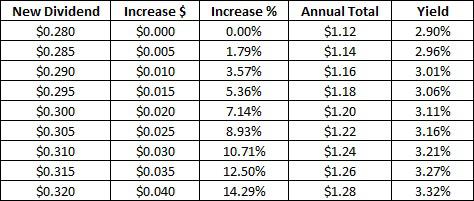 If this table looks somewhat familiar, you've read another one of my articles. When I first started looking at the dividend raise potential for Coca-Cola back in November, I included the same table. The only thing that has changed since then is the share price, which is down by a little more than $1.50. Based on Monday's close, any raise of a penny or more would put the dividend yield back above 3% on an annual basis.
Back in November, my prediction was for a raise of 2 to 3 cents, which would put the new dividend at 30 or 31 cents per quarter. I'm going to revise my prediction now and leave it right at a 2 cent increase (30 cent quarterly dividend). With Coca-Cola funneling a billion plus dollars to Green Mountain, I think that takes away a little from the dividend. A two cent raise would still be a healthy 7.14% increase, which would be in the range of raises over the past five years. My prediction would put the yield at 3.11% based on Monday's closing price.
Final thoughts:
We are just days or weeks away from the next potential dividend raise from The Coca-Cola Company. A dividend raise should get the annual yield back over 3.00%, despite a balance sheet that got a little weaker. Back in early January, I suggested investors wait for a pullback. Shares are down a little more than $1.50 since that point, although they did spike late on Monday. Coca-Cola is one of the most consistent dividend payers out there, and the next raise should boost confidence in the name again. Investors looking at the name could wait for shares to get back down to $38, but shares are off their early 2014 highs. A deal with Green Mountain will change this space up going forward, and Coca-Cola could benefit from the recent deal. Next week the company will report earnings, and investors should be listening for a dividend raise announcement in the near future. I expect a two cent raise to $0.30 per quarter.
Disclosure: I have no positions in any stocks mentioned, and no plans to initiate any positions within the next 72 hours. I wrote this article myself, and it expresses my own opinions. I am not receiving compensation for it (other than from Seeking Alpha). I have no business relationship with any company whose stock is mentioned in this article. Investors are always reminded that before making any investment, you should do your own proper due diligence on any name directly or indirectly mentioned in this article. Investors should also consider seeking advice from a broker or financial adviser before making any investment decisions. Any material in this article should be considered general information, and not relied on as a formal investment recommendation.