By David Russell
Rockwell Automation (NYSE:ROK) has been moving straight up for almost three months, and now the bears are stepping in before the next earnings report.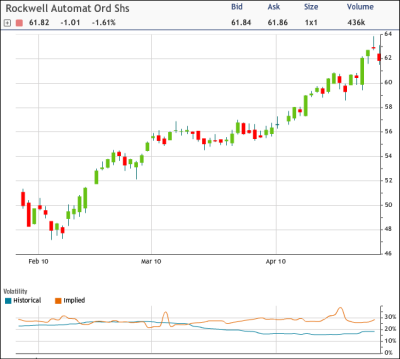 optionMONSTER's Depth Charge tracking system detected the purchase of 2,540 May 60 puts for $1.10 and $1.15 against open interest of 371 contracts. The trade pushed total options volume in the stock to 16 times greater than average.
ROK fell 1.61 percent to $61.82 in early afternoon trading but is up 28 percent since the beginning of February. The maker of industrial-control systems reported better-than-expected results on January 27 and raised its full-year guidance. The company is scheduled to release earnings results tomorrow morning.
The stock needs to fall at least 5 percent by expiration for the puts to turn a profit.
ROK closed up slightly yesterday after hitting $63.84 in intraday trading. It was highest price since January 2008.
Puts account for a bearish 84 percent of the options volume in ROK so far today.
Disclosure: No positions