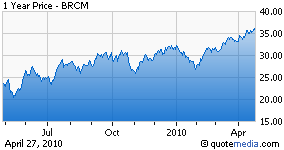 Broadcom Corp. (BRCM) is expected to report Q1 earnings after the market close on Tuesday, April 27, with a conference call scheduled for 4:45 pm ET.
Guidance
The consensus estimate is 47c for EPS and $1.38B for revenue, according to First Call. Broadcom has topped consensus estimates in each of the last five quarters, and is likely to do so again. Industry data points and recent comments from competitors such as LSI (NYSE:LSI) and Marvell (NASDAQ:MRVL) indicate that enterprise spending and the upgrade cycle under way in the Ethernet market is strong and should benefit Broadcom. Mobile and wireless should also be strong, with increasing orders to large customers such as Nokia (NYSE:NOK) and Samsung.
Analyst Views
Citigroup expects Broadcom to report Q1 results that are near the high end of guidance of $1.342B-$1.409B, or revenue growth of flat to up 5%, primarily on better than expected enterprise networking growth. Citigroup expects Broadcom to see similar strength in their enterprise networking business as the semiconductor and hardware companies that have recently announced. This currently models Broadcom's Q1 revenue/non-GAAP EPS at $1.41B/51c. For Q2, Citigroup is modeling Broadcom's revenue to grow 3% quarter-over-quarter, below seasonal growth of up 8%, leaving room for upside. Most semiconductor companies reported to date have guided for seasonal or better growth, and suggested visibility has improved with less dependence on turns business. For Broadcom, Citigroup expects the enterprise networking business to decline slightly after growing nearly 80% in the past three quarters, while the other two segments should continue to see growth. Citigroup's Q2 revenue/non-GAAP estimates are $1.45B/53c. Consensus is $1.42B/48c. For FY10, Citigroup forecasts Broadcom to grow revenue by 30% year-over-year, resulting in non-GAAP EPS of $2.10. Consensus is FY10 $5.81B/$1.98B.