"The alchemists in their search for gold discovered many other things of greater value." - Arthur Schopenhauer
Executive summary:
Contrary to predictions, gold prices have moved higher in the new year.
Gold mining stocks after two years of significant underperformance in the market are showing recent strength.
Mining companies are finally taking steps to close unprofitable mines, postponed new projects and other steps to improve operational performance.
Two big gold miners are on the move recently and could have further upside.
__________________________
Financial pundits are not off to greatest start here early in 2014. At the beginning of the year the consensus was that the market would continue to rise albeit at a less torrid pace than the 30% rally seen in 2013. Interest rates were also projected to rise at a slow pace throughout the year. Gold and silver assets were pretty universally panned and most pundits predicted additional declines after the very poor year for precious metals in 2013.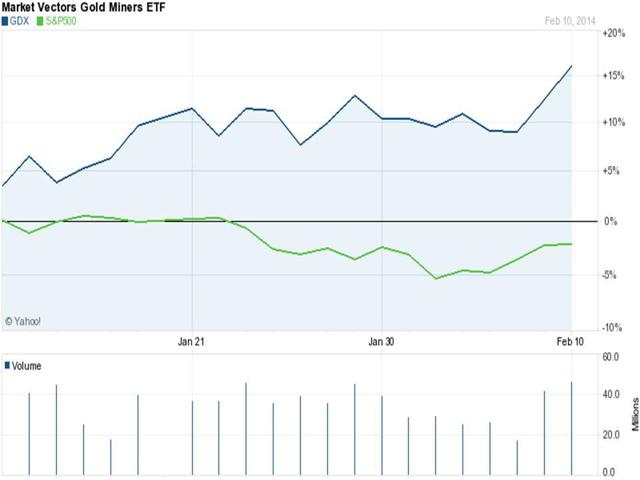 None of these predictions has worked out so far in the first six weeks of the year. Precious metal prices have risen and gold and silver miners have been some of the strongest performers in the market in 2014. I believe this strength could continue for myriad reasons:
The stocks have been crushed over the past 18-24 months. Almost all miners are down at least 50% from their highs in 2011 with many down 70%, 80% or more.
Given those declines, any change in precious metal prices or sentiment on the sector was bound to trigger a significant rise in these stocks.
Miners have finally started to take steps to improve operational performance by divesting or closing unprofitable mines, postponing new projects and initiating other efforts to reduce operational costs.
For contrarian investors, now is not a bad time to take a look at some of the bigger miners as possible turnaround plays. Here are two speculative positions I have in my portfolio within the sector.
The shares of Barrick Gold (NYSE:ABX) have shot up some 10% over the past month but the stock is still down more than 60% from where it began 2012. The company is in the process of 'optimizing' its mining portfolio. As part of effort it recently sold its Marigold mine in Nevada for some $275mm.
Barrick has also sold some assets in Australia recently for $850mm. Finally, it has suspended development of its huge Pascua Luma project in South America. This restructuring will result in lower gold production but should also lower operating costs per ounce of gold produced as well as to improve the company's balance sheet.
Activists are also pushing the company to enhance shareholder value and strategic focus. This has resulted in the founder and longtime chairman Peter Munk being pushed out recently. The company is still solidly profitable (~$2.50 a share of profit in FY2013) despite the huge decline in the gold price in 2013. The shares sell for less than 5x operating cash flow as well as earnings in FY2011. The shares also pay a 1.1% dividend yield.
Ashanti AngloGold (NYSE:AU) is also trying to shed non-core assets and sold some assets in Namibia the other day for ~$110mm. It is earlier in this process than is Barrick and has significant properties in geopolitically challenging South Africa which has been racked by major strikes by unions recently. However, a good portion of this uncertainty seems priced into the shares given the stock sells at 1/3 the level it began 2012 at.
The company has managed to also stay profitable and earnings projected to improve by more than 20% in FY2014. After falling ~15% in FY2013, revenues should be flat in the current fiscal year. AU is selling for less than 5x its FY2011's earnings levels even after gaining more than 25% in the last month.
The company is also gaining traction in reducing operating costs. The company lowered its all-in costs from $1,302 per ounce in the second quarter to $1,155 per ounce in the third quarter. The company next reports earnings next week and costs should be a continued focus area for investors.
Obviously both of these selections are highly dependent on gold prices and sentiment on the sector. I have small equity positions in both stocks. I also have out of the money long dated bull call spreads on each as I like the risk/reward profile of these structures here.
Disclosure: I am long ABX, AU. I wrote this article myself, and it expresses my own opinions. I am not receiving compensation for it (other than from Seeking Alpha). I have no business relationship with any company whose stock is mentioned in this article.