Janet Yellen will be the focus today as lawmakers get their first chance to question her on the Fed's outlook and how they will act moving forward. We already know from her prepared statement that the 6.5% unemployment rate threshold will hold little weight with the Federal Reserve moving forward and will not greatly impact monetary policy until actual hiring picks up to reflect the shrinking of the shadow unemployed.
The markets like this as well as the news that Republicans are looking to pass a clean bill to raise the debt ceiling without any conditions attached whatsoever. The market could not have asked for a better start to the day on Tuesday, but we will have to see how Ms. Yellen's testimony goes before declaring victory.
Chart of the Day:
The 10 Year Treasury is back above the 2.70% yield level. We doubt that it moves back above the 2.80% level before a raise to the debt ceiling based on current market conditions, but we also think that rates have seen a near-term bottom.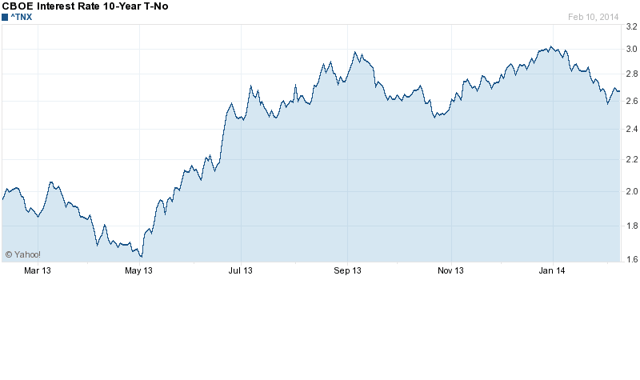 Source: Yahoo Finance
We have economic news today and it is as follows:
JOLTS - Job Openings (10:00 a.m. EST): Est: N/A Act: 3.99M
Wholesale Inventories (10:00 a.m. EST): Est: 0.6% Act: 0.3%
Asian markets finished higher today:
All Ordinaries -- up 0.62%
Shanghai Composite -- up 0.84%
Nikkei 225 -- up 1.77%
NZSE 50 -- up 0.33%
Seoul Composite -- up 0.46%
In Europe, markets are trading higher this morning:
CAC 40 -- up 0.42%
DAX -- up 1.20%
FTSE 100 -- up 0.59%
OSE -- up 0.80%
Social Disconnect?
In the last few years there has been a movement to highlight social issues in the workplace. Some companies have focused on social issues to define themselves and their products/services, while others have instead tried to focus on the bottom line. We think that there is room for both schools of thinking in a capitalistic marketplace because some consumers will want to pay more for socially responsible practices/products and others in the marketplace simply want the best price with little attention paid towards how the product was made or the producers' beliefs.
The past week saw two companies do wrong in this regard, no matter how you look at it, in our opinion. First off, everyone can agree that AOL's (NYSE:AOL) CEO Tim Armstrong had yet another blunder when he discussed "distressed babies" and blamed the cost increase on the company's health insurance and added costs from Obamacare for the reason behind AOL's decision to alter the way they fund the 401(k) plan. How a company chooses to fund its 401(k) plan is its own choice, however trying to blame the decision on two employees and a change in healthcare law smells of someone trying to pass blame for cost cutting measures. It reminds us of something Clark Griswold's boss in 'Christmas Vacation' might try to do.
The fact that the company has now backed off of the decision to alter the funding schedule for the retirement plan has us scratching our head as it appears that they could have gone in a different direction the entire time. Further, if you are running a company for the shareholders that is fine, but do not reverse course midway and call into question your strategy.
The other issue which has us scratching our head is the entire General Motors (NYSE:GM) CEO pay issue. We get that the company received a bailout from US taxpayers and that certain business practices are now more political than at other companies, but the pay issue bothers us. Ms. Barra has obviously worked her way up at the company and earned the job, but the irony of how things have played out at General Motors caught out attention. First, although she was on the short-list she was not only not the clear-cut successor, she was not even considered by many to be the favorite. Then after taking over the helm, the focus shifted to whether she would be paid fairly and the focus shifted from what she deserved based on experience and past successes to a political issue that annoyed even Ms. Barra. Shareholders now know that Ms. Barra is being well compensated, but now one has to wonder whether the company is overpaying the market price for political reasons. It is an odd world we live in when on one hand we have leaders in Washington calling for lower CEO pay and trying to keep the financial industry CEOs and their pay under control, yet openly lobbying for a larger pay package for a female CEO at a vehicle manufacturer which is one of the largest employers of unionized workers in the country.
Technology
Google (NASDAQ:GOOG) is in the news again, this time with the continued buildout of their ad platform. We have speculated in the past, and established that our belief is that pay TV and the internet are on a crash course. Not just on how content is delivered, but in how content is consumed and how ads are delivered. This is why we were not all that surprised to learn that Google is teaming up with ComScore (NASDAQ:SCOR) to offer advertisers independent tracking of the performance of their ads, as well as enable the easy comparing of results across various mediums (TV, internet, etc). The move to internet advertising is already underway, but this move by Google should pave the way to hasten the transition when marketing departments are presented with the compelling evidence on engagement.
ComScore is seeing its shares move sharply higher on the news with shares rising over 10% in early morning trading. This is an entirely new revenue stream for them and shows that the company is making inroads on new platforms. The company issued guidance (see press release here) that was in-line for the next quarter and year and also stated that they were increasing spending moving forward to capitalize on growth opportunities that management sees ahead. ComScore also shook up their management, with the press release explaining those moves located here.
Retail - Drugstores
CVS has gained back most of its losses from the tobacco announcement, and although we are not fans of the move it is hard to argue with the results management has been able to deliver recently.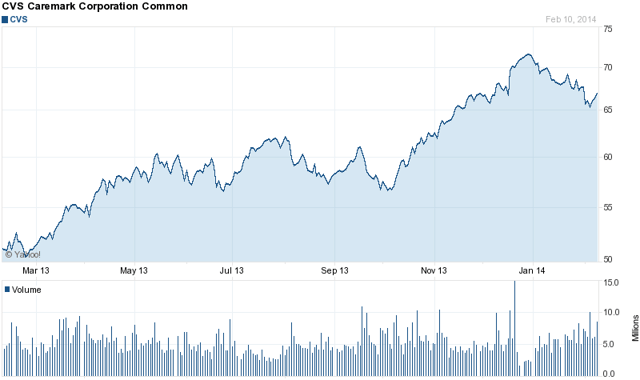 Source: Yahoo Finance
Although long-term we disagree with CVS (NYSE:CVS) and their decision to drop tobacco products from their offerings, one cannot argue with the company's success in driving results via the back of the store offerings (prescription drugs) and their cost cutting measures. We are seeing a golden age for drugstores these days as more and more large prescription drugs lose their patents and face generic competition. The generics are offering better profit margins, so although the companies are facing headwinds when it comes to top line growth, the bottom line is growing quite healthily.
The company reported EPS of $1.12, which was $0.01 better than expected. CVS guided higher on EPS for the upcoming quarter while reaffirming FY2014 estimates.
Disclosure: I have no positions in any stocks mentioned, and no plans to initiate any positions within the next 72 hours. I wrote this article myself, and it expresses my own opinions. I am not receiving compensation for it (other than from Seeking Alpha). I have no business relationship with any company whose stock is mentioned in this article.