Executive summary:
BWP shocks MLP investors by cutting the dividend by 80%. Cash flow will be redirected to reduce the company's debt load.
The warning signs were there that the high-yield could not be sustained.
After the fall, view BWP as a speculative investment with the potential of a 15% cash flow yield, if not an actual distribution payments yield.
_________________________________
The 80% reduction in the distribution rate announced today - Feb. 10 - by Boardwalk Pipeline Partners LP (NYSE:BWP) was a very unpleasant surprise for investors in this midstream master limited partnership. By dropping the quarterly distribution to $0.10 from the previous $0.5325, investors will now earn just $0.40 per unit per year, compared to the previous $2.13 annual rate. As a result, investors are dumping BWP units, with the unit price off 40% after the earnings announcement. Put another way, on Friday BWP investors owned units worth about $24 each sporting a yield close to 9%. This morning those shares are valued at about $14 each with a forward yield of less than 3%.
Note: Master limited partnerships are not corporations, so investors in an MLP own units and not shares. Income payments made to investors are distributions and not corporate dividends. However, to keep things moving along and not become repetitive, the words shares and dividends may be used in this article with an understanding that the use is not technically correct.
Falling Cash Flow Required Drastic Reaction
Boardwalk Pipeline Partners has forecast distributable cash flow of $400 million for 2014, down from $560 million in 2013. Some of last year's earnings were due to gas sales that cannot be duplicated every year. In addition, BWP's core transport and storage businesses are being squeezed by reductions in revenue as contracts are being renewed at lower rates. Currently, the Boardwalk Pipeline Partners assets and business focus are not well aligned with what is happening with natural gas production, pricing and usage.
The BWP Board of Directors elected to reduce the dividend rate and use the remaining free cash flow to shore up the company's capital spending for 2014 and continue towards the goal of a debt to EBITDA ratio of 4.0. The ratio currently sits at 4.6. Out of the $400 million of expected DCF for 2014, $100 million will go to pay the smaller dividends and the remaining $300 million closely matches the amount of planned capital spending planned for 2014. Using cash flow to pay the capital spending budget avoids the need to dilute LP investors with additional equity holdings or borrow more money and increase the debt to cash flow ratio. Since cash flow will not be used to pay down debt, the EBITDA rate must increase to meet the company's goal of reducing the debt ratio.
The general partner interest and over half of the BWP equity interest are owned by Loews Corporation (NYSE:L). The Loews share price dropped by 5% on the BWP results and other not so good news from the company's own earnings report.
Could The Dividend Cut Have Been Predicted?
Dividend reductions from midstream MLP companies are rare and a 9% yield with a history of steady dividend payments is attractive to income oriented investors. Now that the distribution has been cut, there is not much unit holders can do to save the day. However, it may be instructive to look back and point out warning signs that may have foretold the dividend cut.
Listen to what management is saying about the company's business prospects. Going back to the previous - 2013 Q3 - earnings conference call, CEO Stanley C. Horton noted that he was repeating the previously stated outlook that pricing changes in the natural gas business was negatively affecting the company's current and future results. MLP companies like to highlight their growth projects, but if the underlying business is struggling, the growth foundation may be in trouble. The effects of Horton's statements can be seen in the effect of recent earnings reports on the BWP share price.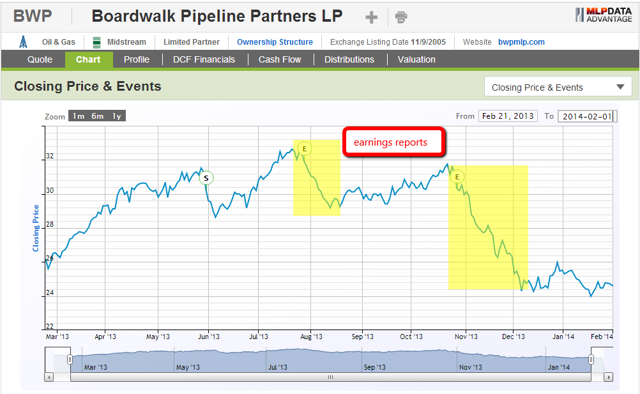 High debt ratios are typically a danger signal, but did not give a strong sell indication for BWP. The company has actually been able to reduce its Debt/EBITDA ratio over the last couple of years. However, a ratio greater than 4.5 indicates a high level of MLP debt and points to at least a need for greater vigilance.
The rate of distribution growth changes. From the late 2005 IPO through Q1 of 2012, BWP had increased the dividend rate every quarter. Since then the distribution remained level for 6 consecutive quarters. The lack of DCF per unit growth was a signal that the something was not right with some portion of Boardwalk Pipeline Partner's business.
A high yield compared to its peers was a danger signal. Going for a 8% or 9% yield with a midstream MLP investment puts the invested capital at a higher level of risk compared to the 5% yield of the Alerian MLP Index - using the (NYSEARCA:AMJ) ETN yield - which is heavily weighted to the large, midstream MLPs.
Find and watch the bond prices of MLPs you own. Between April and June of last year, the price of the BWP senior notes dropped from about 101 down to around 91. The bond market was about 6 months ahead of the bad news for equity investors.
If you own other high-yield MLPs, use what has happened with Boardwalk Pipeline Partners to build your own set of danger signals. Be aware of yield vs. peers, debt ratios and capital spending that does not produce DCF growth per unit.
Is BWP Now a Bottom-Fishing Buy?
Instead of slightly reducing the distribution rate to maintain a positive coverage ratio, Boardwalk Midstream Partners chose to go extreme and reduce the payout to a minimum and use the cash flow from operations to shore up the balance sheet and continue with capital projects that will lead to higher EBITDA and DCF in the future. Investors interested in the previous 9% yield are understandably dumping their shares. Yet, diverting the use of the company's cash flow for a year should result in a stronger BWP by 2015.
The $400 million of DCF forecast for 2014, gives a 12.5% cash flow yield on the now lower $3.2 billion market cap of the company. If the change in the distribution rate allows BWP to stabilize cash flow going forward and eventually resume a more normal distribution to cash flow policy, there is value in BWP at the current low-teens share price. On the flip side, how much investor interest will there be in an MLP paying out just 25% of DCF with a yield of less than three percent? BWP becomes more attractive as a value play if the share price drops below $10, giving the potential of a close to 15% yield if and when the dividend is reinstated to normal levels.
Disclosure: I have no positions in any stocks mentioned, and no plans to initiate any positions within the next 72 hours. I wrote this article myself, and it expresses my own opinions. I am not receiving compensation for it (other than from Seeking Alpha). I have no business relationship with any company whose stock is mentioned in this article.