In the last month Nymex Light Crude Oil prices have risen approximately +$10 per barrel to close at $100.06 on February 10, 2014. Part of this rise has been mediated by continued problems in Libya. These have limited Libya's oil exports to roughly 500,000 bpd for the last six months or more. They had returned to 1.5 million bpd in 2012 (after the civil war). Some oil price pumpers have made a big deal out of this; and there is little doubt they have been at least minorly successful in pushing prices up.
However, fundamentals elsewhere in the world indicate that there is more than adequate oil supply at this time. A few of these fundamentals are:
There are many more countries; but I have covered many of the major producers. The supply of oil is clearly going to go up in 2014. Attempts by OPEC to restrict their supply to roughly 30 million bpd seems doomed to failure. Between Iran and Iraq the OPEC supply may go up by 2-3 million bpd. Each country will likely follow the 2014 increases with still further increases in 2015. Between the US and Canada, the world oil supply may go up by another 2.3 million bpd in 2014. They will also likely supply nearly equal increases in 2015. The other countries will likely add some further production. This all puts the extra supply coming online in 2014 at roughly +5 million bpd. The EIA says global consumption increased by 1.2 million bpd in 2013. The EIA expects a like increase in 2014. The possible extra 3.8 million bpd of supply increases over demand increases should put downward pressure on prices.
If you add in the extra 1 million bpd of Libyan production expected to return at some time in 2014, the extra supply in 2014 may come to nearly 5 million bpd. OUCH! Those expecting higher prices are being foolish. OPEC will not be able to restrict supply as much as they might desire to. Logic says oil prices have to fall. Logic says Nymex Light Crude prices will fall from their near term recent highs.
The Nymex futures prices for Light Crude -- WTI -- bear this out. At the time of this writing on February 11, 2014, the December 2014 future is $93.04 per barrel. The December 2015 future is $86.36 per barrel. The December 2016 future is $82.03 per barrel. It seems inevitable that something will go wrong with this scenario in that three year time period; but the near term trend for oil prices does seem inevitably down. The fundamentals completely support this.
With this in mind, I think investors can short oil at its near term peak in 2014. It could rise a bit further, but it seems sure to cycle down again. You only need to remain patient. Some of the North American oil companies with high or no PE's and low profit or negative profit margins seem sure to be hurt by this. If you are invested in these companies, you may wish to re-examine your investment(s). A few of the companies that likely deserve some re-examination with the above oil fundamentals in mind are: Comstock Resources (NYSE:CRK), Denbury Resources (NYSE:DNR), SandRidge Energy (NYSE:SD), and Talisman Energy (NYSE:TLM). Many more companies may fall into this category, but I could not reasonably list them all.
The long term historical chart of WTI prices since 1985 gives one a better idea of the technical pressures bearing on WTI.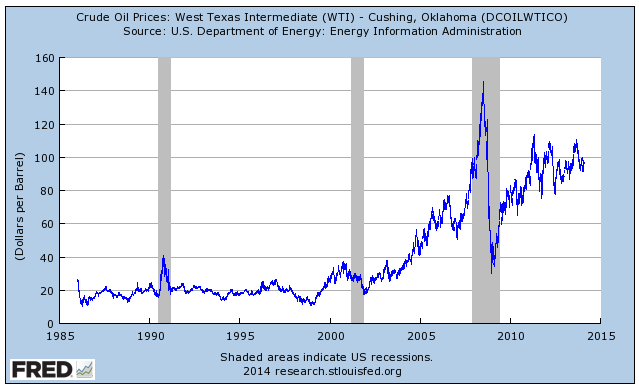 From a technical standpoint, it appears that there is a pennant formation forming or almost formed. Such a formation is usually followed by a sharp break downward or upward. From the above fundamentals, it seems much more likely that the trend about to begin is downward.
The one year WTI crude oil price chart provides a probably more accurate short term technical direction.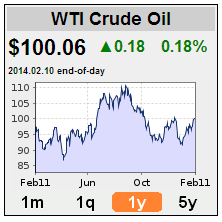 The price is currently at a near term high. This should provide significant resistance to further upward movement. Yes, the price could go higher, but a smart play might be to short WTI oil at this point. If you can afford to stay short for six months to a year, you should be able to do this relatively safely. You should be able to make a good profit. Investors can do this with options, and by shorting mostly oil ETFs such as United States Oil (NYSEARCA:USO).
NOTE: Some of the above fundamental financial information is from Yahoo Finance.
Good Luck Trading.
Disclosure: I am short USO. I wrote this article myself, and it expresses my own opinions. I am not receiving compensation for it (other than from Seeking Alpha). I have no business relationship with any company whose stock is mentioned in this article.