By Brad Zigler
I've got a "good news-bad news" story for you. First the good news. Oil refining is recovering. If you own shares of Tesoro Corp. (NYSE: TSO), Valero Energy Corp. (NYSE: VLO) or Sunoco, Inc. (NYSE: SUN), you've probably noted a certain buoyancy in your stock's price over the past three trading sessions.
The reason for the upticks? Refining margins held above 15 percent for the past three days. Now, that may not sound like big news, but you have to remember that we haven't seen gross profits at this level since last summer. Summer. You know, driving season.
The margin represents the gross return obtained from cracking crude oil into distillates such as gasoline and heating oil.
To say that refiners are behind the curve this year would be a gross understatement. We're nearly into May, a month in which margins typically peak for refiners. In mid-May 2006, for example, margins topped out at 33 percent. A year later, margins crested at 44 percent. Then, in 2008, came the crash. An oversupply of crude was signaled in June when the market slipped into contango. That produced the best profit of the season at just under 16 percent. The subsequent collapse in distillate demand then drove margins southward. And, by this time in 2009, margins were already in decline from a seasonal peak above 19 percent.
Gross Refining Margin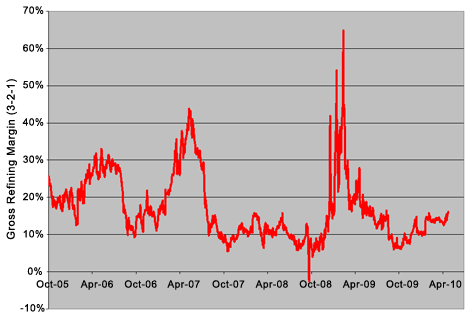 The question in investors' minds now is whether we're due for a crack spread season (see "Time For Crack Spreads?") like 2008 or one like the more historically common 2006.
A very good question indeed. In any event, these are the best of times—for the year, anyway—for refiners.