In my previous article on Procter & Gamble (NYSE:PG) I talked about the favorable strategic and operational moves initiated by the company that would create benefits for the company in the coming period. The company recorded 0.58% revenue growth for fiscal year 2013 that ended June 2013. By now the company is half way towards the end of its fiscal year 2014 and I have figures for the company's financial performance up until Q2 fiscal 2014. So, it is time to check to where the company stands under the leadership of Mr. A.G. Lafley, the company's CEO since the beginning of fiscal year 2014. I will also determine the future outlook with respect to some underperforming areas.
In order to move methodically and focus on the company's return to its shareholders I will be following company's performance with respect to two main components of the company's own value creation model: sales growth and margin improvement.
Sales Growth
For a full-analysis of the performance of the components affecting the company's sales growth I have prepared the following table that also analyzes the sales performance of the segments run by the company.

Click to enlarge
Source: PG 10Q
From the table above you can see that the company was able to achieve 1% growth in its net sales up until the second quarter of fiscal year 2014 compared to figures of the 2Q2013. Volume and price favorably affected the company's sales growth in almost all segments run by the company. So, this is in-line with my previous analysis as the company has started reaping benefits from the slight economic recovery that supported company's sales volume. The company has also been able to charge slightly higher prices for its products as the demand of its products has started improving due to supportive macroeconomic factors.
Geographic and product mix have been unfavorable due to disproportionate growth in developing regions and mid-tier products both of which have lower than segment average selling prices. This has affected the company's net sales by negative 1%but foreign exchange headwinds can be identified since sales from all of the company's segments have adversely affected by this. Overall these events caused a 2% negative impact on the company's net sales for 2Q2014. As a result, I need to state the future outlook of this headwind for the company.
Currency Headwinds and Overall Sales Forecast
The company's management expects this headwind to turn moderate during the next six months of fiscal year 2014. They expect an overall negative 2% foreign currency impact on the company's net sales for entire fiscal year 2014 so let's check some currency forecasts to determine how realistic this figure is. Including this 2% negative impact from foreign currency the company expects 1-2% all-in sales growth for fiscal year 2014.
NASDAQ reported that the chaos in the emerging markets is generating unwanted headwinds for U.S. companies that depend on developing markets for a majority of their growth. Companies like Procter & Gamble that deal in consumer products and chemicals face declines in the value of their overseas sales as a result therefore stabilization forecasts for emerging markets are in place. Although Procter & Gamble uses currency hedges instability and fluctuation in currencies from emerging markets such as India, Brazil, and Indonesia makes planning for hedging difficult. As a consequence the company gets hit by currency headwinds.
Going forward, there are signs of stability in the emerging markets but the positive effects will likely be faded by U.S. dollar appreciation projected for the coming periods as FED's asset purchase tapering is likely to last until 2014.
Additionally Procter & Gamble generated 39% of its revenue from developing markets in fiscal year 2013 and 61% from developed markets, 39% of which is earned from North America and 18% is earned from North Western Europe. The company aims to further penetrate its developed markets so the U.S recovery and increased sales in the region are likely to limit the currency headwinds at the same level of 2%.
Now let us assess the company's value creation for its investors as a result of margin improvement.
Margin Improvement

Source: PG 10Q
The table above shows that the company has recorded deterioration in its gross margin that declined by 100 basis points in 2Q2014 compared to the gross margin earned in 2Q2013. I will assess a few reasons behind this deterioration with the help of the table below. The company's operating margin improved by 30 basis points during the period under scrutiny.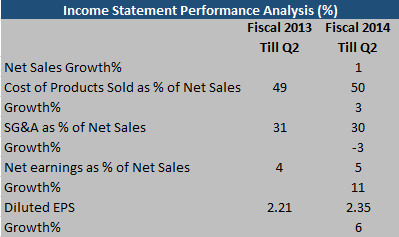 Source: PG 10Q
The company has been a bit a bit weak in generating savings related to cost of products sold. Procter & Gamble has a target of $1.5 billion worth of savings from cost of products sold but in fact cost of products sold has increased by 3% in 2Q2014 compared to 2Q2013. Cost of products sold as a percentage of net sales also increased from 49% in fiscal year 2013 to 50% in fiscal year 2014. It rose by 3% in comparison to the 1% increase in net sales. Again unfavorable geographic, product mix, and unfavorable foreign exchange were behind this disproportionate growth in the developing regions.
On the other hand, SG&A expenses decreased by 3% and were 30% of the company's net sales in 2Q2014 from being 31% in fiscal year 2013. This is a positive achievement by the company in moving towards its SG&A cost saving target.
Overall the company's net earnings improved by 11% resulting in a 6% growth in the company's EPS for 2Q2014. The company has an EPS growth target of 7-9% for fiscal year 2014 and so far it has achieved 11% which is impressive.
Concluding Remarks and Return to Shareholders
The company has recorded positive volume and price impact on its net sales but both the company's sales revenue and gross margins were hit by currency headwinds. It is expected that the currency headwinds will continue negatively impacting the company's performance but the company still seems to be achieving its sales and earnings growth targets for fiscal year 2014. Also the company's earnings and operating margins are reaping the benefits of the company's cost-cutting initiatives. Moreover, the company has plans to return $5-7 billion cash to its shareholders in the form of share repurchases and more than $6.5 billion in the form of dividends during fiscal year 2014 making the stock an attractive investment.
Disclosure: I have no positions in any stocks mentioned, and no plans to initiate any positions within the next 72 hours.
Business relationship disclosure: The article has been written by a Blackstone Equity Research research analyst. Blackstone Equity Research is not receiving compensation for it (other than from Seeking Alpha). Blackstone Equity Research has no business relationship with any company whose stock is mentioned in this article.