Editors' Note: This article covers a stock trading at less than $1 per share and/or with less than a $100 million market cap. Please be aware of the risks associated with these stocks.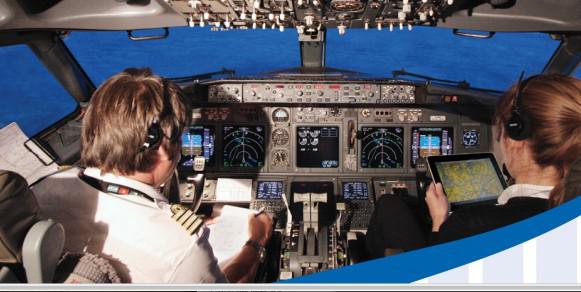 All Images from FLYHT's website
Aircraft downtime for maintenance is one of the airline industry's biggest factors limiting equipment revenue maximization. Ideally, if a plane could be earning revenue by being in the air 24/7, it would. Since that's not realistic, airlines strive to minimize the time it takes to refuel, re-provision, and perform scheduled maintenance between flights to ensure maximum monetization of equipment.
FLYHT Aerospace Solutions Ltd. (AMSLF) has developed a satellite driven communications system that allows aircraft, crew and ground crew to communicate in real time (during flights) on a platform that incorporates data, text and voice deliverable to onboard and terrestrial devices (iPads, tablets, smart phones, etc.). The result is ground crew that knows what the plane requires before it arrives. In the case of unscheduled maintenance events, such as failed parts that can occur mid-flight, the system permits the mitigation of downtime due to unforeseen circumstances. To say that every single commercial aircraft in the world will want to install this system is not hubris.
Its the ubiquitous "Black Box" but with a wide range of functions communicating constantly.
The company makes money by selling its AFIRS (Automated Flight Information Reporting System) systems to commercial aircraft fleets and realizing an average $1,200 per month in recurring revenue per unit. According to company CEO Bill Tempany:
"Between 2007 and 2014 we have generated about $15 million of hardware sales from about $1.2 million R&D spend to build the original 220. The recurring revenue from those boxes averages $1,200 per month and we expect to get between $75 and $100 million revenue from the AFIRS 220 units by the time they all come out of service 15-20 years from now."
Next Generation Dragon Product Launched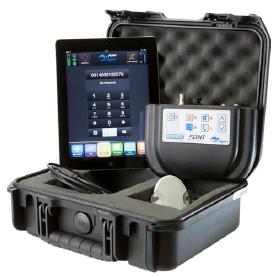 In November 2013, the company rolled out its next generation Dragon system (pictured above).
The Dragon system is described as a "revolutionary, lightweight, portable satellite communications device that blends existing FLYHT technology with that of the iPad. FLYHT developed the new product to meet a growing demand from small aircraft, business jet and helicopter operators for a satellite communications solution similar to AFIRS™. Management at FLYHT believes the Dragon enables a new level of connectivity, previously not available to small operators.
The device is portable, allowing operators the flexibility to use it where and when they need it.
Because the Dragon is not installed on the aircraft, there is no need for Supplemental Type Certificates ("STCs"), which are costly and take time to secure. Features of the Dragon include those of FLYHT's other innovative products designed for the commercial aviation industry, re-engineered for a unique market. The Dragon allows real-time voice and data communications enabled by the Iridium Satellite Network connected through the cockpit and the pilot's headset, though does not have data analysis or the safety services capabilities of other AFIRS products.
An iPad application acts as an interface for the user in the cockpit to send and receive messages, such as weather updates, from the ground. Another key feature is flight following, so operators always know where their assets are in the sky.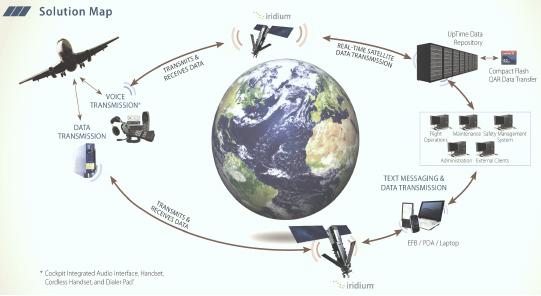 Competetive Analysis:
• No other product offers breadth of AFIRS;
• Satcom only included Aircell, Skytrac, Latitude;
• ACARS over Iridium include ICG and Avionica;
• FLYHTStream has no competitor;
• Real time FOQA has no installed competitors;
• EFB connections have no installed competitors;
• AFIRS is certified for all of the above;
• Patents and patent pending exist on the technology;
• Proven cost savings;
• OEM installs help the buying decision.
According to the company's web site:
"FLYHT's main product and service offering to the industry is the Automated Flight Information Reporting System, or AFIRSTM. The system operates on multiple aircraft types and provides functions such as voice and text messaging, data collection and transmission, and on-demand streaming of black box data. AFIRS sends that information to its companion, UpTimeTM, the ground service product, which stores and transfers the data to the customer in real time. Aircraft operators can use this information to increase safety, improve service, and enhance profitability.
In addition to its data monitoring functions, AFIRS provides voice and text messaging capabilities that give pilots the ability to communicate with ground support. FLYHT, through its relationship with Iridium Communications, offers global satellite coverage that provides service to whoever needs it, when they need it, anywhere on the planet.
This technology is remarkable because for the first time in history, FLYHT has demonstrated that live flight data can be streamed from an aircraft in real time. If an airplane encounters an emergency, FLYHT's proven technology can be automatically triggered to stream vital data that is normally secured in the black box, and provide position information to designated sites on the ground in real time. This technology opens new doors for increased safety and data analysis capabilities in the aerospace industry.
In November 2013 FLYHT introduced the Dragon™ as a revolutionary, lightweight, portable satellite communications device that blends existing FLYHT technology with that of the iPad. FLYHT developed the new product to meet a growing demand from small aircraft, business jet and helicopter operators for a satellite communications solution similar to AFIRS."
History
"The company was formed in 1998 and shortly thereafter was requested by an Australian airline to see if they could collect the out, off, on, in times for the aircraft," says CEO Bill Tempany. "So when it pushes back, when it leaves the runway, when it's back on the runway, and when is it back in to the gate, and send that information via cell phone through a fax machine. Because flying around the Australian Alps, they weren't getting data in a timely enough to ensure proper maintenance of the aircraft. So they were really in need of more timely information to make sure that everything was being done in the right way to fly safely.
So the guys went about building a device with an industrial computer and some cell phones, and got a deal with the Alberta government. The Alberta government has a DHC - 8 in their fleet that they use for flying people around, moving forest fighters, mountain goat relocation, those kinds of things, and so we used it as a platform to test our concepts. We called it Ralph 1 at the time, because Ralph Klien, the colorful premier of Alberta, was in power when we were doing this.
And we took the equipment off the aircraft, we proved we could actually collect that data and a lot more information on an aircraft.
It was at that point that they were about to start building the real avionics products and September 11, 2001 happened, and trying to get investment in a high-tech company doing aviation work selling to airlines after September 11 was not the ideal time to raise money.
The AFIRS 228 is the replacement for the 220, and we finished the basic unit on that about two years ago. It has been flying and generating revenue for the last 18 months. We have just finished the certification of that AFIRS 228S box for what are called Safety Services Messages."
Major Growth Push Underway
FLYHT has recently completed certification of its next-generation AFIRS system, and it is currently being installed at various aircraft manufacturing facilities as Original Equipment Manufacturer avionics.
"We signed a contract 18 months ago with L-3; they are the makers of the black box, to provide a major European aircraft Original Equipment Manufacturer ("OEM") our technologies to do the Safety Services Messages over iridium, to do voice communications over iridium; air traffic control voice as well as standard voice, and to connect Electronic Flight Bags to the Internet via the iridium system for pilots to get information like weather reports and runway reports or information they need while in flight.
The shipment to that OEM should start the end of this year, and we have done all the work we had to for the program, certification and so on; the OEM is doing their final certification work, and we expect by the end of the year to be shipping from the factory.
We also have factory installations going at Bombardier (OTCQX:BDRAF), Inc. If a customer orders the equipment from Bombardier, they will do a factory install."
China is Next
China has mandated satellite communications for all aircraft. Benefits of FLYHT for the Chinese certification process include:
1) Iridium relationship now recognized and approved;
2) Inmarsat is the alternative satellite system, but Iridium is more reliable and economical;
3) Exclusive distribution agreement with SkyBlue Technologies (Gov't owned);
4) 30 installed to date on 7 carriers.
FLHYT is in the process of expanding into China - an effort that is expected to seriously ramp up sales in 2014. China has approximately 2,000 commercial aircraft that are immediate candidates for the company's AFIRS systems, and company CEO expects that FLHYT will be able to win a substantial portion of that market. According to Bill Tempany, "One of the other markets that we have spent the last eight years getting into is the market in China. The Chinese government has mandated that every commercial aircraft in China has to have SATCOM on all commercial aircrafts by the end of 2017.
We have installed on thirty aircrafts and six airlines in China, and we have just received an order for another 218 units, which is kind of 10% of the fleet that have to be installed. We have Chinese approvals for Bombardier, Airbus (OTCPK:EADSF) A320s, Boeing (NYSE:BA) 737s, and several other Boeing models, and the installation is planned to start in the first quarter in China for a total fleet opportunity of about 1,800 aircraft."
Financial Performance - Key Q3 Metrics
• Revenue 42% year over year increase;
• Loss before R&D $1.1mm down from $2.4mm in 2012;
• Recurring revenue up Year over Year and Quarter over Quarter.
Recurring Revenue Model
• Sell AFIRS with necessary engineering package to install and activate;
• $35 to $60 thousand per aircraft for retrofit;
• Factory install at Airbus gets royalties from L3;
• Provide various functions on usage basis;
• Operational features to provide cost savings for customer;
• Voice and data connectivity to the cockpit for safety;
• Average recurring revenue greater than $1200 per month per aircraft;
• Recurring revenue gross margin 80%.
Avionics Investment drives Recurring Revenue:
• R&D investment creates significant recurring revenue opportunities;
• Hardware asset life of 10-30 years creates large, long term recurring revenue streams;
• AFIRS 220: $1.2 mm investment, $15 mm hardware revenue, $75 to $100 million in recurring revenue at 80% margin.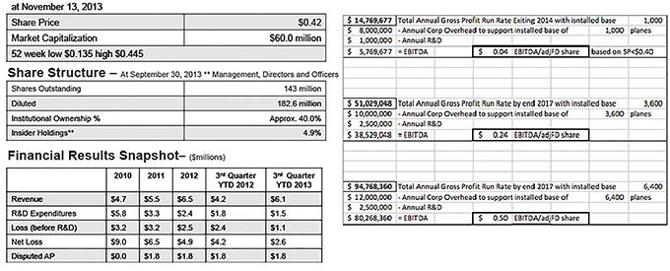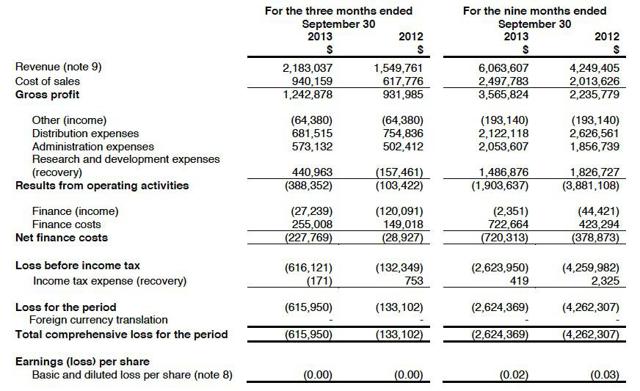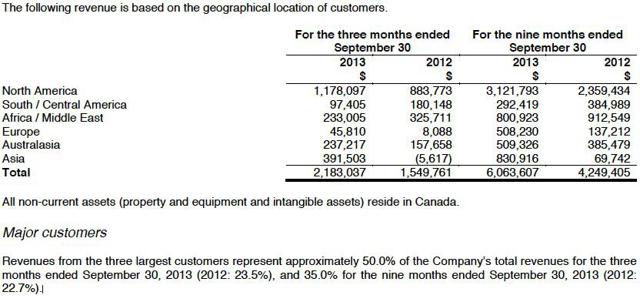 Future Potential
Using some very simple assumptions, it is easy to extrapolate a case for ongoing profitable growth for FLYHT in its various markets.
The company is essentially on track to exit 2014 with an installed base of 1,000 AFIRS units generating roughly $14 million in gross profits.
The company's marketing efforts have resulted in increased acceptance at the OEM level, which is clearly a high growth segment for the company, and replacement of legacy equipment in older aircraft is also likely to impact the company's earnings growth favorably.
In the absence of serious competitors, there is every potential that FLYHT will become the industry default AFIRS devices in the future, and an expanding product suite of portable devices and equipment puts the company in an extremely envious position.
Bill Tempany agrees:
"We are certified on about 60 different aircraft types to install. Those certifications take 8 to 12 to 18 months, depending on the jurisdiction, to get, and nobody else has got anywhere near the number of certifications or the range of aircraft certified for a product like ours.
There is nobody else that has a product that does everything that we do. If you are just looking for flight following in satellite communications ("SATCOM"), there are a few small companies that do that, and they mainly do it for private aircrafts, Cessna or helicopters, those kinds of aircrafts.
There are a couple of companies that do ACARS over Iridium messaging for Safety Services Messages, but they don't do any analysis of the data, and they don't have any value adds to the customer for understanding what's going on with the aircraft.
So I think we are in a really unique position to capitalize on the market. I think we have got the industry recognition that we have wanted for a long time through the L-3 Program, and we have great plans in our future to capitalize on that market."
Public Market Risk: There is a possibility that the TSX Venture public equity market, upon which FLYHT trades, may continue to suffer an outflow of capital generally. The Exchange's main index, the S&P TSX Venture, has lost over 60% of its value since March 2011, and there is a risk that a continuation of such weakness may negatively impact the company's value despite the success of its business.
In addition, the company's shares are listed on the "Grey Market" adminsistred by the NASD. Investors who buy shares on the Grey Market may experience diminished liquidity as a result of the relative low trade volume on the exchange, as well as be subject to additional risks due to low reporting requirements of Grey Market-listed companies.
Competition Risk: The company has no serious competitors in the niche space it currently services, however the success of its products could attract competition from the manufacturers of avionics who may have superior access to capital, experience in product design, or an established market presence. The emergence of such a competitor could seriously undermine the company's growth.
General Economic Conditions Risk: There is a risk that world economic conditions could deteriorate to the point where an economic crisis re-commences, rendering demand for the products of the company negligible or else temporarily non-existent.
Product Price Risk: There is the potential that the products of the company may become either more abundant on the world market as a result of new supplies entering the market, or that the companies products may experience a decrease in demand, both of which circumstances could catalyze a deterioration in the prices the company is able to achieve for its products.
Execution Risk: The company is relatively new in the field of avionics development and there is the risk that management may experience errors in the implementation of its business plan.
Management and Key Person Risk: The company maintains no director's or key person insurance, and so there is a risk that sickness, injury and/or death could seriously impair the company's ability to achieve production or operate a mine.
Conclusion
FLYHT is poised to penetrate the global market and become the default satellite-based communications platform for AFIRS and SSR messaging. While there are currently a lot of inexpensively bought shares and warrants overhanging the market, this story is rapidly shaping up to be of institutional interest, and so that overhand is likely not going to negatively impact the share price for long. I will accumulate a position in the company starting next week.
Disclosure: I have no positions in any stocks mentioned, but may initiate a long position in AMSLF over the next 72 hours. I wrote this article myself, and it expresses my own opinions. I am not receiving compensation for it. I have no business relationship with any company whose stock is mentioned in this article.