SodaStream (NASDAQ:SODA) has had a breakneck last couple of weeks.
SodaStream started 2013 in early January by lowering its guidance for 2013 and admitting to lower-sell in prices to spike sales. Investors feared that the market could potentially be super-saturated and the stock was crushed over 20%.
Then, on the heels of Green Mountain (NASDAQ:GMCR) announcing its partnership with Coca-Cola (NYSE:KO), SodaStream shares were crushed in after-hours trading while GMCR ran up over 30%.
Then, as things settled down and investors screwed their heads back on, they realized that "what's good for the geese is good for the gander" - and SODA, with the help of one of the level headed Najarian brothers on CNBC (can't remember which one) - promptly began its rocket-like ascent to highs that its posting today.
In the pre-market and after-hours sessions post-announcement, SODA was down as much as 13% before it swung up over 7%.
SODA has been trading down over the last three months to the tune of 22.9%. Year-to-date, as well as in the trailing 12 months, the company has traded down roughly 13%.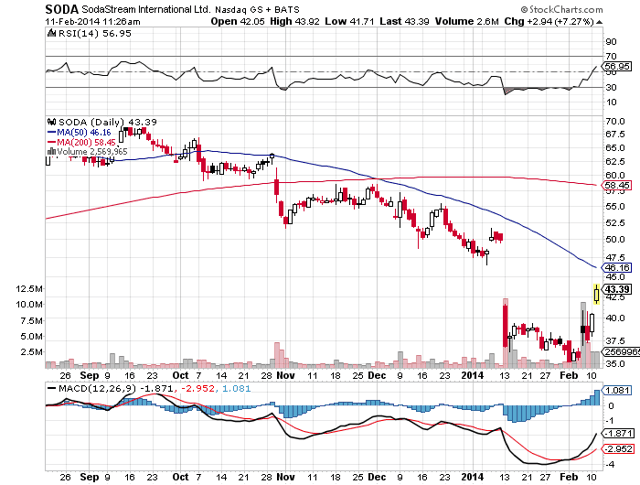 Sometimes, competition is a good thing. It can spur attention to a market, increase aggressiveness with companies, and create growth. Sometimes, like in the case of Pandora's (NYSE:P) CEO's statements about Apple (NASDAQ:AAPL) entering the streaming radio market, competition is not a good thing.
In this case, it's a positive - and the market seems to like it.
GMCR's announcement began a weeklong dialogue, of which I've participated, surrounding whether or not Pepsi (NYSE:PEP) was going to pair with SODA to compete with what Coke is doing.
Aside from that news, SODA's recent partnership with Skinnygirl (NYSE:BEAM) is news that I like. I'm bullish on the Skinnygirl brand - being surrounded by middle aged women that my wife hangs around, I see it everywhere when we're all drinking socially. The concept that, to women, you can get a buzz on without having to tack on the pounds, is comparable to achieving a state of personal nirvana. SODA's press release read:
"Skinnygirl has inspired legions of consumers to bring a sense of lifestyle and quality to their beverage choices, and we are excited to now offer that experience to our users," stated Daniel Birnbaum, CEO of SodaStream. "Consumers are getting smarter about their bubbly beverage choices, and now they can enjoy their favorite Skinnygirl drink with style, custom-made fresh and exactly as they like it each time."

The products are expected to be available during the second half of 2014 in the United States.
As such, on the heels of this news - I bought SODA calls today that expire about 5 weeks out. I'm expecting, in the midst of SODA's current rebound and Yellen's commentary that the market seems to like today, that SODA will be at $50 sometime relatively soon.
From a fundamental standpoint, the company's P/E is 18 - meaning growth in the form of a partnership with Pepsi could easily push the company's price much higher. With a price/book value of 2.57 at this trading level, the stock remains a bit aggressive, but definitely not grossly overpriced.
This makes SODA the second stock today that I went long on or added to that recently had a Zack's Bear of the Day article in the last month.
Best of luck to all investors in SODA.
Disclosure: I am long SODA. I wrote this article myself, and it expresses my own opinions. I am not receiving compensation for it (other than from Seeking Alpha). I have no business relationship with any company whose stock is mentioned in this article.