The ten-year Treasury yield has declined steadily since the FOMC announced its tapering decision at the end of December. There is some talk that the drop in yield is a confirmation of the Fed's ability to affect long-term interest rates by issuing forward guidance. We never bought into that notion and the bond market seems be agreeing with us.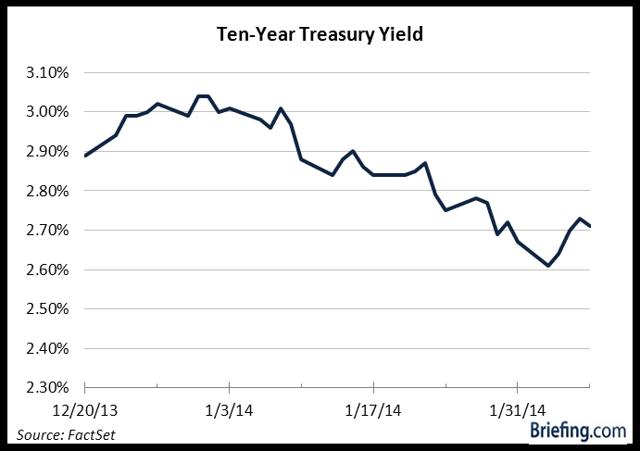 Click to enlarge
Growth trends from the fourth quarter began to reverse suddenly, leaving economists perplexed. It soon became the prevailing view, though, that extreme winter temperatures across the country caused a negative demand shock. Once temperatures returned to normal, the thinking went, demand would accelerate and growth would return to the 3.0% trend that economists were expecting at the beginning of the year.
The January employment report poked a big hole in that theory as jobs that are normally affected by changes in weather conditions -- such as construction and mining/logging -- saw payrolls increase amid the wintry conditions.
The truth of the matter is that the economic trends were not as strong as the consensus had assumed they were. That is why the Briefing.com forecast for 2014 has never been much greater than the 2.0% "New Normal" trend.
The bond market is starting to pick up on this viewpoint.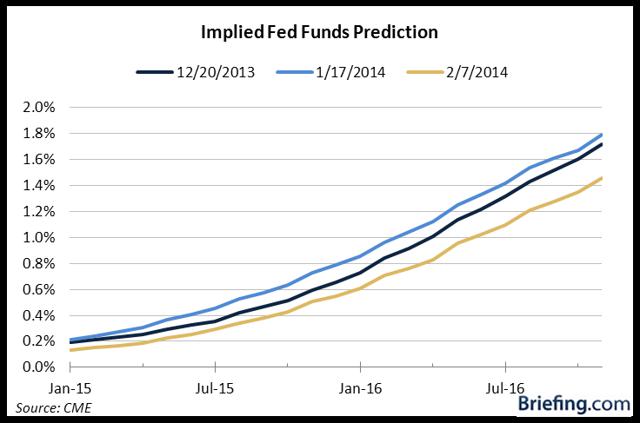 Click to enlarge
On January 17, the fed funds futures market was pricing in the likelihood of the first rate hike occurring in April 2015. Today the fed funds futures market is suggesting the first rate hike won't occur until September 2015.
The push-back on when the first rate hike will take place could be a result of the market agreeing with the Fed's forward guidance that rates will remain low for an extended period of time. However, if the market truly believed that the economic situation has not changed materially, then the risk premium on corporate bonds should have remained flat. That did not happen.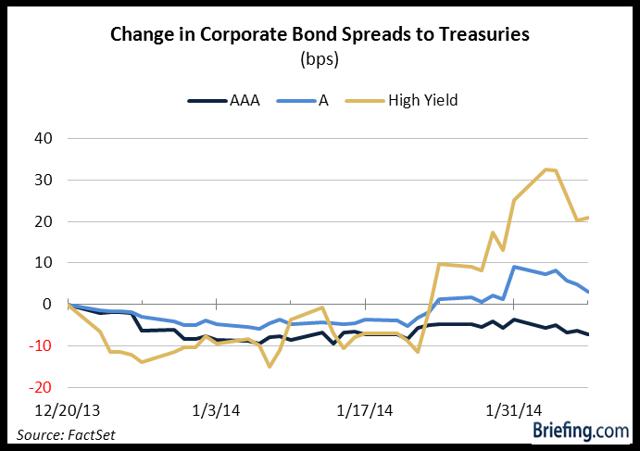 Click to enlarge
Since January 17, the risk-premium on high-yield corporates has increased by 28 basis points versus the 10-yr Treasury note. Investment grade corporates also saw higher risk premiums as the spread on A bonds increased by seven basis points.
These moves are relatively small and could reverse again easily. Still, a widening in bond spreads does not support a view of strong and stable economic growth in 2014. More importantly, it does not support the notion that falling Treasury yields are a result of the Fed's ability to use forward guidance as a means to affect long-term interest rates.
Economic growth is slowing. We saw it and the bond market now sees it too.
Disclosure: I have no positions in any stocks mentioned, and no plans to initiate any positions within the next 72 hours. I wrote this article myself, and it expresses my own opinions. I am not receiving compensation for it. I have no business relationship with any company whose stock is mentioned in this article.