According to the U.S. Census, the nation will add an additional 100 million individuals by 2050. FRA analyzed that the movement of almost 40 tons of freight per capita is required by the domestic U.S. economy which means that the annual transportation of freight will be an additional 4 billion tons by 2050. The projected growth rate of population will also significantly increase the number of travelers. Strategic investments and proper planning in transportation infrastructure is needed at national, regional and state levels in order to cater to this growth while maintaining quality of service and the nation's global competitiveness. Given the complementary financial and environmental challenges in case of increasing capacity of other modes of transportation, the rail system will perform a key role in U.S. transportation future.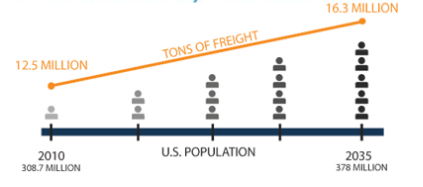 Source: U.S. Department of Transportation
As the population increases, the U.S freight system will be called upon to cater to the demands. An almost 22 percent increase is expected in regards to total amount of tonnage movement by 2035. With an estimated population of 420 million this increase is projected to be 35 percent by 2050.
Approximately 40 percent of the U.S. total freight, by ton-miles, is moved by rail and the outlook for the rail industry is positive. Considering the economic momentum built by rail improvements during 2012-13, such as the flourishing quality and quantity of intermodal services offered, cyclical recovery by the housing and auto markets as well as the development of new energy markets the rail industry is expected to take flight in the near future.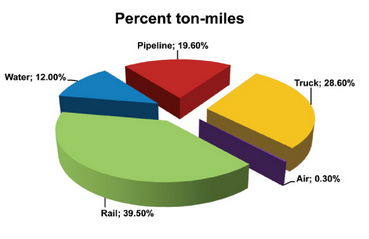 According to the Association of American Railroads for the week that ended January 25, U.S weekly traffic rail was 4.4 percent higher compared to the same week last year. Weekly carloads were up by 5.6 percent and intermodal volume was up by 3 percent compared to the same week last year. The majority of carloads exhibited an increase on a weekly and year to date basis compared to the same periods last year.
Source: The Association of American Railroads
The purpose of the table is to point out the current trends in the U.S. rail industry that will be useful in evaluating the Union Pacific Corporation's (NYSE:UNP) ability to take advantage of the current trends and sustain its superior performance .
Union Pacific Corporation fetches its revenue from well diversified freight divisions: intermodal freight, energy commodities freight, industrial products commodities freight, chemical commodities freight, agricultural commodities, automotive commodities freight and commuter rail and other services.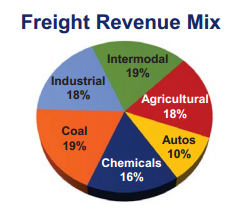 Fourth Quarter Summary
In its earnings release for the fourth quarter of 2013 the company reported a 2 percent increase in freight volume growth. A 13 percent growth was recorded in agricultural volume, 10 percent recorded in automotive volume, 9 percent in industrial products volume and 2 percent in intermodal freight volume. Chemicals and coal freight volumes experienced negative growth rates of 1 percent and 10 percent, respectively.
Operating revenues improved 7 percent during the fourth quarter of 2013 from $5.25 billion to $5.6 billion compared to Q4 2012. The operating ratio was 65 percent, 2.1 points better than the same period last year. The CSI index matched the record of 93, set in the fourth quarter of 2012. More than 4.9 million shares were repurchased at an aggregate cost of $786 million and an average price of $159.36 per share.
Quarterly freight revenue increased 7 percent. Agricultural freight revenue was up by 19 percent while automotive increased 17 percent, industrial products increased 14 percent and chemicals freight revenue increased 3 percent. Intermodal freight revenue remained flat while coal freight's revenue decreased 1 percent.
2013 Full Year Summary
The company reported a net income of $4.4 billion, for the full year 2013, resulting in $9.42 per diluted share compared to $8.27 per diluted share last year. The operating revenue increased to $21.96 billion from $20.9 billion last year. The operating income increased to more than $7.4 billion, 10 percent more than $6.7 billion in 2012.
The freight revenue increased 5 percent from $19.7 billion in 2012 to $20.7 billion in 2013. The company's operating ratio improved 1.7 points from the previous year's record and stayed at 66.1 percent.
During the third quarter the company augmented its quarterly dividend by 14.5 percent to $0.79 cents per share. For full year, total dividends declared were 19 percent compared to the total dividends for full year 2012. More than 14.5 million shares were repurchased at an average price of $152.52 per share and a cumulative cost of $2.2 billion.

2014 Financial Position
As of December 31st, 2013 the company had a total debt of $12,804 million that is $600 million more than 2012. With an investment grade credit rating, the company announced the issuance of $1 billion in January 2014. The company plans to have an adjusted debt to adjusted EBITDA ratio of 1.5 by year end 2014.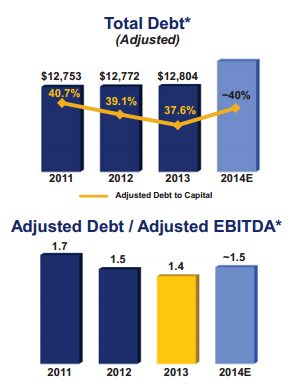 Conclusion
I have examined the current direction of the freight industry with profound focus on railroads networks in the U.S. Considering the past performance of the company, its history of distributing earnings to shareholders and current aptitude to further explore forthcoming endeavors in its favor, I am optimistic about the future of UNP.
Railroads in North America benefit from barriers to entry and have significant pricing power because they operate as an oligopoly. Union Pacific has strong trends of free cash flow generation and has unique strengths in its favor. I expect the company to lead the industry with a solid growth in the coming years. My recommendation for UNP is buy.
Disclosure: I have no positions in any stocks mentioned, and no plans to initiate any positions within the next 72 hours.
Business relationship disclosure: The article has been written by a Blackstone Equity Research research analyst. Blackstone Equity Research is not receiving compensation for it (other than from Seeking Alpha). Blackstone Equity Research has no business relationship with any company whose stock is mentioned in this article.