Executive summary:
This is a report on analyst data for silver miners.
Share prices have moved up, but price targets have dropped during the past month.
Fortuna Silver has rallied the strongest and is receiving the highest recommendation by analysts.
Bear Creek Mining has the greatest upside according to analysts.
_________________________________
Another month, another analyst watch summary for silver miners from your humble scribe. Thank you for tuning into our February report on analyst price targets and analyst recommendations for silver mining stocks. As always, we are presenting our latest data, and we are also providing some comparisons to last month's report.
As in previous editions, we included the following silver miners in alphabetical order: Bear Creek Mining (OTCPK:BCEKF), Coeur Mining (NYSE:CDE), Endeavour Silver (NYSE:EXK), First Majestic Silver (NYSE:AG), Great Panther Silver (NYSEMKT:GPL), Fortuna Silver Mines (NYSE:FSM), Hecla Mining (NYSE:HL), Pan American Silver (NASDAQ:PAAS), Silver Standard (NASDAQ:SSRI), Silvercorp Metals (SVM) and SilverCrest Mines (NYSEMKT:SVLC).
Starting with this edition, we have added Alexco Resource (NYSEMKT:AXU) to our watch list.
The table below summarizes our data. Grey columns represent data sourced directly from Yahoo.com, and light green colored columns represent processed data derived from this source data.
The first three columns list the company names, ticker symbols and share prices at the time of writing, followed by the change in share price since the last edition.
Price targets (low, median and high) are listed in the following three columns. These targets are followed by a column giving the number of analysts providing data to Yahoo.com and the mean recommendations given by these analysts ranging from 1.0 (strong buy) to 5.0 (sell). This concludes the data sourced directly from Yahoo.com.
The remaining columns list data points computed as percentages of the share prices at the time of writing as given in the third column. The column titled "median-price" gives the differences between the share prices and the median target prices. The column titled "high-low" gives the differences between the high and the low targets. The last four columns titled "target change" document the changes in price targets since the January report with the last column giving the average changes over the low, median and high price targets.

N.B. Data for Great Panther Silver and Bear Creek Mining was provided in Canadian Dollars and converted to US Dollars for the purpose of this article using a conversion rate of C$1.0 = US$0.91
N.B. Most companies considered for this article are covered by more analysts than reported in our data since this article only considers analyst reports available through Yahoo.com. Unfortunately, not every analyst is sharing his targets on this platform.
The first chart below is new to our article format and illustrates the share price performance since the last edition approximately one month ago. Quite clearly, it has been a good month for silver miners and share prices have gone up by a healthy 14.9% on average during the last month. Coeur Mining (-11.4%) and Hecla Mining (-1.3%) are the only two companies showing losses, while Fortuna Silver has rallied 37.4%.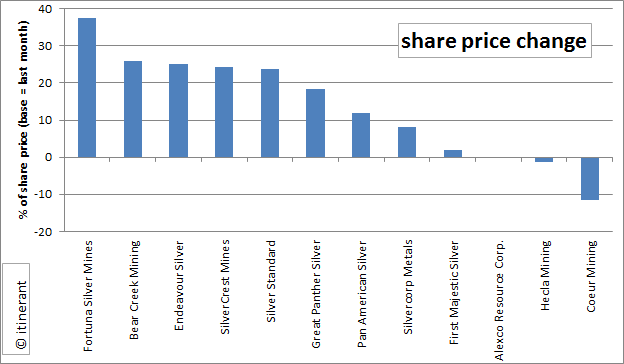 Shares trading significantly below the median price target can be viewed as having a greater potential than shares trading close to the median target and values in column "median-price" can give some indication on the potential of a stock. A diagram visualizing this difference between the medium price target and the current share price is given below.
N.B. We would like to caution that this way of thinking does not apply for companies that have had significant events moving the share price in recent times since analysts will take their time to update their data accordingly.
Applying this logic, we find that Bear Creek Mining has outstanding potential trading 40.9% below the median price target. Coeur Mining follows in second place, however we note the share price for this company has dropped against the general trend (see above) and price targets might follow in due course.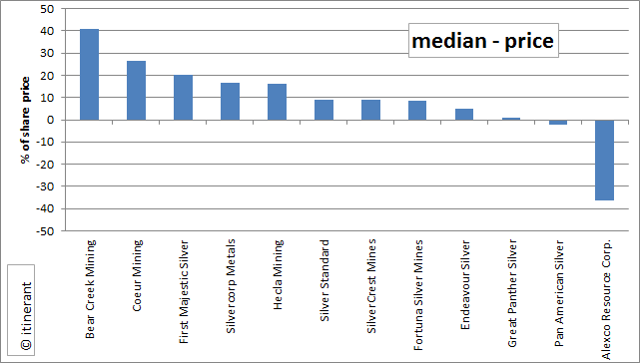 The difference between the high and the low targets represents a measure for the divergence in analyst opinions. Column "high-low" documents this difference and the diagram below visualizes it.
This divergence in analyst targets is greatest for Coeur Mining and Silver Standard following a whirlwind of corporate activity in recent weeks.
Analysts are remarkably agreeable with regards to Great Panther Silver, Silvercorp Metals and SilverCrest Mines.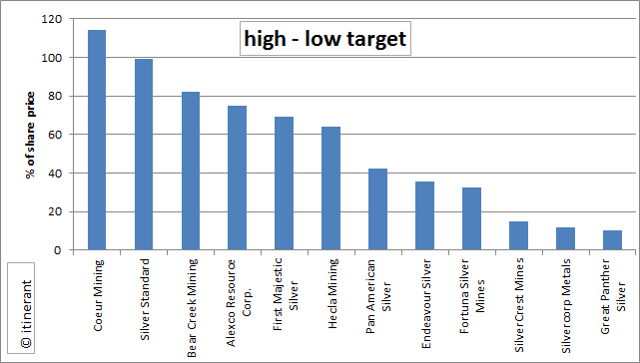 Column "target change average" lists the average change in price targets during the past month and the diagram below illustrates them.
Despite the strong share price performance across the board, we note that price targets have been cut for all but two stocks in our little silver universe.
On average price targets were cut by -16.4% during the past month. Bear Creek Mining (-39%) and Silvercorp Metals (-39.4%) are the two stocks most affected by the price target cuts. PanAmerican Silver and Silver Standard are the two exceptions with modest price target upgrades to their names.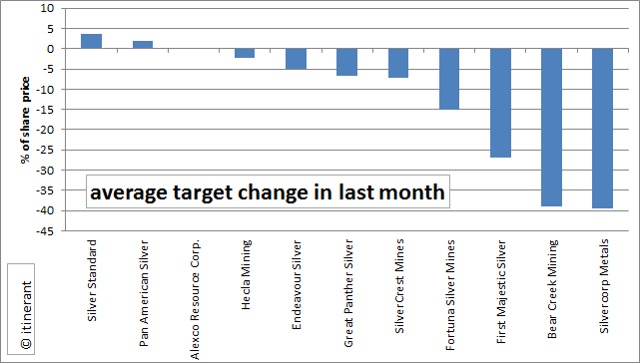 The final diagram illustrates column "Recommendation" from the table above. The little red bars in this diagram indicate changes in analysts' recommendation from last month. A rating of 1 represents a strong BUY recommendation in this system, and a rating of 5 represents a strong SELL recommendation.
Following strong production reports and exploration success Fortuna Silver has become the silver stock with the highest recommendation. Alexco Resource Corp. is the least liked company in this group, according to analysts.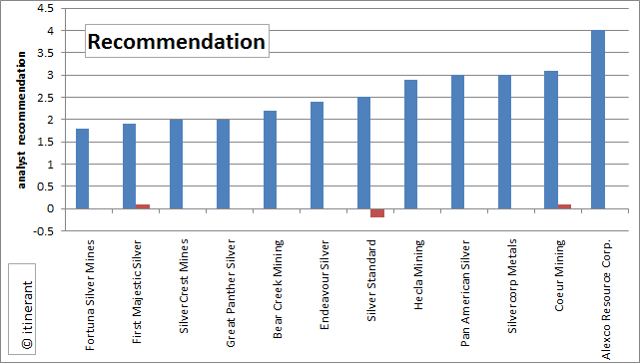 Disclosure: I am long AG, EXK, SVLC, HL. I wrote this article myself, and it expresses my own opinions. I am not receiving compensation for it (other than from Seeking Alpha). I have no business relationship with any company whose stock is mentioned in this article.