Executive summary:
ARM and its partner MediaTek are moving quickly with next generation mobile chips
Intel's mobile execution, despite likely the largest mobile R&D budget in the industry, has been lackluster
Investors should expect more from Intel's mobile group as the current progress, particularly vis-a-vis competition, is not enough to "win"
_________________________________
As my readers can probably tell, something "happened" to my bullish position on Intel (NASDAQ:INTC) in around the September timeframe. A few commenters astutely noted that the performance/power of Apple's (NASDAQ:AAPL) A7 processor relative to Intel's "Bay Trail" seemed to really "dent" my view of Intel's mobile strategy, but really this was just yet another data point in a series of data points that spell out one thing: Intel's mobile execution has not been very good and the competition is growing stronger each and every day.
Some "Bad" News
This morning, ARM Holdings (NASDAQ:ARMH) announced its next generation Cortex A17 processor core. This is a dual issue, fully out-of-order design that refines the Cortex A12. The Cortex A12, in turn, refines the very successful Cortex A9 design that powered many SoC designs in its heyday. ARM claims that A17 will offer a 60% performance uplift from Cortex A9 - a very nice gain.
However, ARM launching new IP isn't enough to shake me - ARM does it all the time and they're very good at what they do. What really ruined it for me, though, was that MediaTek went ahead and announced a new system-on-chip that not only implements four of these beauties, but also an integrated LTE modem and top-shelf Imagination Technologies' (OTCPK:IGNMF) GPU IP. The part is slated to sample during the first half of the year and will be available in devices during the second half of the year. If MediaTek delivers, then this will be some seriously good execution.
Intel, on the other hand, is coming from a position of weakness here. In particular, the company's first integrated LTE + apps processor known as SoFIA will not hit the market until early 2015 (if there are no further delays/slips). Further, given what we know about this part, it will likely not be very competitive with MediaTek's as far as performance goes, and given that it's built at TSMC (NYSE:TSM) on the same 28-nanometer process that all of the other ARM vendors use, Intel is unlikely to have a performance/watt advantage. The only saving grace is that Intel's part will have connectivity (i.e. Wi-Fi, Bluetooth, GPS) while MediaTek's won't have it integrated onto the die.
What Will Intel Be Fighting With?
According to Intel's roadmap disclosed at its Investor Meeting, it will be fighting with a part known as Moorefield at the high end (without integrated modem/connectivity) and with SoFIA with integrated 3G at the low end: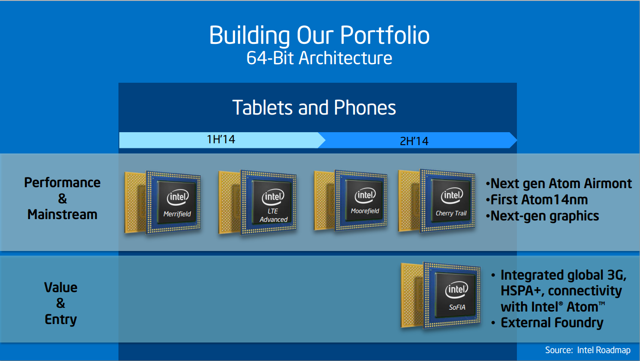 While Moorefield could be competitive as far as CPU/GPU performance goes (since Intel will have a nice process advantage, a good CPU, and great GPU IP from Imagination), it doesn't have a built-in LTE radio. This isn't too big of a problem as Intel can probably sell any potential customers a cheap XMM 7260 modem (and XMM 7260 is a far more feature-rich modem than the Cat 4. LTE modem found inside of the MediaTek SoC). However, I do hope that Intel is actually aggressive in selling the Moorefield + XMM 7260 bundle in order to gain traction.
Intel Needs To Move Faster
Note that Intel spends ~$3 billion/year in mobile chip R&D alone, which is about the same as market leader Qualcomm (NASDAQ:QCOM) and over three times what MediaTek spends. It is absolutely stunning that the company's product portfolio isn't more aggressive and that it doesn't revise its processor cores at a rate more in line with ARM, which has a fairly anemic R&D budget. ARM is already on its fourth revision of the Cortex A9 and it has already made available Cortex A12 and A17 to licensees.
One thing is clear: Intel needs to move faster, spit out more SoC iterations, and update its IP at a fast pace. If ARM with its $319 million/year R&D budget is able to do these great things, then Intel's $3 billion+ mobile R&D budget should be able to - if the company is managed well - produce even more spectacular results, particularly with the company's manufacturing lead.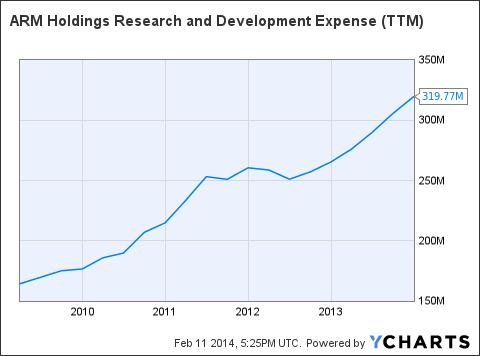 ARMH Research and Development Expense (TTM) data by YCharts
Disclosure: I am long INTC, IGNMF. I wrote this article myself, and it expresses my own opinions. I am not receiving compensation for it (other than from Seeking Alpha). I have no business relationship with any company whose stock is mentioned in this article.
Additional disclosure: I may go long ARMH within the next 72 hours.