With Janet Yellen having calmed markets with her prepared statements we think that the bottom has occurred. We might retest those levels, however our opinion is that we do not go any lower than we have already been. The oil market continues to baffle us, and we threw up an interesting comparison chart in the "Chart of the Day" section to highlight just how out of favor energy stocks continue to be. With the strength in the underlying commodity and the length of the downturn for energy names it is a bit baffling, especially when one considers the speculative money that has been flowing in to bet on natural gas prices.
The market also has some interesting earnings reports to digest and we think we gathered a diversified handful this morning to quickly highlight. The key takeaway we saw was that industrial electricity demand was increasing, and if that is the case moving forward it could be very good news for the US economy and also commodity demand.
Chart of the Day:
With the outperformance of oil and natural gas as of late, one would have expected the Energy Select Sector SPDR (NYSEARCA:XLE) to have at the very least outperformed the general market S&P 500 Index.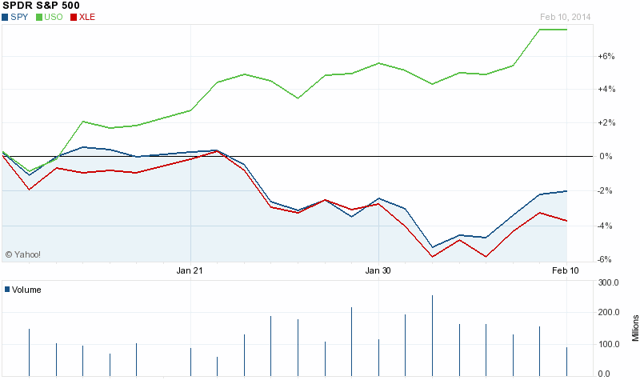 Source: Yahoo Finance
Commodity prices this morning are as follows:
Gold: $1,290.30/ounce, up by $15.60/ounce
Silver: $20.20/ounce, up by $0.088/ounce
Oil: $99.97/barrel, down by $0.09/barrel
RBOB Gas: $2.7532/gallon, up by $0.0284/gallon
Natural Gas: $4.757/MMbtu, up by $0.178/MMbtu
Copper: $3.215/pound, down by $0.0095/pound
Platinum: $1,390.50/ounce, up by $4.60/ounce
Earnings
Pioneer Natural Resources (NYSE:PXD) reported a loss on non-cash items for the fourth quarter, but beat analysts' EPS expectations on an adjusted basis by $0.01 as Pioneer reported adjusted EPS of $1.00 Monday after the close. The company plans to spend $3 billion on capital expenditures in the upcoming year and is projecting production growth to be between 14-19%. Pioneer Natural is also projecting production to double by 2018 from 2013 levels.
It appears to us that Pioneer needs to gather some momentum to break through resistance. We would be strong buyers on a move through the $186-189/share level trying to make our purchase as close to the breakout through $190/share as possible.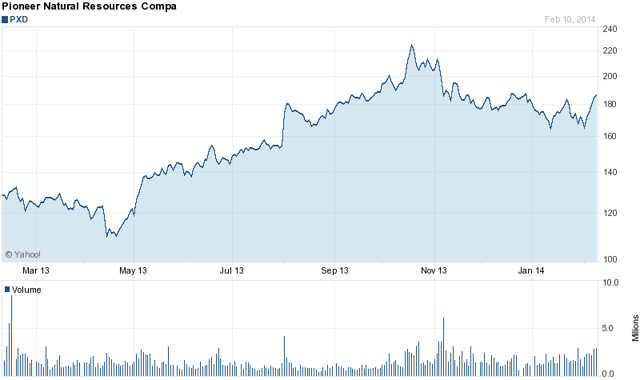 Source: Yahoo Finance
We were pleased to see Entergy (NYSE:ETR) beat by $0.19 as the company reported EPS of $1.00 while reaffirming their forward guidance. Entergy also stated that they would be in the upper range of that guidance. The company continues to see strong industrial sales which Entergy attributed to customers who are benefiting from strong global economic trends. They also believe that further load growth is possible as these same customers build expansions and increase production, which should be tailwind for Entergy moving forward.
Like Potash Corporation of Saskatchewan (NYSE:POT), Mosaic (NYSE:MOS) reported results which left a lot to be desired. Mosaic missed the consensus EPS figure by $0.06 but did beat on revenues as the company reported $2.18 billion in revenues versus the $1.86 billion analysts were expecting. Mosaic shares are rising however due to the fact that the company also announced that they would be buying back $1 billion of the outstanding shares in a new repurchasing program. That was just over 5% of the outstanding shares prior to the announcement.
Disclosure: I have no positions in any stocks mentioned, and no plans to initiate any positions within the next 72 hours. I wrote this article myself, and it expresses my own opinions. I am not receiving compensation for it (other than from Seeking Alpha). I have no business relationship with any company whose stock is mentioned in this article.