Although J.C. Penney (NYSE:JCP) demonstrated strong growth in online sales during Q4, a look at its past reports indicates that its online sales are still well below 2009 levels. Meanwhile, online apparel and accessory sales have more than doubled since 2009.
Department store websites are also becoming increasingly important as traffic drivers to physical locations as window shopping is done online more, and people visit fewer stores per shopping trip. J.C. Penney is displaying mediocre online traffic results compared to its main competitors, further complicating its efforts to recover market share from those competitors.
Online Apparel Sales Are Increasing
One of the challenges facing online apparel sales is that customers are often reluctant to purchase clothes that they are unable to try on. Fits.me estimated that fitting rooms were used for 80 percent of all clothes purchased in-store. The inability to try clothes on also leads to a high return rate after online purchase. Approximately 20% to 30% of online apparel orders are returned, compared to less than 10% for home products and toys.
Despite this significant problem, online apparel sales are starting to surge. Moody's estimates that online sales represented over 10% of apparel and footwear sales in the U.S., while it has reached 15% in Europe. eMarketer pegged online apparel and accessory growth at 21% in 2012, and projected a 17.2% compound annual growth rate between 2012 and 2017. If that growth rate holds, online sales of apparel and accessories will have more than doubled from 2012 to 2017.
The Rise of Online Window Shopping
Still, the vast majority of apparel sales are done in store. Even with the strong growth rate of online apparel sales, around 80% of apparel sales will be made in a physical store in 2017. However, websites are playing an increasingly important role in driving traffic to physical stores. ShopperTrak founder Bill Martin mentioned that shoppers now visit three to 3.5 stores per shopping trip, down from 4.5 to five stores per shopping trip in 2007. Traffic per store is down, but people do their "window shopping" online now and have higher conversion rates in store.
J.C. Penney's Internet Sales Show Strong Growth But Are Behind 2009 Numbers
Although J.C. Penney's 26.3% online sales growth appears robust, it is still lagging well behind where it used to be. J.C. Penney's estimated $381 million in online sales during Q4 2013 is still 18% below Q4 2009 numbers. As a comparison, online apparel and accessory sales have increased over 100% between 2009 and 2013.
J.C. Penney Internet Sales
| | | | | |
| --- | --- | --- | --- | --- |
| $ Million | Q1 | Q2 | Q3 | Q4 |
| 2009 | NA | 305 | 350 | 464 |
| 2010 | 353 | 317 | 361 | 495 |
| 2011 | 376 | 326 | 341 | 480 |
| 2012 | 271 | 220 | 214 | 315 |
| 2013 | NA | 215 | 266 | 381 |
As well, J.C. Penney's in-store sales growth was 0% during Q4 2013 despite incurring additional SG&A expense on holiday pay and other operational costs for the Thanksgiving evening opening.
J.C. Penney's Internet sales represent just over 10% of its total revenues during Q4 2013. As mentioned above, somewhere between 10% to 15% of apparel and accessory sales are now happening online, so J.C. Penney's 10% is in the competitive range. J.C. Penney's e-commerce position does not appear to be significantly weaker than its overall competitive position, but neither is it a particular strength.
One potential issue for J.C. Penney is the need to invest more in e-commerce capabilities as it becomes increasingly important. J.C. Penney is trying to minimize capital expenditures, but will need to both maintain physical stores and continue investing in e-commerce capabilities.
Falling Behind Competitors In Online Traffic
Retail websites are playing an increasingly important role in driving traffic to physical stores. J.C. Penney appears to be falling behind competitors in terms of online traffic though. We have taken a look at J.C. Penney's website traffic statistics compared to Macy's (NYSE:M), Sears (NASDAQ:SHLD) and Kohl's (NYSE:KSS) via several major third-party tracking services. While none of these services can provide truly accurate traffic numbers for J.C. Penney, they all agree that J.C. Penney is in a weak position relative to its main competitors and that website traffic is quite slow.
Alexa shows that J.C. Penney has been steadily falling behind its main competitors in terms of traffic rank. J.C. Penney has a traffic rank of 1,136 versus top 600 for Kohl's, Macy's and Sears.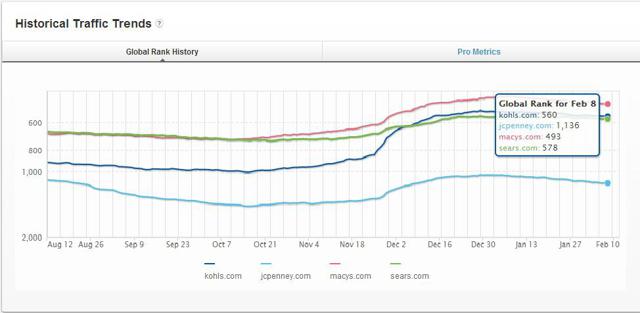 Source: Alexa
Compete shows a 20.2% traffic drop for J.C. Penney in December 2013 compared to 2012. In comparison, Sears showed a 0.5% drop, Macy's showed 15.0% growth and Kohl's showed 26.4% growth.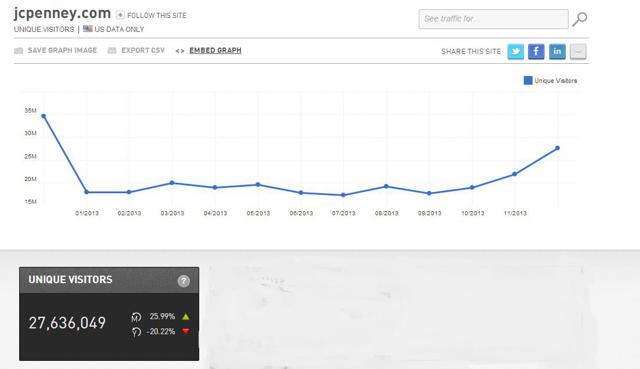 Source: Compete
Quantcast shows J.C. Penney as having the third-most visited site out of the four companies that are being compared. However, its growth rate is behind Kohl's and Macy's and is approximately on par with Sears.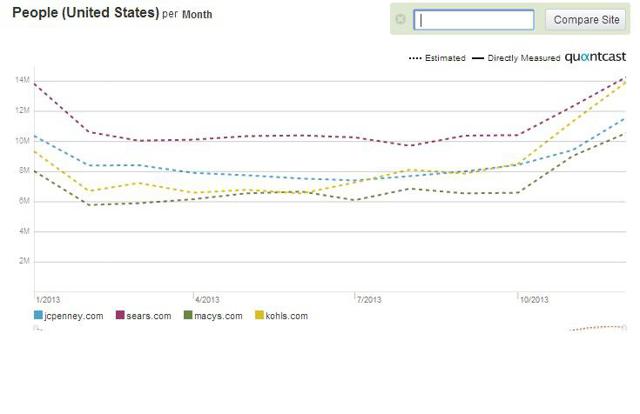 Source: Quantcast
Here's a look at Google Trends for J.C. Penney. This shows that search interest in J.C. Penney has tended to decrease slightly from 2012 to 2013.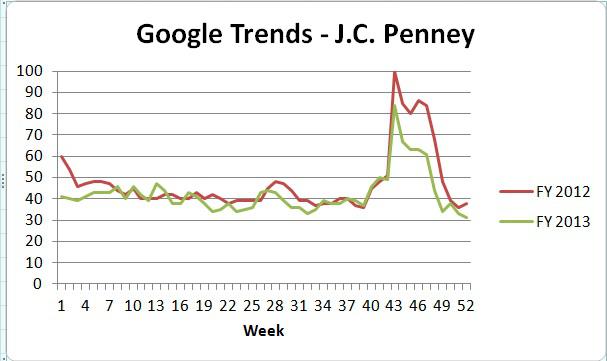 Source: Google Trends
Conclusion
The weakness of J.C. Penney's search interest and Internet traffic compared to competitors highlights the challenge that J.C. Penney is facing in terms of regaining lost market share. Consumers are showing diminished interest in J.C. Penney despite the company's efforts to reconnect with them. Although it may be easy to dismiss one or two of these tracking sources as inaccurate, having four tracking sources indicate the same information (J.C. Penney losing ground in terms of online interest vs. competitors) substantially reduces the likelihood that this conclusion is incorrect.
Disclosure: I am short JCP. I wrote this article myself, and it expresses my own opinions. I am not receiving compensation for it (other than from Seeking Alpha). I have no business relationship with any company whose stock is mentioned in this article.