One of the simplest ways to look for deep value companies is to search for stocks hitting their 52-week lows. While the majority of these stocks deserve to be in this situation and may continue to fall further, there are stocks that present value and are worth further analysis. When Wall Street is down on a particular company, even the slightest negative news can send the stock plummeting. The contrarian investor in me believes the market can oversell a stock by focusing on the negative instead of taking in the whole picture. This article will review two stocks I believe are attractive at their current price and have considerable price appreciation for the patient investor.
LeapFrog (NYSE:LF)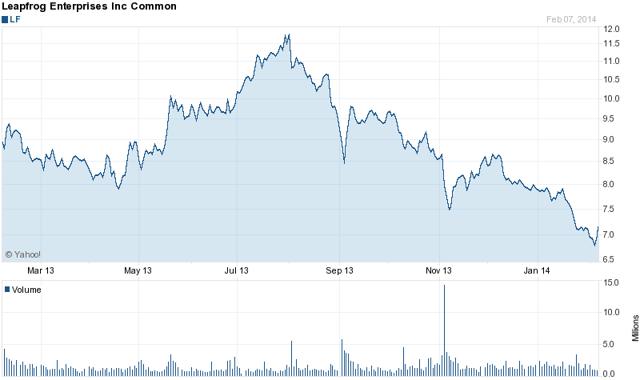 LeapFrog develops educational entertainment and toys for children. The company's products are available in 45 different countries and have been used by teachers in over 100,000 classrooms in the United States. Products such as LeapPad and LeapReader have made the company a leader in the industry, but competition from companies such as Mattel (NASDAQ:MAT), Hasbro (NASDAQ:HAS) and V-Tech has eaten into LeapFrog's market share.
During the company's 3Q2013 conference call, management warned of a challenging fourth quarter due to a weak retail environment and six fewer shopping days between Thanksgiving and Christmas. As a result of this negative outlook, the company lowered full year 2013 guidance from high single digit growth over 2012 to a +/- 2% growth over 2012. The company expects 2013 total sales to range between $570-$590 million.
Nine months ended 9/30/2013

2013

2012

% Y/Y change

Revenue ($ millions)

$ 366

$ 336

8.9%

Cost of Sales

$ 223

$ 200

11.5%

Operating Expenses

$ 110

$ 114

-3.5%

Net Income

$ 20

$ 24

-16.7%

EPS (diluted)

$ 0.28

$ 0.35

-20.0%
To meet this guidance the company would need $204-$224 million in sales for the 4th quarter. The company hasn't had that poor of a 4th quarter since 2011, when the company made $210 million. Last year the company made $244 million. Going into the 4th quarter, revenue was up 9% over 2012.
While LeapFrog may not blow the 4th quarter out of the water, I believe management is under promising and will over deliver on 4Q1013 results. During the 3Q2013 conference call, management said,
"We are well-positioned for the holidays with improved in-stocks, stronger retail promotions and greater marketing investment during the highest-volume shopping weeks. At the same time, we see a weak retail climate and growing concern surrounding this holiday season, especially in the U.S."
Management was worried about the economic environment for the holidays more so than its strategy or positioning in the industry. Wall Street didn't like this guidance and the stock dropped 13% from Nov 4-Nov. 7, 2013. The stock enjoyed a brief November rally rising to its pre-November 4 levels before dropping another 17% to today's level around $7.00. This price level is historically low when looking at several key metrics and the stock looks like a good value pick.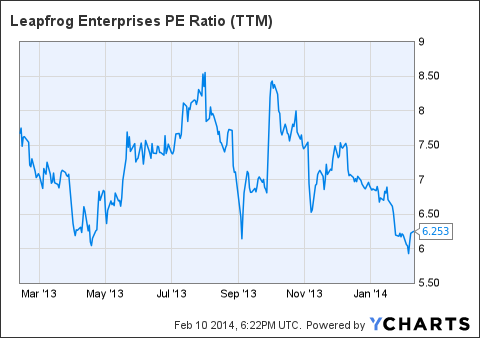 LF PE Ratio (TTM) data by YCharts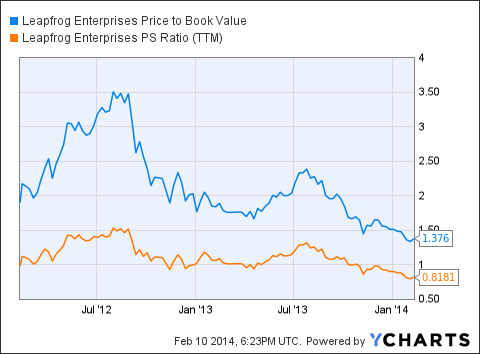 LF Price to Book Value data by YCharts
Conclusion
Price/Earnings, Price/Book and Price/Sales are all at two-year lows. The company has an excellent balance sheet with essentially no debt and $78 million in cash, which is nearly 16% of the company's market cap. The company will be reporting 4Q2013 earnings on February 12, 2014. These results will be critical for LeapFrog. Management has set the earnings expectations low, which sets up the company for a good shot at beating expectations. The average analyst price target on LeapFrog is $9.80, or 36% higher than today's price of $7.20.
Hercules Offshore (NASDAQ:HERO)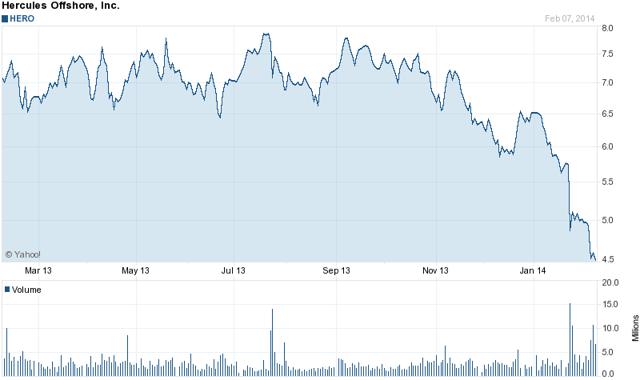 Hercules Offshore is an offshore driller with 40 jackup rigs and 24 liftboats. The company operates in 9 countries, but its largest presence is in the Gulf of Mexico. Hercules specializes in shallow water drilling, which makes it difficult to analyze versus other offshore drillers. Because shallow water drilling is much faster and efficient than deepwater drilling, the majority of the company's contracts tend to last only weeks to months versus years for the deep water drillers. Weakness reported in the offshore drilling market has been widely publicized and Hercules is no different in feeling the pain from downgrades and an expected market decline in 2014. The stock has been crushed over the past couple months making it a good value at its current 52-week low.
Three Months ending 12/31/2013

Domestic Offshore

International Offshore

Liftboats

2013

2012

% Y/Y change

2013

2012

% Y/Y change

2013

2012

% Y/Y change

Revenue ($ millions)

$ 136

$ 91

49.0%

$ 64

$ 50

27.5%

$ 36

$ 34

7.1%

Average dayrate per rig

$ 100,160

$ 67,681

48.0%

$ 139,037

$ 137,671

1.0%

$ 25,901

$ 22,961

12.8%

Operating Expenses ($mil)

$ 33.3

$ 60.1

-44.6%

$ 51.9

$ 27.1

91.5%

$ 20.6

$ 16.4

25.6%

Net Income ($mil)

$ (34.0)

$ 9.9

-443.4%

$ (6.8)

$ 9.8

-169.4%

$ 9.7

$ 11.6

-16.4%
While the company saw impressive revenue and dayrate increases across all three segments, expenses and impairment charges took their toll on results. The domestic offshore segment took a $114.2 non-cash impairment charge, which heavily impacted the bottom line. Despite losing money for the quarter and full year, the company is positioned well going into 2014. The company has roughly $1 billion in backlog contracts and has several significant contract increases happening in 2014. Three contract extensions with Chevron are set to increase the dayrate for 3 rigs in the Gulf of Mexico by roughly 15%. Two are extended through the end of 2014 and one through July 2014. Aside from these three contract extensions, the company has 10 other contracts which will see dayrate increases in 2014. Most notably two contracts with Saudi Aramco will increase by approximately 50% in 4Q2014 and will extend through 4Q2019.
The company has expanded beyond the Gulf of Mexico with an attempt to modernize their fleet and most recently purchased 2 premium A-class jackup rigs for its international offshore segment, Hercules Triumph and Hercules Resilience. On the 4Q2013 conference call, management stated they expect to finalize a two-year contract with one of those rigs at a dayrate in the low $200k by next month with work to begin in 3Q2014. The company also sees decent demand for short-term work for these rigs at lower dayrates.
The most promising aspect of the 4Q2013 conference call was the company expecting pricing in the Gulf of Mexico to remain stable and they don't see a material change in the supply of jackups in the Gulf of Mexico in 2014. This comes as a relief as Noble Corp. (NYSE:NE) and Atwood Oceanics (NYSE:ATW) both expressed concern for tightening dayrates due to increases in supply and decreasing demand from E&P companies.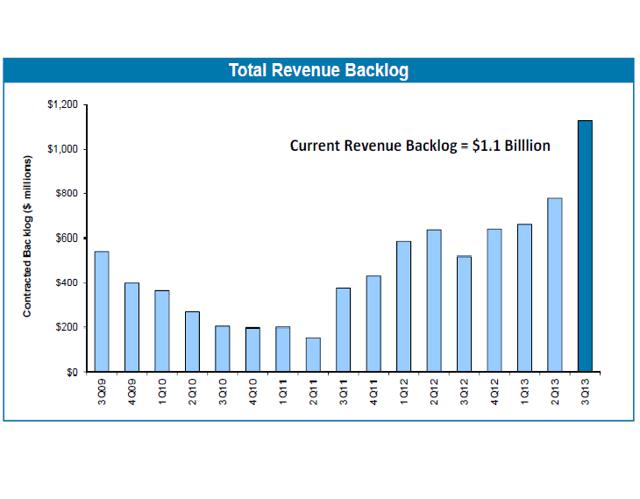 Source: Cowen 3rd Annual Ultimate Energy Conference
Conclusion
Hercules' stock has taken a beating over the last 2 months leaving it at 52-week lows. The company has been brought down due to recent downgrades by analysts and negative market sentiment within the industry. However, the company expects pricing strength in the Gulf of Mexico to continue and is dedicated to modernizing and expanding its fleet to more profitable international areas. Positive revenue growth seen in 2013 should carry over to 2014, making this beaten down offshore driller very attractive at current levels. The average analyst price target on Hercules is $7.93, or 72% higher than today's price of $4.60.
Disclosure: I have no positions in any stocks mentioned, and no plans to initiate any positions within the next 72 hours. I wrote this article myself, and it expresses my own opinions. I am not receiving compensation for it (other than from Seeking Alpha). I have no business relationship with any company whose stock is mentioned in this article.