Hasbro (NASDAQ:HAS) recently released their quarterly report and closed up 4.53% the next day. As an owner of Hasbro, that's pretty good for a day's work (translation: doing nothing). They also announced an increase in the quarterly dividend payment to $.43 representing a 7.5% increase to their previous rate of $.40. Again, +7.5% to your income stream is great for a day's work, right?
For many people that answer is definitely a yes. For me, I'm cautiously skeptical. I purchased Hasbro stock on two occasions in 2012. In both cases, the purchases were for my dividend growth centered Roth IRA. Hasbro is up 60% over my cost basis. On a percentage basis, it's actually my best performing position. That represents very nice capital return but I was really banking on the 4%+ dividend yield at the time of purchase. Now I'm concerned that the price appreciation could negatively affect my DRIP purchases.
How is an investor to cope? By writing a Seeking Alpha article! I want to know two things: 1) Why did the share price increase so much? and 2) What does this mean for DRIP purchases? To answer these questions, I'll be using information from Hasbro's annual reports available at their annual reports webpage. Their 2013 annual report has not yet been filed but their recently released quarterly report for the end of 2013 is available on Harbro's quarterly reports webpage.
Investigating the Share Price Increase
First, we must consider if the price run up is inline with the general market performance. Since I purchased Hasbro both in the first and last half of 2012, I selected a nice midpoint towards the end of June 2012 as my start date. The end date is February 10, 2014.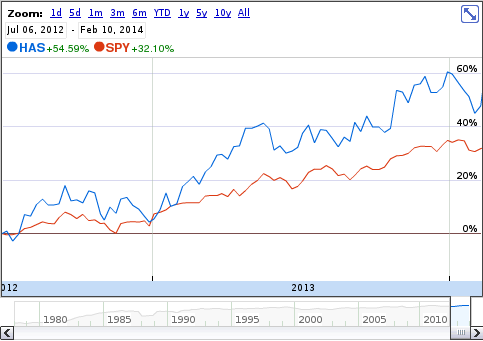 According to Google Finance the S&P 500 (NYSEARCA:SPY) gained 32.10% in that time. In the other corner, we have Hasbro which gained 54.59%. Obviously Hasbro outperformed the index over this time even though there was a stumbling block in early 2013 that brought Hasbro down inline with the S&P's price performance. There does not seem to be any one precipitating event that spiked Hasbro's price. It has been out performing for a year.
One thing to remember from a dividend growth performance is that during this entire time Hasbro paid a higher yield than the S&P. So let's talk dividends.
Dividends
My original investment in Hasbro was driven by the belief in their dividend growth. They paid a dividend of 4% and at the end of 2012 Hasbro had in creased their dividend for 8 consecutive years. With solid financials and a promising future it seemed like a good long term choice.
Let's review their recent increases:
| | |
| --- | --- |
| Year | Increase |
| 2010 | 25% |
| 2011 | 20% |
| 2012 | 20% |
| 2013 | 10% |
| 2014 | 7.5% |
Clearly, the dividend growth rate has decreased but considering the increases listed start with a 25% increase it would be rather difficult to maintain that growth indefinitely. Realistically, I'd be happy to maintain a position in a company that increases their dividend at 7.5% annually until I retire. Should we be concerned with the decreasing dividend growth? Is there a reason for the decrease?
Looking through Hasbro's annual reports we can see some definite trends. In the last five years, net revenues have been fairly steady at $4 billion with 2011 spiking to almost $4.3 billion. Net earnings have been between $300 million and $400million. The specifics of their revenue and earnings can be found in more detail in the annual reports but let's take a look at some other important numbers.
Shares
Of course earnings are one thing but earnings per share really drive share price. After reviewing the high level revenue and earnings it makes sense to look at the share count. In 2009, the diluted share count was 152.7 million. At the end of 2012, diluted share count was 131.9 million. Overall, the diluted share count decreased 13.6% from the 2009 number.
Unfortunately, by the end of 2013 the diluted share count was 131.7 million. Compared to previous years, Hasbro barely repurchased more shares than they awarded. Considering how similar Hasbro's annual revenues and earnings have been in recent years, their share count reduction has been helping to increase EPS. Now, if share repurchases approach a net change of 0 we may see EPS flattening or declining.
For the time being, Hasbro still maintains a positive cash flow. But in the face of flat or declining earnings the only way to "return value to shareholders" is with share buybacks, thus increasing EPS , or dividends. Since Hasbro's dividend payout ratio is currently around 70% there is not a lot wiggle room left. Could we see Hasbro be forced to choose between buybacks and dividend increases? I'm inclined to say that they would reduce or eliminate the buybacks considering the alternative would be ending their 10 year streak of dividend increases.
Conclusion
Considering my two purchases and dividend reinvestment, my cost basis is $32.79/share. With the recently increased $.43 quarterly dividend annualized I have a yield on cost of 5.2%. That's a nice yield but future dividend growth may be jeopardized.
I certainly don't think Hasbro is going away anytime soon. They have great visibility in the continued Transformers movie franchise and they will ride Marvel / Disney's (NYSE:DIS) coattails as the Avenger movie franchise continues to do well. Plus there are a number of other action figures and toys that will continue to sell.
However, on the topic of growth I am less certain. Over the last several years they have not demonstrated a history of growth and they are currently becoming less appealing on a couple of key areas that define a value stock. When I originally noticed that my position in Hasbro hit a 60% gain I hoped that it was due to some specific, recent price run up. Looking at the price history it is apparent that Hasbro has been on an upward trend and outperforming the S&P for a while now.
Currently, Hasbro trades at over 23x earnings and has a dividend yield of 3.3% with their new dividend. The price increase would have less of an impact if we could expect high dividend growth to match. Unfortunately their performance in recent years has not substantially grown earnings and dividend growth is falling fast from an albeit lofty start. After examining their financial details for this article I believe they are rather richly valued at this point and I may begin some profit taking in the near future.
Disclosure: I am long HAS. I wrote this article myself, and it expresses my own opinions. I am not receiving compensation for it (other than from Seeking Alpha). I have no business relationship with any company whose stock is mentioned in this article.
Additional disclosure: I may begin selling parts of my position in the next 72 hours.