Executive summary:
Kodiak Oil & Gas just announced impressive production & reserve growth.
Production growth should increase another ~45% in FY2014 as well.
On a price to earnings growth basis, the shares are extremely cheap.
A ~15% pullback from recent highs is an attractive entry point.
__________________________________________________________________
Earlier in the day I penned an article on two large slow growing and high yielding energy concerns that look undervalued based on the underperformance of the energy sector and the recent rise in oil & natural gas prices.
For some of the same reasons as well as company specific news Bakken producer Kodiak Oil & Gas (NYSE:KOG) looks very attractive here as well. It is a growth play rather than a good addition to one's income portfolio. However, the company's and the stock's futures look extremely bright.
Company Overview:
Kodiak Oil & Gas is an independent energy company whose primary assets and production come from the Bakken shale formation. This region is rapidly growing and is providing almost 1 million barrels a day of oil production.
Recent News:
The company just provided Q4 production volumes. Average daily volume was 36.1K BOE/D (Barrels of Oil Equivalent/Day). This was up 98% year-over-year and 2% sequentially. For all of 2013, volume more than doubled over 2012's levels.
Proven reserves now stand at 167mm BOE. This is an 77% year-over-year increase.
In mid-December Kodiak announced it is allocating some $940mm in capex solely to oil and gas activities in the Williston Basin (part of the Bakken formation), with $890M toward the drilling and completion of ~100 net wells. This is slightly down from 2013's $1 billion level but the company believes this will increase production ~45% in 2014 to average daily volume of 42K to 44K BOE/D.
Valuation:
The stock is offering a nice entry point after declining some 15% from recent highs a few months. The pull back was mainly triggered by the general weakness in the energy sector over that time period as well as some concern - overblown in my opinion - that Bakken crude was more 'flammable' in the aftermath of some recent rail accidents in the region.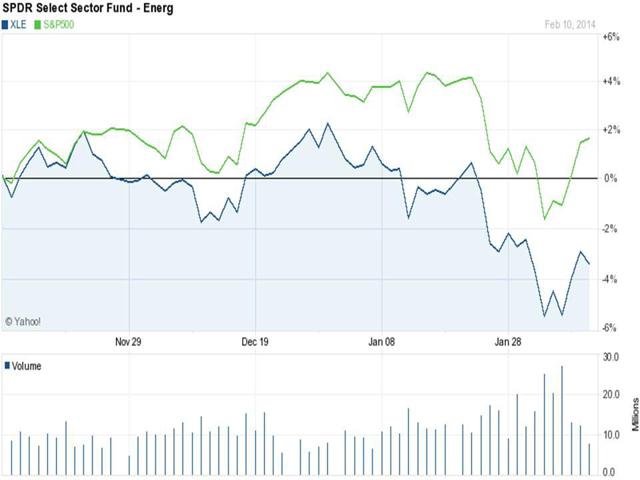 In addition to Kodiak's substantial production increases, earnings are increasing at a nice clip. The company earned 47 cents a share in FY2012 and should have earned ~65 cents a share for FY2013 when it reports its last quarterly earnings of the fiscal year at the end of this month. Analysts have over 90 cents a share in profit pegged for FY2014 in the current earnings consensus.
Given these significant increases in earnings & revenues, the stock is too cheap at just over 12x this year's expected earnings; a ~20% discount to the overall market multiple. The shares also have one of the lowest five year projected PEGs (.30) of the E&P stocks I cover. Finally I continue to believe the company would make a logical acquisition target if M&A activity in the sector picks up. BUY
Disclosure: I am long KOG. I wrote this article myself, and it expresses my own opinions. I am not receiving compensation for it (other than from Seeking Alpha). I have no business relationship with any company whose stock is mentioned in this article.