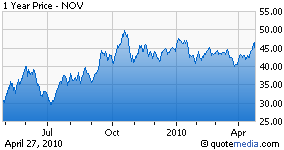 Oilfield service company National-Oilwell Varco (NYSE:NOV) reported better-than-expected first quarter results, helped by cost cutting in prior periods, robust drilling and pressure pumping activity throughout North America, as well as good project execution skills and manufacturing efficiency.

Earnings per share, excluding a Venezuela asset write-off and currency devaluation charges, came in at $1.10, well above the Zacks Consensus Estimate of 85 cents.

EPS Down Year-Over-Year

Compared to the corresponding quarter of last year, National-Oilwell Varco's earnings per share was down 2.7% (from $1.13 to $1.10), while revenues declined 12.9% to $3.0 billion. The year-over-year negative comparison was due to sustained pricing and sales pressure.

Rig Technology

Revenue in the Rig Technology segment decreased more than 14.0% year over year to $1.9 billion. Revenue out of backlog, which comprised $1.5 billion of the total segment sales, was down 11% year over year.

The segment's operating profit was down 4.1% year over year to $581 million. However, operating margin, at 30.8%, was up from 27.6% in the year-ago period. Rig Technology's profitability during the quarter was helped by efficiencies and favorable cost results on numerous large rig construction and retooling projects.

Petroleum Services & Supplies

The company's Petroleum Services & Supplies segment achieved revenues of $923 million, down 9.0% from the year-ago period, while operating profit fell 31.1% from the prior-year period to $113 million. Operating margin was 12.2% versus 16.2% in the year-ago quarter. The negative comparisons were due to lower worldwide drillpipe sales, partially offset by better North American performance (of downhole tools, drillbits and wellsite services).

Distribution Services

Distribution Service revenues were down 18.1% year over year to $334 million. Operating profit was $11 million, compared to $25 million in the year-earlier quarter. Operating margin was 3.3%, down from 6.1% in the first quarter of 2009. The segment results were dragged down by lower international sales, partly canceled out by improvements in North America.

Backlog

During the quarter, National-Oilwell Varco added $618 million of orders to its capital equipment backlog. The company also removed $71 million due to order cancellations, adjustments and change orders. Backlog for capital equipment orders for the company's Rig Technology segment was $5.4 billion at March 31, 2010, compared to $6.4 billion at Dec 31, 2009.

Balance Sheet

As of March 31, 2010, the company had cash on hand of $2.6 billion and long-term debt of $880 million.