Smart connected devices need silicon to operate and there are only a handful of sources. I will argue that Intel (NASDAQ:INTC) is in the best position to benefit from growth in this market.
Intel, Apple, Samsung, Qualcomm (NASDAQ:QCOM), Nvidia, Mediatek and AMD (NYSE:AMD) are the main sources of application processor components and technology for smart connected devices on any scale. The markets for smart connected devices are still growing and the choice facing investors is on which horse to ride into the sunset of the growth.
IDC and Gartner are our primary sources of forecasts even though neither has a particular lock on clairvoyance and their crystal balls have been pretty murky from time to time. But for the purposes of this article, I am going to use Gartner's most recent forecast.

I am going to turn this forecast into an estimate of revenue for each of the key players in microprocessors but limit myself to Intel, Qualcomm, ARM Holdings (NASDAQ:ARMH) and AMD.
If we start with 2014 estimates by device type and apply market share data together with average selling prices or royalty rates we can come up with a pretty good idea of the revenues these volumes of devices should produce for those who supply microprocessors or license related Intellectual Property. The market share data are pretty rough and tumble but close enough to all the data points I have seen to be reasonably accurate.
Personal Computer Segment
Looking first at the personal computer ("PC") market, I am estimating that PC processors are about 81% Intel and 19% AMD, with Intel's average selling price at about $120 and AMD chips averaging about $55. Based on the Gartner forecast the pure PC segment would return revenues of about $27 billion for Intel rising to $27.4 billion in 2015 while AMD revenues from its PC processors would be about $2.9 billion in 2014 falling to $2.2 billion in 2015. The 2015 estimate is based on my assumption that Intel will increase its share to 85% in 2015 at AMD's expense, by no means a certainty.

Source: Unit volumes from Gartner, estimates by Michael Blair
Ultramobile Segment: the Tablet market
The tablet market is a bit more complicated. Apple had a 34% market share in the December 2013 quarter. I believe it will lose share with a plethora of new tablets coming into the market including devices from Hewlett Packard (NYSE:HPQ), Dell (NASDAQ:DELL), Lenovo (OTCPK:LNVGF), Samsung (OTC:SSNLF), Coolpad (OTC:CHWTY), Xiaomi and Nokia (NYSE:NOK). I am crediting Apple with a 29% market share in 2014 although it might well be a lot less with Samsung also taking a serious run at this segment.
Nvidia held about 27% of the non-iPad tablet market in 2013 according to reports so I will use that figure which amounts to a 19% overall share. The balance is a fight between Qualcomm and a handful of other vendors.
Intel participates in the tablet market with its Bay Trail and Core processors. Bay Trail is targeted at the low end of tablets and shows up in some very solid devices from Toshiba, Hewlett Packard, Asus, Dell and Lenovo, to name a few. A 64-bit version of Bay Trail is expected to hit the market this spring which should spur sales.
Intel is also represented in higher end tablets where processing power is seen as desirable and the devices are built around Core i3, Core i5 and Core i7 processors. The Asus Taichi, Acer Iconi W700, Samsung ATIV PC Pro and Lenovo IdeaPad Yoga 13 are examples of these devices.
Intel has a made a public commitment to put "Intel Inside" in at least 40 million tablets in 2014 and I have no doubt they will succeed or even surpass this target. I have assumed this is weighted to Bay Trail devices and assigned Core based tablets a 6% market share and Bay Trail based tablets a 7% market share.
Qualcomm plays a key role in tablets with its components or technology in pretty much all devices that are not powered by Intel except those made by Apple, which uses its own A7 processor in the very popular iPad. My estimate is that Qualcomm earns about $23.34 for every Snapdragon equipped device and about $7.00 in royalties from tablets that don't contain a Snapdragon.
Of course, virtually every non Intel powered device uses technology licenses from ARM Holdings and on average ARM earns about $1.00 for every such device by my estimation.
Using the Gartner forecast and these rough shares of market and revenues per device, I have estimated revenues for each major supplier for either the applications processor or the related technology royalty.
For 2015 I have made assumptions about market share that fit with my view of the trends but readers are welcome to substitute their own views.
The result for this segment shows Intel with revenues of $1.9 billion in 2014 growing to just over $3 billion in 2015, Qualcomm returning revenues of $2.5 billion in 2014 growing to $2.9 billion in 2015, and, ARM Holdings with 2014 revenues from this segment of $210 million rising to $250 million in 2015.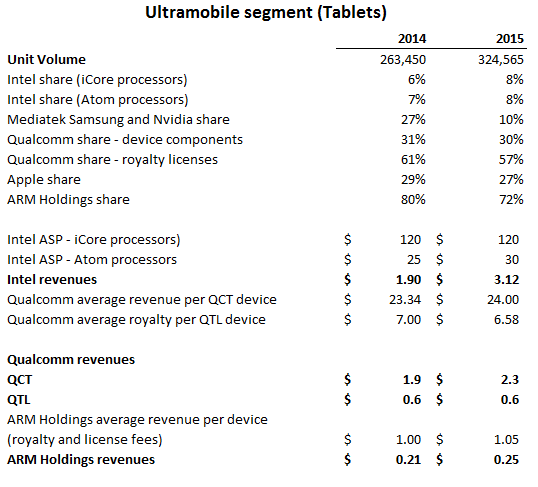 Source: Unit volumes from Gartner, estimates by Michael Blair
Other Ultramobiles (Hybrids and Clamshells)
Gartner also forecasted a new category that encompasses two in one devices and ultra light notebooks with clamshell designs, including what is left of Netbooks and their more modern successors.
To the best of my knowledge, that is a segment that is served solely by Intel and AMD and I have not been able to locate a device in that segment that is not powered by an Intel Core, Bay Trail or AMD processor, but I am open to being corrected. The end points of the Gartner segments are not that clear and I have used my own judgment that any devices that might arguably be in this segment with Snapdragon processors are contained in the tablet category, and since all devices are in one or the other it will not be a material error in this analysis if I am wrong in respect of one or two models that overlap.
In any event, Intel revenues in this segment amount to about $1 billion in total in 2014 growing to $1.9 billion in 2015. AMD revenues from this former Netbook category would amount to about $200 million in 2014 growing to $300 million in 2015. In estimating 2015, I have assumed that Bay Trail and its successor processors from Intel will displace AMD to the extent of about 5 percentage points of share on the strength of the Intel advances in both processing power and battery life.

Source: Unit volumes from Gartner, estimates by Michael Blair
Cellular Phones
Gartner lumps feature phones and smartphones together in its forecast but I have separated out the smartphone component and will deal only with it for this review.
This is Qualcomm territory and between it and ARM Holdings the space is pretty well served. Intel has a token presence in a few smartphones and aspires to have more but I have assigned them a 1% share in 2014 and a 2% share in 2015 on the basis that they will make some inroads but not really all that material by 2015.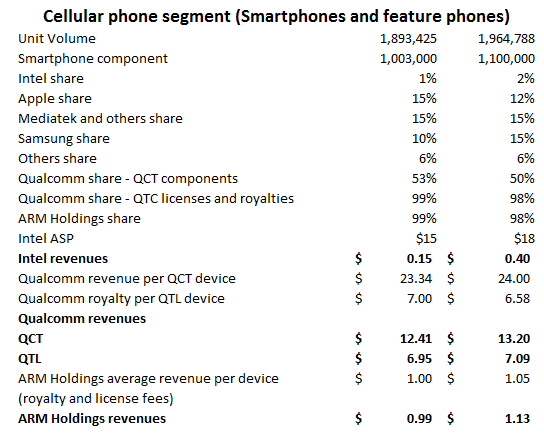 Source: Unit volumes from Gartner, estimates by Michael Blair
In the result, smartphones comprise about $19 billion of revenues for Qualcomm and about $1 billion for ARM Holdings in 2014 with both showing modest growth into 2015. Intel revenues in this segment are nominal.
Summary and conclusion
When you add all the segments together, the results may surprise some. Revenues from the 4 suppliers of interest in this article amount to about $56 billion in 2014 and approximately $60 billion forecast in 2015. What is pretty obvious is that the market growth of the past few years is flattening out and the years of really high growth in smart connected devices are probably history.
Given that is the case, who is the winner in terms of absolute dollars of increased revenues?
It is Intel with $30 billion of the 2014 pie and almost $33 billion in 2015 for a 10% jump. Qualcomm sees about $22 billion in revenues in 2014 and just over $23 billion in 2015, growth of $1.3 billion or about 5%. ARM continues to grow adding about $200 million in royalties and license fees to reach $1.4 billion in 2015 from my forecast $1.2 billion in 2014 and while the growth rate remains high the absolute dollars are small. The casualty in this space is AMD which suffers a more than 20% drop in revenues from $3.1 billion to $2.5 billion in the forecast period from these served markets.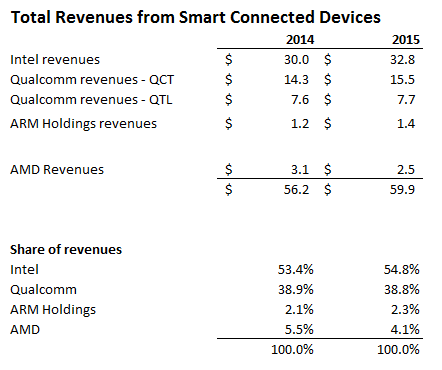 Source: Michael Blair analysis
All vendors in this space enjoy high profit margins and it is reasonable to infer that the revenue trends will be matched by the profit that results. Of course application processors and related intellectual property are not the only sources of revenue for each vendor and readers should understand this analysis is limited to the foregoing. The article simply attempts to determine which company is raking in the chips from microprocessors used in smart connected devices.
The outlook beyond 2015 is pretty hard to determine but the trend I see is for continued advances by Intel which eat steadily into the ecosystem defined by ARM and Qualcomm and deal a near death blow to AMD. Take the 2015 forecast with a grain of salt since it has too many assumptions to be really reliable, but directionally I believe it is correct.
As you might expect, I prefer INTC to QCOM or ARMH for gains in this space. I am long Intel and have no current position in any other stock mentioned.
Disclosure: I am long INTC. I wrote this article myself, and it expresses my own opinions. I am not receiving compensation for it (other than from Seeking Alpha). I have no business relationship with any company whose stock is mentioned in this article.