Switzerland exchange traded funds are holding up against other developed economies as volatility racks global markets.
By the time the closing bell rang Friday, the iShares MSCI Switzerland Capped ETF (NYSEARCA:EWL) sported a year-to-date gain of 2.7% while the First Trust Switzerland AlphaDEX Fund (NASDAQ:FSZ) showed 2014 gain of 3.2%. FSZ rose 1.6% Friday on volume that was more than quadruple the daily average. Meanwhile, the broader Vanguard FTSE Europe ETF (NYSEARCA:VGK), in which Switzerland is one of the largest country weights, is only slightly higher this year with the benefit of Friday's 1.3% gain.
Switzerland tracks some of the largest multinational companies in the world, such as Nestle (OTCPK:NSRGF), Roche (OTCQX:RHHBF), Novartis (NYSE:NVS) and UBS (NYSE:UBS), which are also the four largest holdings in the iShares ETF, accounting for 49.4% of EWL's overall portfolio.
Moreover, EWL overweights defensive sector stocks, with 29.8% in health care and 20.5% in consumer staples, compared to riskier energy and consumer discretionary names, which make up 1.5% and 6.8% of the fund, respectively. According to Morningstar analyst Alex Bryan:
"These companies tend to boast strong competitive advantages, lower debt/capital ratios, and better profitability than those in the broad MSCI Europe Index. This quality tilt may help it better weather market downturns…. It's not surprising that EWL gave investors a smoother ride than the MSCI Europe Index since its inception in 1996."
Given the companies' international footprint, Switzerland may also be consider a more global play. With the Euro strengthening against the Swiss franc, Switzerland could see increased export growth.
Alternatively, First Trust's Switzerland ETF follows a factor-based indexing approach, which selects stocks based on book value to price, cash flow to price and return on assets. Additionally, component weights are relatively spread out, with the largest holding Lonza Group (OTCPK:LZAGF) at 4.5%.
While EWL tilts toward mega- and large-caps at 70.7% and 20.1%, respectively, FSZ includes more mid-sized companies at 67.5%, followed by 18.4% in large-caps and 10.7% in mega-caps.
Additionally, FSZ leans toward riskier sectors, including a 33.7% weight in financials and 23.3% in industrials.
iShares MSCI Switzerland Capped ETF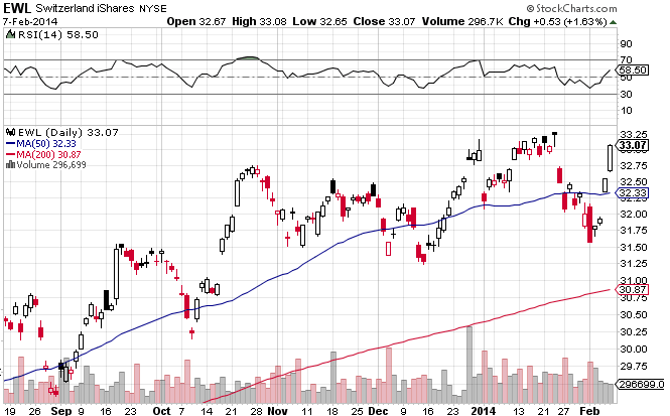 Max Chen contributed to this article.
Disclosure: I have no positions in any stocks mentioned, and no plans to initiate any positions within the next 72 hours. I wrote this article myself, and it expresses my own opinions. I am not receiving compensation for it. I have no business relationship with any company whose stock is mentioned in this article.